Saying goodbye to our families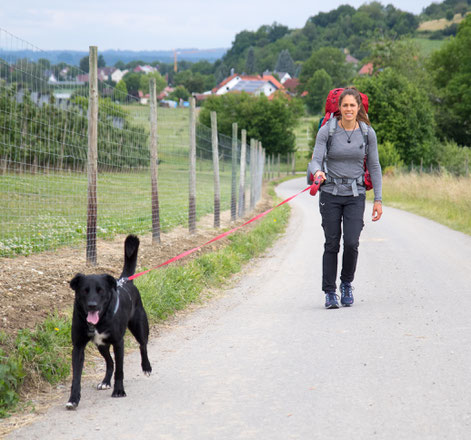 Just a small family and friends dinner the night before we leave. We didn't want to make a big deal out of it. Not for the family and not for us.
Even though we knew we will be gone for an undefined time and confronted by unexpected and exciting situations. We were waiting for this moment for almost a year.
Our family dog Lenni knew that something was different and was sitting in front of the door all night. Goodbyes are always heartbreaking.
The next morning we packed all the rest of our stuff and got ready. Last goodbyes to Bastian's family and my siblings. Heavy (16-18kg) backpacks on our backs and go. With Lenny we started hiking.
We didn't talk for a while. Both occupied with ourselves, tearing up and thinking about what we left behind. People, memories, hobbies… But by just walking into one direction with every step we were getting more excited for what will be next.
We walked for 5 hours from Hepbach to Rosenharz, where all of the sudden Dieter and my mum stopped. We were pretending that this wasn't planned. It turned out that they were going to be our first hitchhike drivers. Maybe that counts as cheating, not sure ☺
We drove in the back of their van, sitting on the floor with Lenny towards Berchtesgaden, Bavaria. There they went for holidays with some of my cousins and uncles. So we were happy to receive the chance to see them before we leave.
We had dinner together and chatted before falling asleep. The next morning, we said goodbye and finally started hiking towards Asia. That's it. Simply us. No dog, no parents, no friends. The weather perfectly fit to the situation. Rain and teardrops were running down our faces.
Crossing the border from Germany to Austria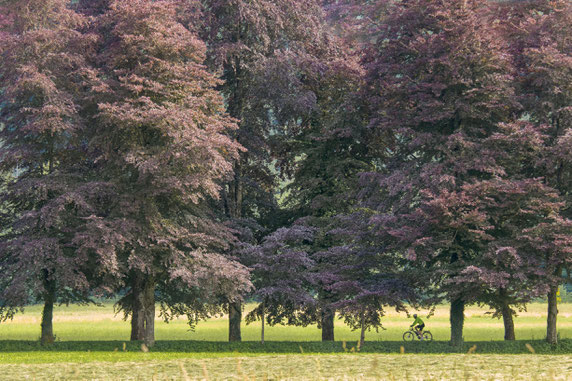 That we had to climb 1200 m up the mountain, which was separating us from Austria, helped us to get other thoughts.
When we reached the mountains peak we were happy and felt ready to cross the first border. Again 1200 m down. After walking for already 21 km over the mountain, we reached Fürstenbrunn, Austria.
We asked a woman, who was doing some gardening, to fill up our water bottles. She was the first person we told our story and plans. She hardly believed, since it was our first day towards Japan. We all laughed together. At least we had enough water since we didn't bring much food. We forgot it was a holiday, so no shops were open. This was actually our first challenge of not always having access to everything we just want.
We walked towards a parking lot at the highway to find a ride to Ljubljana (Slovenia), our first destination. I never realized before that you have to cross a fence to get to the highway…so we had to sneak through a little hole. We started talking to all the truck drivers and had interesting conversations about a truckers life.
Depending on their contract they sometimes stay in their truck cabin for 11 month and are just home for one month. Even though we didn't ask, they told us that their salary differs between 1000 € and 2200 € per month depending which country they are from. Really hard and lonely life they have from my opinion.
So we met Goran, who offered to take us to Ljubljana the next morning at 3.00 am. Alright perfect! We agreed even though we knew that 3 people in a truck are actually not allowed. It simply has two proper seats. Seat No.3 was on the bed. At the same evening we tried to find a couchsurfing option in Ljubljana with our last mobile data.
It was our lucky day: Nives from Ljubljana answered right away and invited us into her little room in a student dorm. Excited about the transfer, accommodation for 2 days and tired from hiking, we climbed back through the fence. We went into the woods and set up our tent. At least for a few hours of sleep…
Truckdrive from Fürstenbrunn, Austria to Ljubljana, Slovenia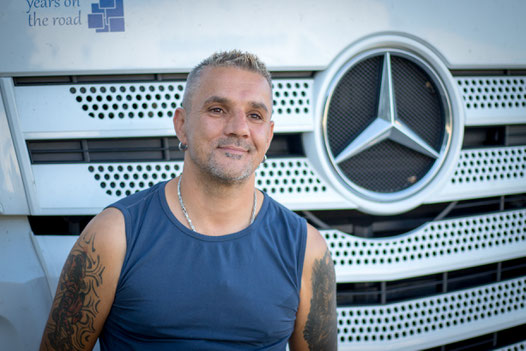 Its 2.30 am, the alarm was ringing, at this time we definitely needed a second to realize where we were and that we werent dreaming. But there was not much time to think about it.
We turned our headlights on and put together our soaking wet tent. It has been raining all night. We will take care of drying it later. Now we just had to get to the parking lot quickly… and we made it right in time. Goran already turned on the engine and exactly at 3.00 am he started driving. I was sitting on his bed, still not allowed, but I only had to hide at the border for a few minutes.
Goran didn't seem to be nervous, so we tried to act cool. And it worked. No problems to get into Slovenia. Border number two successfully crossed. While driving we had no chance to sleep. Of course Goran was happy to have people to talk to. He told us a lot about his family and about his work. A lot has changed in the truckdriver's life.
A long time ago, it has been absolutely normal to smuggle stuff and bills could have been changed easily to make some extra money. But not any more. Everything is recorded and strictly controlled. At 7:00 am we arrived in Ljubljana and got dropped off about 8 km outside the city.
Still didn't have any food since yesterday afternoon. Really hungry, we started walking into the city center. We bought some groceries in a supermarket and stopped to have breakfast in front of a sports arena. There we dried our tent and sleeping bags, working out at the same time. People looked at us differently because we definitely didn't behave like locals. At least we made their day a little more interesting ;-)
Couchsurfing in Ljubljana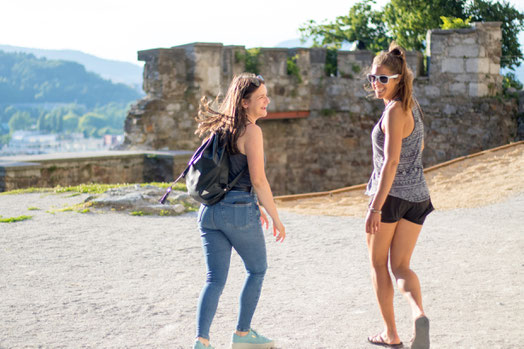 We both removed a tic from our legs before making our way to Nives, our Couchsurfing host in Ljubljana. She lives in a student dorm there (80-90 € per month) and Bastian and I could share one single bed.
Her roommate has been on vacation at that time. So absolutely great that we didn't eat that much during the last days that we were both fitting in one bed.
Nives is 26, has two jobs besides doing her masters and loves to travel too. Such a friendly and open minded girl who grew up in the countryside. We felt like we knew each other before.
We took a shower first (really necessary) and walked with Nives to one of her jobs: She works at a zero waste shop. The first one in Slovenia. Since we want to support an ecological way of living we were really happy that Ljubljana is taking effort to be more respectful with nature. Even the whole city is using less plastic, so really progressive thinking.
Ljubljana is having a foodfestival every Friday where you can try all different kinds of local but also international food. Of course you could find us there trying different dishes. The atmosphere has been so relaxed. We recognized that pretty much no one was on their phones. All people were talking and interacting what we really enjoyed listening to. Even though we didn't understand.
Especially after Corona lockdown most people were happy to socialize. Nives showed us around and where locals hang out. Ljubljana really has a lot to see and to do. We went to a lake nearby, hiked to a church up the hill. The Ljubljana castle looked at us high above the city - such a nice view from up there.
While exploring, we could meet some people who don't agree with the government in general. So they demonstrate twice a week. After having a beer at Nives favorite bar, we walked back to her student dorm and were checking good hitchhike spots for the next day to Serbia.
Apparently there is a website called hitchwiki that gives recommendations where to wait for a good ride. The next morning we started quite early trying for a ride to Belgrade. Another day has started where we didn't know what to expect. 
Hitchhike from Slovenia to Serbia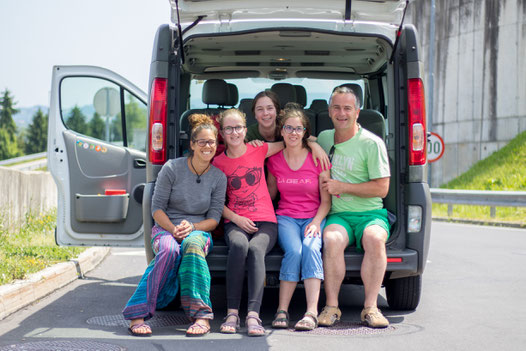 Getting out of the city was a little challenging and far to walk. But our feet will hopefully get used to it. It`'s our 4th day of travelling. So we splitted up to ask people: One car stopped for me. But since he was only offering me a ride without Bastian, we decided on Bastians option.
A man, who is a pilot for business and cargo flights, offered us to drive us to the next gas station on the highway. He didn't had to drive there but he anyway wanted to help us out. He lives in a luxury area he told us but didn't mind getting home a little later.
From the gas station there two guys, 28 and 24, took us to the next smaller city. They both could still work through this rough time of Corona. And we asked them a lot how the state supports the people and were surprised. The state does a lot for supporting them. Little businesses should be able to survive.
We got dropped off at a roundabout in Novo Mesto, Slovenia where many cars were driving towards the highway. It took us just 10 minutes of waiting until a funny flower van stopped. A father with his 3 daughters (those are just 3 of 6 kids) were on their way to buy 4 birds (additional to the 5 they already have at home)… sure they didn't mind to take two strangers ;-)
Even if it was hard for them to talk in English, the dad really tried to ask us many questions. He also told us that he works as a train officer and that he once did a bike trip along the coast of Croatia for several days.
The three daughters were a little shy but helped his dad out whispering and giggling English words. When they dropped us off it felt like we knew each other since years. But instead it was just a 30 km ride. So we got a big honk when they left.
Finding another ride before the border of Croatia was quite tricky. We had to wait for a while and almost gave up and wanted to walk further down the highway. A German couple pretended not to understand German, and at least two other people didn't even turned their head when we talked to them.
Then, a man wearing a facemask appeared. He didn't look interested in us at all. But I didn't care, I still asked him for a ride to Zagreb. He said, that he unfortunately wouldn't drive to Zagreb. He is on his way to Belgrade, Serbia. When we heard Belgrade, we got excited because we actually wanted to go to Belgrade.
Belgrade was more than 400km away and the chances of finding a ride were low. I tried softly to tell him that this option would be even better for us. Not that he was excited to take us but he did. So we jumped in the car.
He introduced himself: Alberto is a really thankful and hard working project manager for start ups. He does all different kind of jobs all over the world. So it didn't bother him to drive from Turin, where he lives with his partner and a 4 year old daughter to Sofia, where he works. Its about 1500km. He always was very positive and was happy that he could finally work again after the lockdown in Italy. This time he will just be in Sofia for 3 days and then will drive all the way back.
He drove the whole way without sleeping. He only stopped for toilet and water. Food would have made him tired, he said. In total it took him about 18 hours. I am sure in the end, he also enjoyed talking a little bit so at least those four hours passed quicker. Crossing the border together with Alberto to Croatia and then to Serbia was no problem at all.
Belgrade a suprising city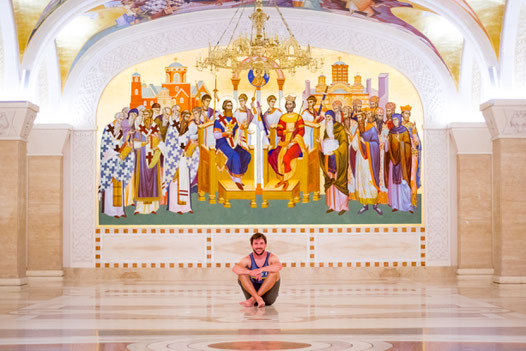 Alberto dropped us off in Belgrade near downtown from where it was only 15 min of walking to the hostel (El Diablo), which our couchsufing host Nives recommended. Right away we felt really welcomed there.
Everyone seemed to be part of hostel. It was like a big family. Even Thomas, a cat that a traveler once left behind, was part of the crew. A lot of different characters together in that small hostel.
When we arrived, a guy just placed his stuff at the entrance and then left again. He worked for the film industry and was working on a project how to survive in Serbia with no money for a month. Philippe is from Columbia and was stuck at the hostel because of the virus. Even now that he tried to fly to Greece, they didn`t let him.
Julia came to the hostel first as a bag packer, second time she came to volunteer. Now she decided to study here. She is from Germany, learned the Serbian language within two years fluently and now studies film production in Belgrade.
Another girl from Chile was a volunteer. She did some sports with me, since she wants to be a personal trainer as well. The owners are both really sarcastic and funny at the same time. We all spent hours talking and laughing. So everyone was open for all the questions we had and we got many recommendations what to see and to do.
We went out for dinner. A lot of meat. Typical for Serbia. I doubt that vegetarians and vegans exist in Serbia☺  Belgrade is such a beautiful city. A bustling old town, a castle they light up at night. All Belgrade seemed to be on the street.
They also had a tennis tournament as a charity with a lot of famous international tennis players like Djokovic. Really big event. People are all dressed up, drinking in one of many bars along the street. Tall and good looking in general, talkative and not much on their phones. Different than we thought. 
The next morning we started with a run to New Belgrade over a long bridge and got breakfast on the way back. Börek and cherry pie is typical and delicious we learned. Food and living in general is very affordable. After a shower and some more smalltalk with the hostel owner Dragan, we walked back into the city to visit the bombed buildings.
The city Belgrade didn't replace or rebuild them after the Nato bombing in 1999. They are still untouched ruins to remind on the Kosovo conflict. Serbia still sees the Kosovo as part of their country. But the Kosovo people try to be independent. Therefore people who live in the Kosovo have two IDs.
After some historical input we decided to walk a long way along the Danube to the old town of Zemun (older than Belgrade). Facing the sunset, we walked back to downtown Belgrade -  another 8 km. For today our legs were done :-)
Before heading to bed, we spontaneously joined Aman, a local sitting by himself, in a bar nearby. He was excited talking to us and had a lot to tell about his life as a nomad. He lived here and there for about 15 years and just settled down in his hometown in Belgrade a year ago. Abroad he worked in China, Singapore, Vietnam and much more.
When he saw Bastians pictures he was astonished and told him to work as a photograph in Asia. Well he also had a few beer, but we still listened to his advice. Aman was definitely experienced in working abroad.
After a tiring day we just double checked where we will try to hitchhike the next day. We agreed that we will try for Sofia which is 400km away. After at least knowing where we would like to hitchhike, we fell asleep.