From Belgrade, Serbia to the Bulgarian border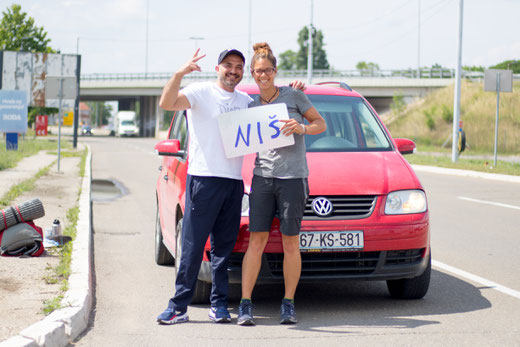 Leaving the hostel in Belgrade, Serbia took us a while because we just enjoyed talking to the owner Dragan and Nicolai so much. They told us stories one after another. We finally left around 9.30 a.m. and hiked 5 km towards the highway. Our fina destination for that day would be the capitol of Bulgaria, Sofia.
The first stop we were waiting at was hopeless. We stayed for an hour until someone kindy explained to us, that this was a local gas station that only locals are using. So we decided to walk further out of the city to try for a ride. Good choice!
There, it took us only 10 minutes until Sascha (40 years old from Kosovo) stopped. No way in Germany people would have stopped in this kind of section where you speed up to merge into the highway. But here they do ;-). Sascha told us that he will take us to Nisch, which is about half way to Sofia, While driving, Sascha told us this shocking story of his motorbike accident. He used to ride motorbikes up to 240 km/h never expecting something could happen. Until one night, a dog crossed the highway. He could slow down to maybe 170 kmh. And that was all he remembered after he woke up 4 days later in the hospital.
When he woke up, he couldn't walk anymore and didn't see nothing with his left eye. His face was deformed. He received plastic surgery for that. After a year of treatments in the hospital and a lot of physiotherapy he surprisingly started walking again. They told him to continue his rehabilitation program but he had no other option than stopping it. Sascha had to keep up his business, earining some money for feeding his family.
His company produces doors themselves and sells them mostly on the domestic market in Kosovo. Even though he still wears splints on his legs and in general walking is hard for him, he is very thankful for surviving this accident. Sascha has learned his lesson and stopped riding motorbikes. Even for his son its forbidden now. While telling us his story, Sascha smoked one cigarette after another. After a quick stop at a gas station, he came back with a big smile and 3 water bottles. We didn't ask for it but we thanked him for his kindness.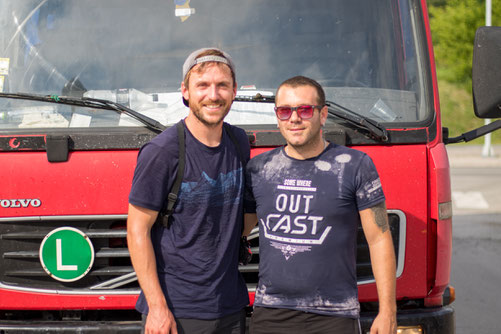 When we arrived in Nisch, Serbia we weren't at a good hitch hiking spot. We moved closer to the highway near a toll station. Many people passed us, honked or waved towards us. We stayed positive and waited 60 minutes until Ivan, a young truck driver, 31 years old, took us to Pirot. I really thought, that we wouldn't fit in that truck at all. But with our backpacks on our lap, not able to move any more, we somehow managed to close the door.
Ivan is a hardworking father of two kids. Daily after work, he meets his friends for a beer at a local pub. We were very impressed how he tried to communicate in English, even though he hadn´t spoken English since his school years. And if we didn't understand each other, we just laughed. Practicing some English made him happy and for sure he is going to have a good story to tell at the pub tonight.
From Ivans workplace in Pirot, Serbia, where he returned his truck, we would have had to walk for at least one hour to be close to the highway. But Ivan didn't want us to walk. He told us that we should wait for 5 minutes and then he would drive us with his private car to the highway. In his little Opel Corsa, we made it to the gas station near the highway around 5 pm when pouring rain started to fall.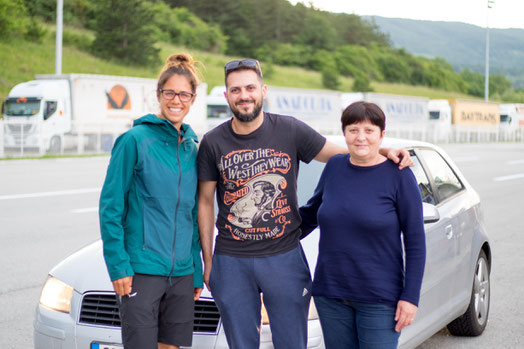 In Pirot, we wished that cars would have honked or that people would have waved at us. But unfortunately barely any cars passed us. Maybe every 5-10 minutes one car was passing. So we were thinking about about either staying overnight in Pirot or about walking 15km to the next village.
All of the sudden Milan and his mum Mira stopped for us. After a quick conversation they offered us to drive us to the border of Bulgaria. Of course we squeezed in the car. At least we would be able to cross the border tonight, we thought.
Milan spoke very good English. He told us about the job situation in southern Serbia. There are no jobs available since the Corona outbreak. He was planning to move somewhere to Germany to earn money to at least support his family. But it would break his heart because he loves his family and doesn't want to leave them behind. He told us that all generations still live in one house and families are really bonded.
They drove 5km extra towards the Bulgarian border and dropped us off there. His mum really wanted us to take her water. She didn't speak one word in English and was really worried about us. With our water bottles and bagpacks we said goodbye and walked towards the border. There wasn't any pedestrian walkway so we lined up behind the cars. When the border control saw us in line with the cars, we all laughed. They most likely don't see pedestrians crossing the border that often ☺ Overall, we had no problems entering Bulgaria, border No. 5.
Fun ride from the Bulgarian border To Sofia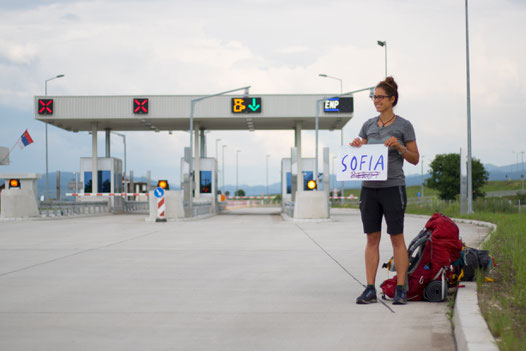 It was 7pm when we entered Bulgaria, and we still were positive about reaching the capital of Bulgaria that night. William, our couchsurfing host in Sofia was waiting for us. So again thumbs up and hoping that someone will stop after the border.
Me, already being hangry (hungry and angry at the same time), slowly lost patience. Bastian can handle hours of not eating way better than I do. Only a few cars passed us. Most of them, BMWs, Mercedes or Audis with German number plates. Most local cars were already packed with people. We thought, this might take a while till someone would take us strangers.
Then, a CLS Mercedes AMG, was humming while passing us. We already looked towards the next incoming car, not expecting this Mercedes to stop. But what a surprise, the driver of the Mercedes CLS stopped. It proofed that sometimes its better to have no prejudice. Toti (40) and Serkan (34) introduced themselves. Since this car had barely any room in the trunk, we sat in the back of the car with our backpacks on our laps. Seran and Toti were on their way to Istanbul to see their families.
Both of them are Turkish-German which gave us the opportunity to ask them anything about Turkey. Toti has a little apartment in Istanbul. He invited us to us the apartment in case we would need a shower. He told us about his friend called Achmed who lives near Taxim Square, right in the heart of Istanbul. Achmed lives there in a tent together with 9 dogs in a savaged garden surrounded by a fence. Tito offered us to stay in that garden in Istanbul with our tent as well. He was certain that his friend Achmed would let us sleep there. We were overwhelmed by their hospitality. He knew us for 30 min and offered us his living space right away. Even though he wouldn't be there at that time. 
While driving towards Sofia Serkan started to tell us why it took them so long to reach Bulgaria. At the Serbian border they got caught with some weed in their trunk. Even though it hasn't been much, the police handcuffed them right away. They had to go to court and payed 5000 € to get released. They both were sure that the police just shared that weed between all of them. We were impressed how Serkan still seemed to be relaxed and appreciated even more that they stopped for us. Serkan and Totti even changed their route for us, dropping us off in the center of Sofia. Giving us chocolate, water and apples while getting out of the car, we were overwhelmed how generous people can be. 
Couchsurfing with William in Sofia, Bulgaria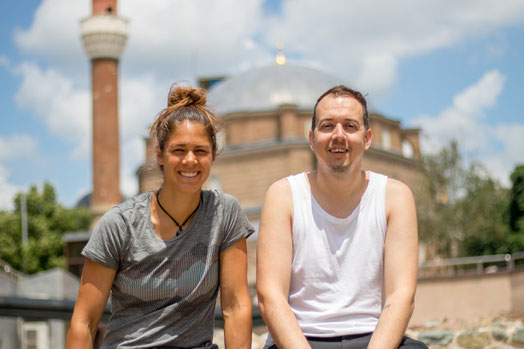 Not far away, our couchsurfing host William lived in a nice apartment. He offered us, even though it was already 10 pm, to cook pasta together. We felt good to enjoy some proper food, wine, chocolate and entertaining conversations.
William seemed to be really nervous and excited in the beginning. We were his first guests, he was hosting. He even went shopping for us and cleaned everything with Youtube descriptions since he never cleaned while growing up in Brazil. William later on explained to us that he grew up with his grandma in Sao Paolo. She was always happy to cook and clean for her grandson.
Around midnight we started to get tired, but William was 100% awake. He usually works throughout the night as a customer service agent. After many great stories, we didn't want to be impolite but had to go to bed. He felt sorry that he didn't ask a lot about us which we were not worried about. He just wanted to do everything right, really accomodating.
For him it was no question that we should sleep in his bed and that he would stay on the couch. He explained to us that he anyway is used to sleep on the couch. His computer and two screens are set up there. We agreed since he would be awake for another 4 hours anyway. William plays a lot of video games and likes IT stuff. That for he spends a lot of time in front of the computer. He also loves travelling and meeting new people. Sweet guy. What a day again. We were happy that we have made it to Sofia, Bulgaria.
The next day, we explored Sofia together with William. He lived in Sofia already for a few months but since the pandemic didn't allow him to leave the house, the inner city was new for him as well. William told us that his sense for orientation shows weaknesses. But he was still happy to show us the few places he knew with GoogleMaps.
First things that caught our eyes were the Sofian teenager. Kids, not older than 14, were gathering in sisha bars around midday, dressed up with lots of make up covering their faces. Maybe I am not the standard but this was definitely different to German teenager. We walked towards the square of tolerance, where 4 different churches are just a stone throw away from each other. But even though they were built that close, the churches accept and tolerate themselves. We ate fruits from the market, except William since he doesn't eat fruits or vegetables.
At night we met a couple of Williams friends. One of them was Ivan, who speaks 5 languages fluently and used to be a tourguide. He explained the whole city to us. We appreiated this great opportunity, since Bastian and I are really bad in memorizing historical facts. Ivan used to be a sportsmanager, who organized big ski-events and track&field competitions. That for he travelled all over the world.
After seeing most historical sites of Sofia, we decided to have a look at some bars. Much more traffic, more than we are used to in Friedrichshafen. On our way home, we realized that William had accidently took the bar keepers phone since it looked so similar. While bringing the phone back at the bar, we laughed together with William. Such a funny and warmhearted host.
Hitchhiking from Sofia to Plovdiv, Bulgaria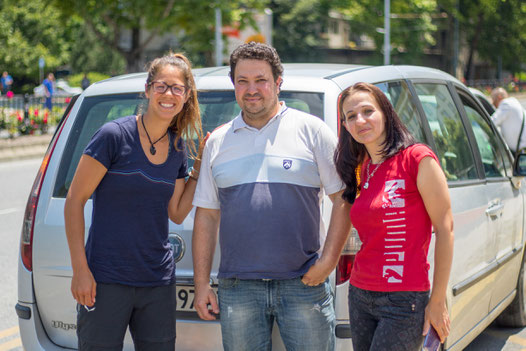 William was waving from the balkony when we left, like our parents would do. Walking out of Sofia took us about an hour until we decided to wait at a gas station before the highway. A Bulgarian couple with a little dog in the car stopped for us and took us all the way to Plovdiv. On the way we talked about sports and she seemed to be excited to follow my 6-minute challenges on Instagram. She took the chance and asked me if there is one exercise that could make her husband slim again. I love those kind of questions, because I would be famous if I would know that one and only exercise. So my suggestions for him weren't close to what he wanted to hear :-)
In Plovdiv, we spontaniously asked Tatjana, a friend of us who is from Bulgaria, if she knew someone in Plovdiv. It didn`t take 15 min until she contacted her friend and organized a garden for us to set up our tent. Her friends Trendo and Elena didn't know us before but invited us right away into their house and garden. They gave us the keys and told us to use whatever we needed. Incredible how they trusted us. Trendo speaks German because he studied in Germany. He and his family (3kids) were planning to move to Austria to join a fishing project this year since the job situation in Bulgaria is terrible. His favorite job would be to bake sourdough bread. A highly competitive business in Bulgaria. 
We walked into the city of Plovdiv, explored the amphitheater and enjoyed a great view over the city. We ate some Kebap and did some "people watching" at an alternative part of the city. Something we enjoy while travelling, definetly better than watching any movie :-) People danced to live music on the street. After a comfortable night in our tent, we got invited by Trendo for tea in his kitchen. Before we left, he wanted to give us a present: A sourdough bread! Trendo told us the bread would still taste good in a couple days, but Bastian and I were just laughing. For sure this bread will not last one day ;-) What a generous present.
From Plovdiv, Bulgaria to Edirne, Turkey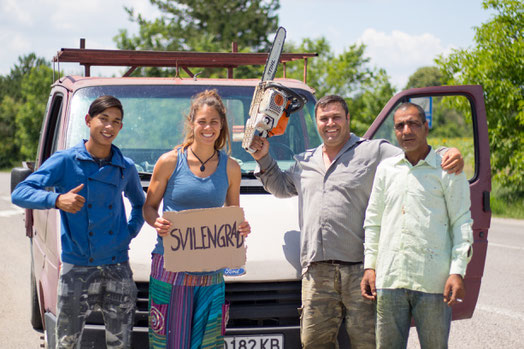 From Plovdiv, Bulgaria we were planning to cross the border to Turkey. We walked out of the city and found a ride about 7 km out of the city. We couldn't talk much to this nice man since he didnt speak English. He took us for about 30 km from where three super funny gardeners picked us up,
Erdo, Veilo and Doscho, were joking and said that they want to do a roadtrip to Istanbul with us. You could see that they do gardening right away. They all were covered with pieces of grass. We placed our bagpacks in the back of the pickup, where all their gear was stored.
We sat on a small second bench behind them in between waterbottles and more gardening equipment. Wasn't the most comfortable ride but for sure one of the funniest. For the memory picture, which we always take from all our drivers, they took their chain saw out. We should not forget them, they said,
They dropped us off between villages where it was quiet hard to find a ride. One big van stopped for us after 30 min of waiting. It turned out to be a public bus since the driver stopped in every village at every corner. From Svilengrad, which is close to the Turkish border, Marten and Jian drove us a smidge to finally see the turkish flag near the border. It was our 4th hitchhike of that day.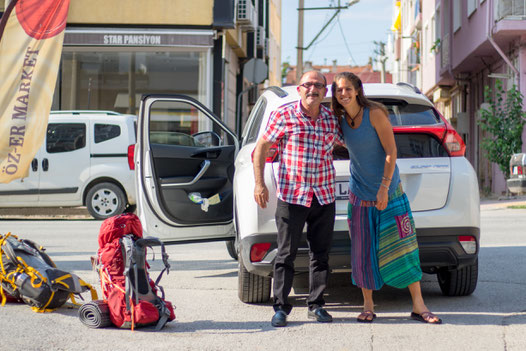 At the border, we were nervous if we would be allowed to enter. Many people have told us that it was still not allowed. But we wanted to try at least. All cars did get sprayed with a disinfection substance and everyones temperature got measured before entering Turkey. Since we didn't have a car, we did not get sprayed nor our temperature did get measured.
They told us that we are not allowed to cross the border by foot. We would need to find a car. It did not take long till a lovely man stopped and found some space for us in his car. Crossing the border itself wasn´t a problem except that our driver almost had to pay a fine. Because of Corona it is not allowed to take strangers. But some good words and playing dumb usually helps. Also this time. So we made it to Turkey!
He drove us all the way to Edirne where we decided to stay in a hostel for two nights. We needed some time to organize what we have experienced within the last 10 days. Walking around Edirne made us happy and gave us the first impression of the Turkish culture.
Beeing back at the hostel, the family that owns the hostel invited us for dinner. After we told them that we would like to pay for the food, they almost got mad at us. They explained, that this is not a restaurant. It's the family. We thanked them and said that we will learn to accept their hospitality with no return. A good day has ended. We reached our goal to make it to Turkey even though it took us 5 different rides. Ready for sleep. Looking forward to whats next.