If you like data, then you might like this blog post. Its been 3 weeks since we have started travelling from Germany. While we travel, we document and share various information at the end of each month. We obviously havnt made it to Japan yet but am still happy to show some facts and figures about June 2020.
Lets talk about money – Travel cost facts
We have started travelling on the 10th June. This makes 21 full days of travelling for the month of June.
So far we have spent 413,60 € in total. That's a daily average of 19,70 € for two or 9,85 € per person.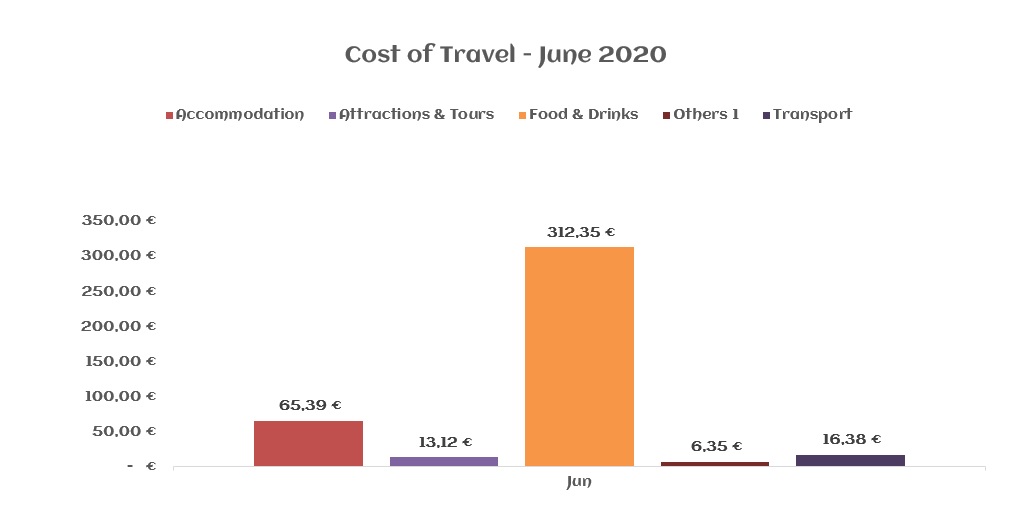 What did we spent our money on? 
The top 3 cost driver in June were categories Food & Drinks, Accommodation and Transportation.  
Food and drinks had an impact of 75 % of the total cost. With a June-total of 312,35 €, we have spent an average of 7,44 € per person on food. We hope to reduce the cost of this category the more east we will travel.
For the month of June, we have paid 4 nights for accommodation resulting in a total of 65,39 €. Including the other 17 free nights, that's an average of 1,56 € per day per person.
In Istanbul we used the ferry and the metro several times. Therefore, we spent 16,38 € in total. Breaking it down to 8,19 € per person, that's a daily average of 0,39 € per person.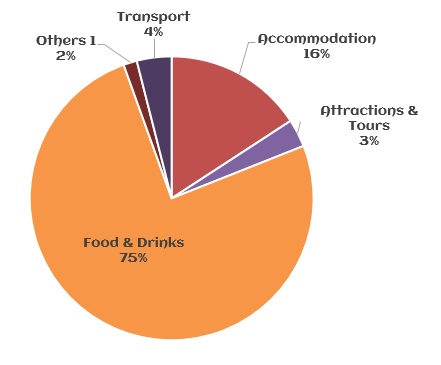 Should I stay or should I go - Transportation Facts 
In the month of June we have hiked 104 km carrying our backpacks (18kg) and 198 km without any gear. This leads to a daily average of 4,95 km with backpacks and 9,43 km without.
Besides hiking and hitchhiking, we have used other ways of transportation. To get around Istanbul, we have often used the public ferry or the train to visit Istanbuls points of interest. We have travelled 103 km by train, 66km by ferry, 6 km by bus and 6 km by taxi in June. 
In June, we started travelling from Hepbach Germany and ended up in Ayvalik Turkey. That's 2257 km if you would ask google maps to take the fastest route. So far, we came across 7 countries including Germany, Austria, Slovenia, Croatia, Serbia, Bulgaria and Turkey.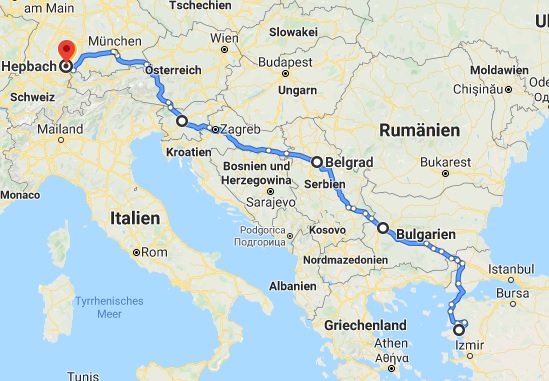 Thumbs up for a ride – Hitchhiking facts 
This month we hitchhiked 2o times on 8 days making a distance of 2404km in total. 
On average we have hitchhiked 120 km per ride. The shortest distance was 8km on our way from Plovdiv, Bulgaria to the Turkish boarder. The longest single ride was 432km from Slovenia to Serbia. 
While the longest waiting time was 1,5h, the shortest time was about 180 sec where we havnt even enough time to put our backpacks down till someone stopped for us.
The highest number of hitchhikes at one single day was 5. 
All about the sleep – Accommodation facts
In the past while travelling, we have experienced that accommodation usually takes most of the travel cost. For that reason, we have decided to try on reducing this cost category if possible. Our plan included some wild-camping, couchsurfing or staying for free at places that offer workaway opportunities.     
Breaking down 21 nights, we have stayed 12 nights with a couchsurfing host, 4 nights at a hostel, 3 nights in a tent and 2 nights at a workaway place.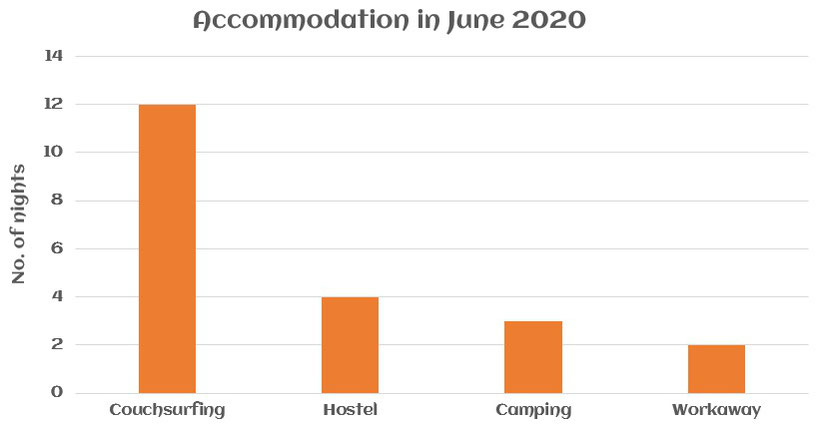 Cheesy life – Hygiene facts
In June, we had the chance to shower 13 times. This number leads to an average of 0,62 showers per day. That's basically a shower on every second day. The longest period without a shower was 3 days.
Please let us know if you like those numbers or if you are interested in any other facts. The more months will pass and more data will be collected, the more significant and meaningful the numbers will be.