Welcoming and generous people of Edirne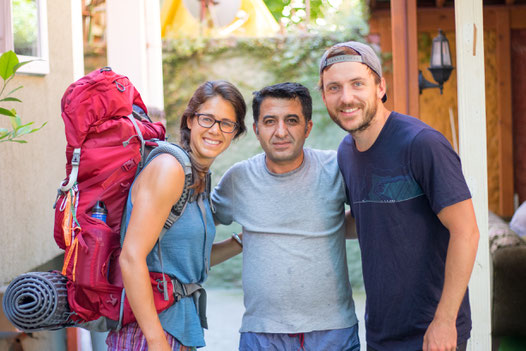 We started the day with a wake up run through Edirne, Turkey. Locals are not used to distance runners. No one was doing any sports, especially not women in shorts 🙈 We believe its ok as long as we don't workout in a Mosque. After the run we quickly bought some food before a lockdown from 9 am – 3 pm. Apparently high school exams take place and therefore people have to stay at home.
During the lockdown we have tried to use the time by getting pictures sorted and writing blog stories. For lunch the guy who already invited us for food last night, offered us lunch again. One big pot of pasta for everyone, no plates needed. This familial eating habit reminded me on home. While eating, he introduced himself. His name was Yusuf.
At this point we felt like we should offer him something for the food. We kindly asked that we would like to chip in some money to equalize. But we learned quickly that our offer didn't make Yusuf happy. His face dropped. He told us that it´s disrespectful or lets say a dishonor for him. If he invites us, he invites us. Yusuf further explained to us via Google Translate that this place is not a restaurant, it should feel like a family for us. We understood and learned to be thankful by taking his offer. I tried to explain to him that this is an unusual and new situation for us. Yusuf understood that we didn't want to be rude.
Yusuf explained us that he works here and there for a period of 3 - 6 month and his family stays home in southern Turkey. He is having a hard time to earn enough money during this challenging pandemic. Especially after he had to take a big loan for his family. His daughter had some illness. After 5 years of treatment she is fine. It will take many years till the money is paid back. He told us that he is happy that we have joined him for dinner and lunch. We thanked him for his hospitality.
At the same evening, a man who seemed to stay at the same hostel, was bothering us. He was very rude to the hostel staff and was talking about their historical background nonstop. Knowing that the hostel staff didn't speak any word of English, the man said that these people are not Turkish. They are Kurds and they don't know, he said.
We kindly told him that it`s not important for us where the people are coming from. But this didn't stop him to continue talking bad behind their back. At the end of his monologue, he showed us pictures of his "amazing" and "beautiful" apartment with a pool in Istanbul that he invited us to. Drinks for free, he offered.
We kindly told him that we already have a place to stay in Istanbul. He probably has his story too but we still had no interest in spending any more time with him.
Just as a side note, since 1923 the Turkish government counts the Kurds as citizens of Turkey.
In the evening we further explored Edirne and ate some kebab for about 1 € (yes, food and accommodation is really cheap here). We enjoyed watching a thunderstorm over the town while life continued. On the next day, we were planning on leaving Edirne to make our way to Istanbul.
Hitchhiking from Edirne to Istanbul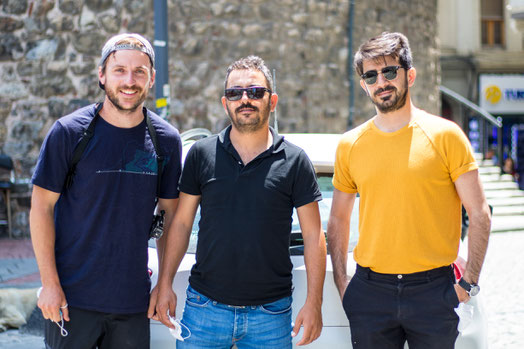 We started that morning with a quick breakfast and said goodbye to Yusuf and the rest of the hostel family. On that day, we were planning to make it to Istanbul via hitchhiking. We hiked towards the highway for about 3 km until Seyfi and Halil stopped their car. They were working on a biogas project in Edirne but usually live in Istanbul. This was almost too easy, we thought 😉
They asked us to just wear our masks and then we would be welcome to hop in. During the ride, Seify and Halil didn't really recognize me. They were only interested in talking to Bastian. They asked for his name and his profession. Not for mine. An interesting insight for us. Because we knew that this can be a cultural behavior and is not meant to be rude.
After about one hour they asked me for my name. "Nice to meet you" they said. In Turkey men show no interest in someone else's wife, respecting that this woman only belongs to her husband. In this case, not being interested in me, showed respect for Bastian. After a few hours we arrived in Istanbul. It should be our first stop, since we left Germany, where we will stay for a few days.
Meeting alpha animal Achmed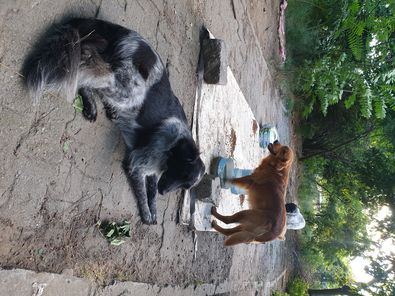 We got dropped off at Galata tower. From there we walked with our big backpacks to Taxim square, where we were hoping to find Achmed. Maybe you remember from the last blog entry. Achmed is a very good friend of the generous German-Turkish driver named Totti, who took us to Sofia, Bulgaria. They told us about Achmed and that we should find and visit him.
After 30min we found the garden right in the center of Istanbul. Dogs were at the fence barking at us. Looking at them, baring their teeth, I wouldn't even put my finger inside the fence at that moment.
We couldn't see any person. And this place didn't seem to be good place for camping either.
Luckily, we received a positive answer from a couch surfer host, named Isa. Just in case, we don't find Achmed or in case only dogs live in that garden. After a few minutes of calling Achmed's name in the dogs faces, a person came towards the fence.
"Are you Achmed", we asked. He didn't answer.
We explained him, that we have met his friend Totti and that he wanted us to meet him.
After we have mentioned the name Totti, the man`s face changed. "You know Totti?", he said. "We know each other from childhood and we are like brothers." From that point on, we knew it must be Achmed. His face started to smile and he unlocked the gate. We got invited to come in.  
The 8 dogs were fine with us right at the moment their "alpha-animal" Achmed let us in. They lived there together like a pack. Achmed shared his tent with 3 dogs. The other 5 dogs slept in their own tent. He is taking good care of all the dogs. He even pays for surgeries if necessary.
As Achmed started to make a fire to make some tea for us, he began to share stories of his whole life and I can tell you: So far his stories are the most interesting ones!
He grew up with 8 siblings in a little village. His grandparents died at age 107 and 117 in a car accident. Achmed is 57 and expects to live at least another 50 years. "Good genes", he said.
Achmed doesn't want to move. He wants to age in the park. Surrounded by his family, the dogs. He doesn't want to live with people. He loves animals. "They are uncomplicated and don't ask questions", he said.
As he continued, Achmed explained that he had to handle so many uncomfortable situations with people. For example in his park, he lived together with many criminals and drug dealers about 15 years ago. Achmed started to "clean" the area and kicked everyone out who was causing trouble. He was a good person, also gladly seen by the police and the government, because Achmed did his job. I would not know how to expel off criminals, but somehow he did. He still carries a gun for his own protection. Not a big deal for him.
He went back to his tent to show us his gun with bullets. I got a little nervous since I have never seen one before. But somehow he was really trustful and he found his peace here in this garden. He told us that he used to own a second gun, but his nephew stole it, who is in prison now.  
After a short walk around his garden, Achmed shows us his own Marihuana plants. So that he doesn´t need to deal with drugs, at least not any more.
He explains that his dogs protect him and that he didn't have to use his gun for a very long time. And if so, he only shoots in the air or worst case in their foot. "Just to make them scared". Achmed for sure has been involved in situations he didn't actually wanted to be in.
We feel that Achmed is very happy to have company to talk. So he continued with a story, where he smuggled drugs from USA to Turkey in his bud. Yes, like in the movies.
On the same flight he smoked in the airplanes restroom. When the flight attendant knocked at the bathrooms door and told him that smoking was prohibited, he just answered that she probably doesn't know who he is. If she would tell anyone he would find her in Istanbul and kill her, he said.
Well, things like this, he said, are important to get people's respect. Of course she didn't tell anyone and he didn't harm her. And we don't know if he would be serious with what he was saying.
Apparently his background is clean. He has never been in jail and the police are his friends. At least from his point of view.
Achmed told us that if you are living five years in one place in turkey, the land belongs to you. Since he is living in this park for 15 years, the park is his property. The government tried many times to take the land from him, but he just stayed there threatening the government.
In the middle of the city with a great view, this land would be worth a lot. He knows about the value of this land. If he ever feels like he needs some money, he would maybe sell some part of it, he said. But Achmed is not interested in a nice villa or a lot of money.
After a while, he talked about his friend Totti who we met in the car. Totti has a super-rich girlfriend here in Istanbul, he said. She owns a few of the luxury hotels and has many villas. Totti should be smart and not let her go, Achmed suggested.
Totti has an apartment in one of the hotels and gave the keys to Achmed. He can go there whenever he wants but he prefers staying in his tent.
Achmed cooked tea for us, which we really liked. He offered to smoke weed with him. We rejected. No problem at all for Achmed.
After 2 hours of exchanging stories, Achmed offered us to stay in his park with our tent. We thanked him and told him that we already had accommodation at a couch surfer's place. But we appreciated his offer. We would for sure come back to visit him again, we promised.
Walking towards the boat to cross the Bosphorus over to the Asian side of Istanbul, we were flashed by his stories. Especially that he didn't make a secret out of it. Its been absolutely normal for him. And he also is satisfied with his life.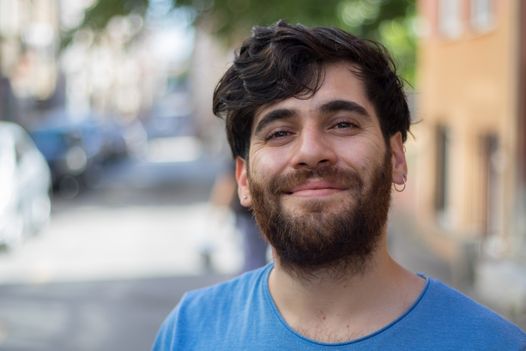 On the other side of the Bosphorus there is the Asian part of Istanbul. We honestly didn't really see a big difference yet but maybe during the next days we will recognize some.
Another 30 min of walking with our backpacks to reach Isa's little apartment. This will be our couch surfing place for a few days. Isa heard us und came outside before we rang at his door. Isa is 25 years, has hosted over 200 people from all over the world.
Isa is currently sharing his life with a Turtle named Tortilla. He got her from a friend three years ago to take care of her for a few years. Isa didn't know what kind of turtle Tortilla was. So we looked it up and told Isa that this turtle can turn 40 years 😂. We all laughed. He will have her for another 30 years instead of 5 more years as he thought. Looks like she has to travel with him since Isa has a big dream to travel and volunteer around the world.
His lifestyle is not very good seen in the Turkish culture so he doesn't get any support from family or friends. Many of his old friends turned their back towards him because of his addiction to travel. They just don't understand, he said. Mostly he discovers countries on his bicycle.
Besides his lifestyle, Isa has a girlfriend who is not from his village. Another "no-go" for his parents. They still try to find a woman from their village. They even offered him a car and paying for his wedding if he would marry another girl. But he doesn't want to.
In Istanbul, not many people understand his free and independent mind. Isa wants to ask his parents if he could use the money they would spend for his wedding instead for travelling with Irem, his girlfriend. He laughed, knowing they would never agree. He wants to travel with her on a tandem bike through Europe. 
Relationships here in Turkey are very strictly controlled by the parents if they are conservative. Even though Isa and Irem are already a couple since 5 years, Irem still has to tell her mum a story if she wants to stay at Isa's overnight. You first need to get married.
Isas sister is mad at him because she as a woman never got support for good education or university. Even though the parents didn't give Isa freedom, they at least supported him in everything that would make him a perfect Turkish man. That for he doesn't talk to his sister a lot.
Isa works as an occupational therapist mostly for children with special needs. Mentally and physically, they need his help in any kind of daily activities. He does it privately, visits them at home. Isa really enjoys what he is doing, but at the same time can't wait to travel again. He just needs to earn and save some money.
Unfortunately people don't pay him that much. He is so selfless that if he feels the family doesn't have enough money, he doesn't ask for any payment. His main reason to do this kind of job is to help. If he earns money to survive, that's enough for him.
As a kid Isa lived most of the time at his grandma's house because his parents both worked. If he didn't listen or he had to stay inside, they put him on a leash like a dog. His mum was fighting him a lot because his grandma always complained about him. So as a kid he got the feeling to be a bad person. He lost self-confidence. With some psychological support, it helps him to be as naturally kind as he is.
Today Isa changed his mind and is taking care of himself. His childhood caused him to decide on becoming an occupational therapist. He is willing to give more love than he got as a kid. Great attitude, not money-orientated.
Isa offered us to stay at his family's farm south of Istanbul. We might stay there for a week. We hope to meet him there again at his authentic Turkish family that still lives their traditions.
Music at the waterfront - Meeting survivalist Mert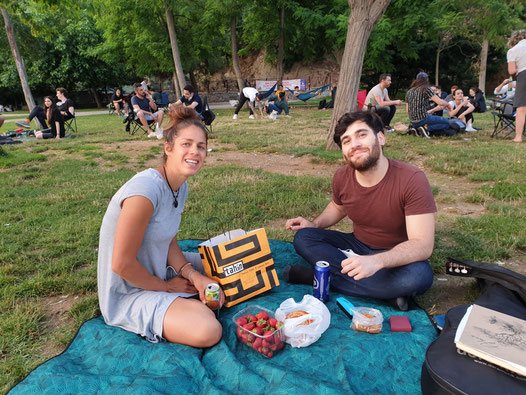 Deep breathing while running along the sea, watching the sun rising. This is how we started the second day in Istanbul. Another governmental lockdown forced us to stay at home between 9 am and 5 pm. No problem for us. Our feet were anyway tired and we were ok with sitting down to finish the next blog.
Around 5 pm we went outside and walked towards the district Kadiköy. Many cafes, bars and young people. An energetic vibe near the beach. Everyone was chilling at the waterfront drinking and talking. Isa brought both guitars, so that Bastian and him played and sang all evening.
One guy from a group besides us heard us speaking English. So he came over and asked if he could join us. He loves to meet people all over the world and dreams of travelling. He is part of a big community with alternative lifestyle, open to everyone and funny, he said. He wanted to introduce us to the founder of this community. Be ready for Mert.
Mert is a small and skinny guy. Broken glasses, doesn't bother to repair them. A gap between ones teeth. He loves minimalized living. With 24 years, he has probably more experience about travelling than others ever get in their life. He studies since 4 years and needs another 3 years to finish. He never went to university. He loves to travel instead.
Mert is a survivalist. He got lost in a forest in Turkey. The police and army tried to find him but they didn't. He found a way out by himself after a few days.
While being lost, he got confronted with wolves twice and survived (otherwise we would not have met 🙃) Once the wolve was only 2 meters in front of him. While showing his teeth and making loud noise, Mert had to climb a tree and stayed there overnight.
Mert has hiked through a desert for 200 km only eating grasshopper. While hiking he lost his hair. It didn't get enough oxygen under his cap, he said and laughed. He didn't shower for almost 30 days so that his hair just fell off. Really crazy.
He did all the travel by himself. What a brave man. No one could have helped him in case of an emergency. Mert promised us to contact his friends in Mongolia for us to stay. Good to have such connections. He knows people all over the world.
Until 3 am I was listening to Bastian's and Isa's guitar music. Isa played some amazing own-written songs, which were stuck in our heads even until the next day.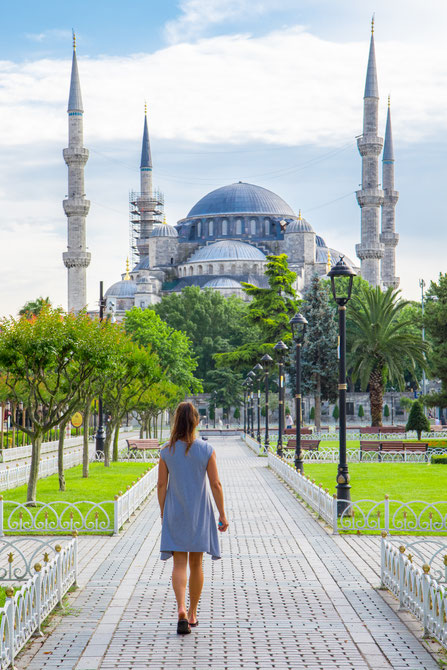 We got up at 11.30 😬🙃 and went for a run along the waterfront of Istanbul. Back at Isas place, he had prepared some traditional Turkish breakfast. Isa really knows how to cook. It´s called Menemen and it´s like a tomato sauce with peppers, onions and sausage. Really tasty.
Isa was busy that day, so we decided to have a look at Istanbuls points of interest. We made our way to the blue mosque, which is currently under construction. So we didn't get any good pictures. I had to wear a long skirt and a scarf over my head. The staff gave it to me. After 10 min of wearing they threw it in a bucket for washing. My shoes got packed in plastic bag. Kind of unneccesary but mandatory.
We had a look at Hagia Sophia, which is a museum but will be changed into a mosque again. Entrance fee was 13 € per person. What an impressive building that has been burned down and rebuilt 3 times.
On the streets we saw many people feeding the street dogs and cats. They take really good care of them. We haven't seen any street animals suffering. Very surprising.
We browsed through the bazar, smelled spices and experienced a local market. We talked to a few shop owners about the situation and had really enjoyable conversations. They are having a hard time to make it through the crisis with no tourists. But they are positive. They all asked us if we as tourists are allowed to cross borders now. They really wait for clients.
We came back for dinner. Isa was preparing chicken in tomato sauce with rice. Also very delicious. Before going to bed around midnight, we watched a movie together and talked about the day.
Memories from last year's beachvolleyball camp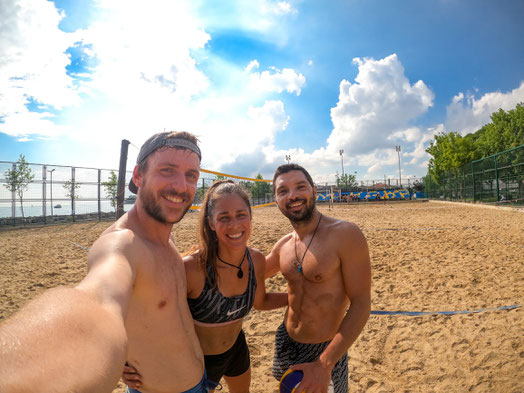 It`s been one year since we have met volleyball coach Emir at a beach volleyball camp near Antalya. He has texted us that he is in Istanbul. So we have decided to meet and play some beach volleyball together. We had a good time with him last year and were excited to meet up.
We started early in the morning to hike towards the beach volleyball area where we met Emir. We`ve played and trained about 3 hours and enjoyed getting some advice. It just felt good to be back in the sand again.
After practice, Emir took us to a traditional Turkish restaurant where we got to try a variety of typical Turkish dishes. All of them tasted delicious and fresh. I was very happy because I found so many dishes with many different vegetables I was looking for. A pumpkin desert finished us. We were full.
While we were eating a real fistfight suddenly started at the next restaurant. It started with two men and became quickly a crowd punching each other... out of control! Somehow, after broken chairs and glasses, it calmed down. Apparently two restaurant owners were fighting about where to place their chairs and tables for their customers.
We continued browsing as all the sudden an old fisherman started talking to us. We reminded him on a German couple that once went shipping with him, he said. Together they have caught 80 kg of fish. He also told us that he probably has to go to court tomorrow and does not know if he has to go to jail or not.
Being uncertain about his future, he gave us a soccer shirt of Besiktas Istanbul. He wanted someone to wear the shirt of the team he supports. Tomorrow he wouldn't need it any more, he said. Apparently in the past, he accidently hit someone with a glass bottle. That's why he had to go to court.
Wearing a soccershirt, we watched the sunset together with Emir while having some Turkish coffee. Emir showed us how they read your fortune out of the cup. When you drink Turkish coffee, there is always coffee powder left in the cup. Not in Bastian's though :-) He drank the coffee including the powder. We all laughed.
You flip your cup over and let the cup cool down to make a wish. When you lift it up again, someone else has to read your fortune out of the structure the water and coffee powder made. We were thankful to have met Emir again and that we could spend the day together.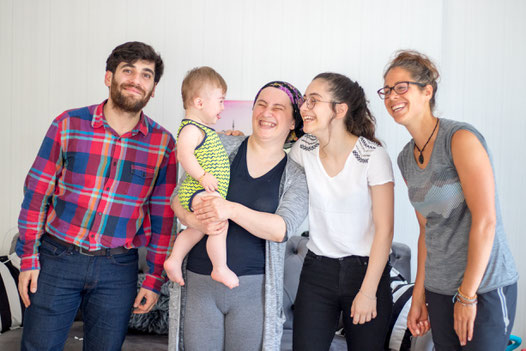 On the next day, Isa invited us to join his work. We joined him for an appointment with one of his special needs patients. A 1.5 year old boy with down syndrome. Isa is practicing daily skills with him. Isa and the family wanted to ask me for my opinion from a physio point of view.
We were excited to see how Isa works. He uses methods of a variety of fields like physiotherapy, logopedia, ergotherapia, daily life support. Very effective and impressive work. Isa motivates the family to keep doing what they do.
I could simply give some small advices since they do already really well. Such a lucky kid, especially because his mum is taking so much time for him. She does everything Isa ever told her. The result is visible: The boy improved a lot and finally started walking.
I was surprised since I thought kids with special needs are rather hidden by the society in Turkey. Not for this mum. She does everything for him. Sadly it is not always like this, Isa said.
After two hours at this family we went to the beach and played some more guitar. Not me but Bastian and Isa. I am the audience. Some wine and snacks made it another enjoyable night watching the sea.
Bosphorus boat tour to the black sea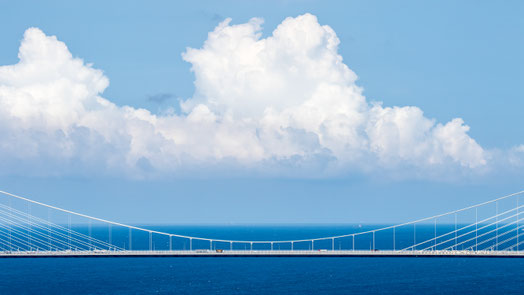 Starting the day with a run at the beach woke us up and we were ready to browse with no time pressure. We planned to explore the Bosphorus today and took the public boat instead of spending a lot for a touristic boat.
The public boat does a few stops more and doesn't explain every detail while driving towards the black sea. We had time and might anyway not remember all background information, when each building was being built. So we were happy to join the locals.
After 1.5 hours on the boat with a nice scenery along the coast, we arrived at Anadolu Kavagi. We hiked up to the
castle Yoros Kalesi, from where we could actually see the black sea for the first time. Many street dogs followed us. All very friendly and well fed as usual.
After coming back to the center of Istanbul, we had some coffee at a cozy rooftop bar. Bastian was sure the owners are father and son. As Bastian wanted to know, he asked the younger looking guy, where his father learned English. It didn't take a while till the younger looking guy was happy, but the older looking "father" wasn't. They were actually friends and not relatives. 
Visiting Achmed for a second time
It was another governmental lockdown day that we used for personal training and bloq writing until 3.30 pm. We wanted to see and visit Achmed a second time. He opened the door and was happy to see us again. Also the dogs remembered us from last time, so they weren't barking. He made some tea and we enjoyed listening to him talking about his life a little more.
There is still one big problem that makes him angry all the time. He should have earned a lot of land from his dead father. But Europeans came, were digging for gold, found some, and were taking the land from him.
In front of court he only got 400 $ out of this case. Of course this wasn't fair, we agreed. He still feels he has to take the law into his own hands. He wants to go into his village shoot them and then run to Syria which is only one mile away. Achmed has no problem shooting people if they deserve it from his point of view. If it is to grant his honors, he is able to do everything.
We believe he has done this before but this is only a guess. In Germany you would try to solve those kind of situations peacefully. But we can most likely rely on our court.
Achmed has been the boss of powerful gang in Istanbul. Many thieves were managed by him. Matching to his behavior he supports Erdogan and the weapons he creates. Achmed has been really rich at some point. He had money, girls, everything. Now he owns his dogs and his private park in the center of Istanbul. Achmed receives 400 € a month from the state. He spends it mostly for dog food.
After this conversation we decided not to take any pictures and publish them on the website. Achmed wants to live in peace but still has some criminal energy.
We enjoyed another interesting afternoon with him. As we wanted to leave, he offered us even to live with him. We kindly thank him. I think he is the best and most honest friend as long as you are not acting against him. We said bye and exchanged phone numbers.  
Unfortunately we spend most of the day in front of the computer. Many things to organize and pictures to sort out.
Isa invited us for dinner. He made Turkish Tortellini with yoghurt and Tomato sauce. He turned on the TV while eating as he always does. He watches YouTube videos about the news or documentaries. He smoked a few cigarettes. In Turkey tobacco is really cheap. Tabacco for 80 cigarettes is about 3 €. Many Turkish people smoke because it is very affordable.
After dinner we went out for a last little walk along the seaside. Police was fighting someone. Who knows what he did. Maybe he didn't wear his mask and didn't want to pay the 900 lira fine (115 €). Since the day before, the police was way stricter. You could see the police patrolling everywhere giving fines to those who don't wear a mask properly.
We wanted to buy some coffee and had a really friendly conversation with the young staff serving the coffee. When it came to paying the coffee, they didn't want any money. Even if we wanted to tip them, they still refused to take any money from us. We couldn't believe because we knew that all restaurants are in a really tricky situation because of corona and need every coin. They still wanted us to be invited.
We went back home to pack our stuff. Tomorrow we would leave Istanbul. We were planning on supporting a project near Iyvalik. We were looking forward to whats next.