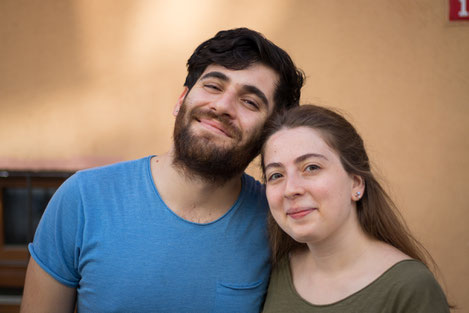 It was our last morning in Istanbul. Luckily we had the chance to see Isa`s girlfriend Irem for the first time. She has been sick for the last couple days and had to test for Corona. It took two days before she received the negative test result. We were happy to meet her.
We ate breakfast together and talked about differences of having relationships in Turkey and Germany. Together with Isa, we agree to see each other at his parent's house in Fetihye in two weeks. It has been a pleasure to spend time with him.
Unfortunately we didn't have a lot of time that morning since we wanted to reach Ayvalik that day. It`s about 400 km south of Istanbul. Leaving the metropolitan area of 20 million people, we took a train and a ferry first since in the center of Istanbul it would have been very difficult to find a ride. On the ferry we started asking people if they would drive towards Ayvalik, or at least in the direction. Pretty much no one of them spoke English any more outside of the city. It started to get more challenging. Maybe for all following hitchhikes. We`ll find out.  
Hitchhike from Istanbul to Ayvalik, Turkey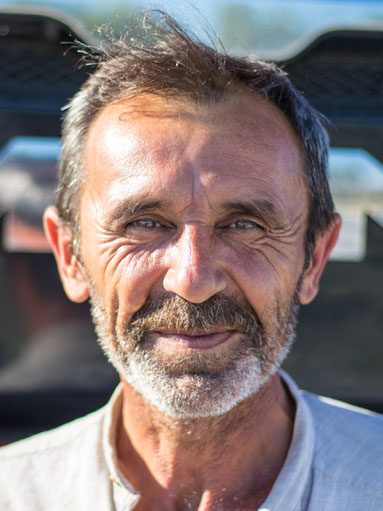 We met one 48 year old truck driver Akif, who would take us to Balikesir, which is about half way. We thanked him and climbed up in his red MAN truck. Even though Akif didn't speak any English, we somehow tried to speak Turkish via Google Translate.
Bastian was sitting on the front seat while I could sit on the bed. It reminded us on Austria, where we crossed the border to Slovenia in a truck. This time there was no need to hide.
Akif stopped for late lunch, where we could eat some local food. Good for us because at that point we didn't know that our journey would take a little longer. We paid for his lunch, which he didn't expect but was really thankful for. With a big smile in his face we continued our journey towards Balikesir. A pity that we couldn't communicate that well. We wished we could have exchanged more information during our 6 hour journey.
At the very beginning of Balikesir Akif dropped us off. Always a little tricky switching cars and asking for a ride in a city. You usually get dropped off in or before the city. But we experienced that the chances are better if you are outside or at least at that end of the city facing your next direction. So we had to walk for quite a while since no car stopped. After one hour of walking and holding up a big cardboard saying Ayvalik, Achmed and his friend pulled over. "We are not driving to Ayvalik, but we can take you a bit closer", they said. At least out of the city, we thought.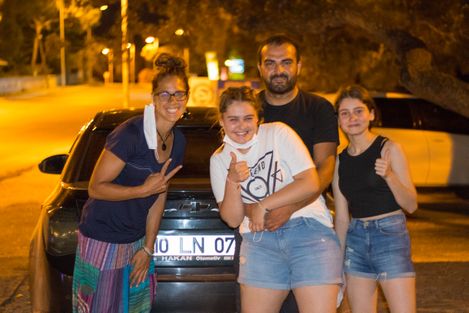 After 30 minutes, Achmed and his friend helped us to get our big backpacks out of his small car. At a gas station in the village of Gökceyazi, we were hoping to find a ride before it started to get dark. It was about 8 pm when until Kan, 22 years, stopped. He was driving to Ayvalik with his 20 year old "love" and her 16 year old sister to do some camping over the weekend.
It was a funny ride with a lot of google translate. And if google translate didn't work properly, Kan called his friend who studied in the US. So we had a mobile translation service. J Smoking is common in Turkey. So far we experienced no nonsmoker while hitchhiking. So of course they did. They have their own little family business for tourists. But there is not much to do right now. Tourists are still scared to travel, they said. Because of this situation they went on vacation.
Arriving in Ayvalik, Kan called his U.S. friend again and asked us where we would like to go. We told him that he could drop us off anywhere and we would walk from there. He didn't accept our answer and asked us to guide him via a navigation app. At 10 pm we arrived at the Camlik 87 Hotel in Ayvalik, the destination we were planning to work as a Workawayer for the first time. 
First Workaway Experience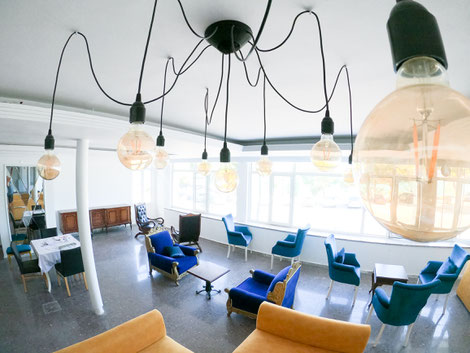 Workaway is a website where people offer a variety of work for traveler. Painting, English classes, gardening or social media work are just a few examples of jobs Workaway offers. In exchange you receive housing and food. Some even offer payment. In our case, we have decided to support hotel manager Kaya in his plans to open a hotel in Ayvalik.    
Kaya was already waiting for us welcoming us with a beer. He asked us if we had dinner yet. No we didn't. So we were excited that we would get some food. Kaya sent one of his workers to the kitchen to prepare some food. He came back with two tomatoes cut into pieces. Not really what we were expecting but should be good enough for the night.
Kaya showed us around the hotel and told us what kind of projects needed some attention. A lot, but that`s what we are here for. A run-down hotel should be turned into a high standard one. I invested already half a million Euro, Kaya said. Part of it he was willing to open the following week. The rest of it would be under construction for a longer term.
Kaya explained us what he wants us to do work on: I should do a lot of painting, some gardening. Bastian should create a dorm for more workawayers, who apparently would arrive the next days. Besides that, Bastian should take some pictures and do some advertising for the hotel. Last but not least, there is a bar, that Kaya wanted us to open. The name should be "6 hours Pub", because it will be open every day for 6 hours.
Kaya showed us our room. It's a private room, one of many rooms that were under construction. Not really clean, no hot water. But compared to all the other rooms around us, it was a suite ;-)

The next day we were proud of ourselfs to find the way back down to the kitchen. Such a big hotel with confusing corridors. We made our own breakfast sitting in the kitchen with Russel, Mensur, Ali and the married couple Islam and Maya. All from Turkmenistan except Turkishman Russel. He used to work on a cargoship as a 3rd captain. After having heart problems, he started to work at the hotels reception.
Insights of life in Turkmenistan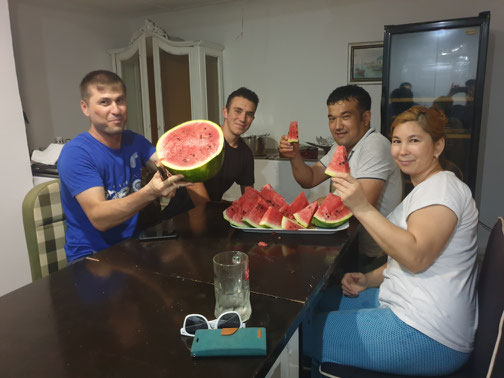 We stayed one week at the hotel and enjoyed talking to the hard working guys from Turkmenistan. We asked a lot of questions even though it was sometimes challenging to communicate.
They speak many languages like Russian, Turkmen, Uzbek or Turkish. In Turkmenistan they would earn 30 Euros per month. That's why they prefer to work in Turkey. The hotel manager Kaya hasn't applied for their visas and is not paying for their health insurance. They basically work illegally at the hotel.
They often send money home to their families and explained that they are unsure about their future. If citizen of Turkmenistan decide to work abroad and come back to Turkmenistan, they will have to stay in Turkmenistan for at least five years. Most of them cannot afford to work in Turkmenistan for five years. So they just don't go home. They all have family in Turkmenistan but haven't seen their families between 3 - 7 years. Such a long time.
We spent many evenings together with Mensur and Ali on the rooftop of the hotel. A great view during sunset while working out. Mensur got interested in the excercises we performed, so he joined. He used to be a bodybuilder and wanted to beat us in arm wrestling. It wasn't part of our exercise but we still wanted to try. Of course we lost.
We were happy to get more and more familiar with everyone and somehow we started to communicate with the Turkmen, who kept a little distance in the beginning.
The other day I went for a swim with the Turkmen Ali and Mensur. They asked us if we would like to join. Bastian was busy organizing so I decided to join by myself. Mensur liked competitions. He asked me to do a race in swimming. If I would have a chance in a discipline, then it would be swimming, so I accepted. Mensur was really good but on a long distance, I was a tiny bit in front 💪. Mensur and Ali acted like young teenage boys, giggling and laughing. We had a lot of fun together.  
The Turkmen Islam had an eye on Bastian and asked me constantly where Bastian was. At this point Islam didn't know Bastian's name but he always showed me his marriage ring. We told him that we are married as well. That way it was easier to stay in the same room.
Later on he learned Bastian's name. The two of them started to have conversations pretty much just with the same 3 words. "Islam, English, No" and "Bastian, Turkish, No", was their conversation about. Entertaining for everyone in the hotel. When Bastian was working on the computer, Islam thought that Bastian wasn't doing anything. Therefore Islam tried to give him jobs to do :-) but in a nice and funny way.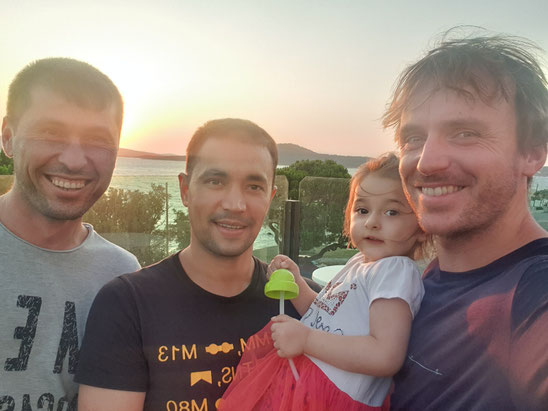 One evening, we all met at the lobby. Somehow everyone came together. Language wise we could not organize a meeting in advance. Islam bought some wine. Russell got his ethyl mixed with water or Fanta. "Alcohol is way too expensive", he said. Our president is Muslim and alcohol is somehow forbidden, he said. That's why the tax on alcohol is very high compared to other nations. We use medical alcohol instead, he said. It tastes horrible but its way cheaper. Ali had a second dinner with a massive sandwich. Maya showed me her wedding videos of her and Islam. We were very happy that everyone got involved.
At night we checked out a party in the municipal park nearby. The Turkmen enjoyed dancing a lot. Mensur asked us to take some funny dance videos for him since tonight was a bit different as his usual nights. When we left, Mensur mentioned that we shouldn't have done some of those funny dance moves while traditional Turkish songs were being played. This could be misunderstood, he said. We never thought about it that way. We were just making fun. But he was right, locals could have understood it as disrespectful. 
In Turkmenistan the roles of women and men are clearly defined. One day we carried a lot of old furniture to a tractor and threw garbage on a trailer. Hard work for all of us. In Turkey as well as Turkmenistan it is unusual that women help with physical work. Difficult for them to understand that I just really liked doing physical work. Islam always wanted me to leave and was calling Bastian over to carry everything. He thought it would be too heavy for me. I made him understand, that I really like physical work and wanted him to learn something cultural too. It is not uncommon in Germany that women do physical work as well. Islam was shaking his head but at the end still accepted that I wanted to help carrying.  
The other day, we had to change rooms. A Turkish workaway couple was coming to the hotel. Apparently they were a little complicated and asked for our private room. We didn't care and went into the workaway dorm to set up our two beds. Islam was furious and really cute at the same time. In his culture it is an absolutely no go that a couple has to sleep in a room with others.
He was whispering to us that he would have another secret room for us (in body language of course). We tried to explain to him that it´s no problem for us to share the bedroom with others. But he came again and again to offer us that room. Islam is just like a dad of the hotel family, worried about everyone.
Kayas invitation to his life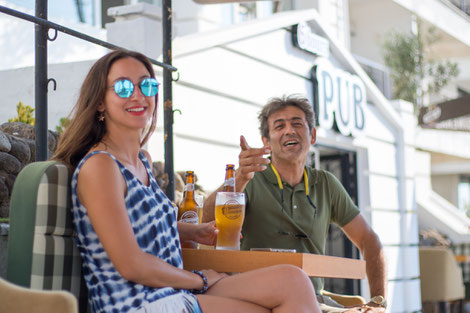 One day our boss and hotel manager Kaya asked us if we would like to join him and stay overnight at his house. He needed someone to drive his car back in the morning and was probably excited to have people over. We shouldn't tell the other workawayers who arrived yesterday. He wouln't have enough room for everyone.
Mascha, 25 is from Russia and travels since 2,5 years just with Workaway. While she was mainly working for food and accommodation, she usually tries to find an additional paid job. Apparently it is enough to get along. She told us stories of hitchhiking that many people have asked her to spread her legs for a ride. I just tell them no and all is good, she said. "I never had a bad experience."
John, 22 is from Ukraine and travels for nine months with Workaway. He used to work as an Uber Eat bicycle courier in Poland. He hasn't travelled a lot but was very excited to explore and to get to know everyone.
After dinner Kaya took us to the island across the lagune where he lives. His neighbours are his parents, his uncle and his best friends. Before he went into his house, he stopped in front of every garden to quickly talk to the people.
In Kaya's house, he offered us some really good whiskey and melon. We talked a lot about his interesting past. Kaya is very charismatic, always smiling who doesn't show his wealth. He used to run a business with second hand medical devices and earned a lot of money. He could definitely drive a Porsche but prefers to drive a small Fiat. He doesn't live in a villa. It was a moderate medium size house, just like everyone around him.
Making good deals means that you need to be clever but you also need to know how to get around taxes, he said. So I wouldn't call every deal proper and legal but it somehow worked. With his business he supported those countries that didn't have enough money to buy new devices. He mostly bought them very cheap from the United States and exported them to Turkey.
A heart attack a few years ago made him quit the business and decided to live an easy life. He wanted to reduce working hours and spend more time what he really loves: The sea. Kaya is a sails men and used to transfer boats from one place to another. He still does it sometimes.
Kaya had a lot of stories to share. 4 kids from 3 different women. That was the start into our conversation. Kaya never found that one and only woman. He is a man who needs his freedom. He loves riding his motorbike and to spend time sailing. Kaya knows that he falls in love quickly with people he meets in unusual places. At the airport, on the boat, on the plane.
Do you want to know the story behind my ring, he asked. Of course we do. A pretty woman from South Africa was sitting besides him on the plane. Never met before. He took the chance and started a conversation with her. Since she was selling jewelry in Cape Town, Kaya asked her if she would make something special for him if he would travel to South Africa for her. Of course, she said. Kaya kept his word and flew to Cape Town the next week.
She sold him the most expensive ring she ever made. It has a black diamond included. Her father stole the diamond and prepared it for many month. It is fully handmade. Kaya explained to her that he actually came because of her and not because of any jewelry.
It took four more weeks until the ring was completed so he flew to South Africa again. Kaya received the ring and stayed with her for a few months. He wanted her to come to Turkey with him but she unfortunately didn't want to join him. Maybe she was more interested in making a really good deal. We don't know.
He still loves that ring, wears it every day and gets reminded on that pretty woman from South Africa. Sad story but this is just one of many of his love stories. They could be written in a book. Wherever he meets pretty woman, he takes a lot of effort to visit them. Even if it`s on the other side of the world.
Kaya has no connection to his youngest son. He met his mum, who is Russian, at an aiport. Unfortunatly she doesn't support the son-father relationship. Kaya told us that doesn't know if he will see his son ever again. They lived together in Moscow as a family until the son turned 6 month. Sad story especially for him because he doesn't know why the mum acts like this.
Besides all his love stories we also talked about politics, religion and economy. Long but great night. It was 2.30 when we closed our eyes each of us on a couch in his living room.
The Pub project vs. Drunk Driver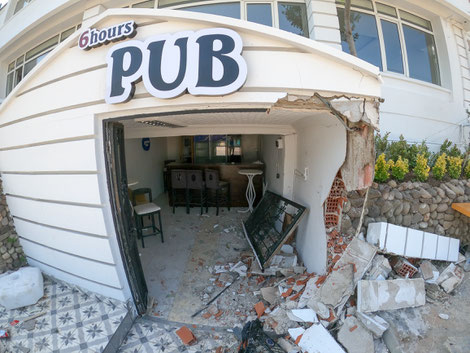 Mensur invited us that day for some ice cream. We felt bad since he anyway doesn't earn a lot of money at the hotel and sends his money back to his family. But he didn't want to let anyone else pay. We came back to the hotel's pub to start our own little party. We were happy that we have finished the pub project one day before.
The fridges were stocked, the music was playing. We had some beer and created some jumping and coordination challenges. It was fun playing around besides the street. Around 12.45 we went to bed, not knowing what would happen that night. One of these situations where our guardian angel was watching us and took care of us.
The next morning we couldn't believe what we heard. Go and see what happened to the pub, they told us. We walked down and saw a ruine. Last night at 1.15 am a car crashed into the bar. Russell the receptionist was sitting 1 meter away from what happened. We all were playing around, right there, half an hour before. The car crashed into the pub right in front of Russel's eyes. If he would have sit on another chair, he would have been hit. The driver was drunk. Russel had to help him out of the burning car. Luckily nothing happened to anybody. Just material damage.
Police and ambulance came. They tried to calm Russel down and took the drunk driver to hospital. We were just thankful that we all didn't stay there for a bit longer last night. The car would have exactly hit us instead of the bar. That would have been a horrible scenario.
We waited for Kaya to arrive and asked him why he didn't wake us up last night. We could have helped. He told us that the Turkmen are not registered and therefore he didn't want to wake anyone up.
Even that it was our day off, we felt bad to not support him in that kind of situation. So we started cleaning everything up and carrying those heavy refrigerators up to the rooftop. "If it happens once, it will happen again", Kaya said. We will not open the bar at the street again. We will create a rooftop bar, he said. 
We were six people carrying the fridges up to the rooftop and almost couldn't make it. It was hard work but everybody felt motivated to create something better out of this horrible situation. In the evening Kaya was telling everybody that he was very happy that no one got hurt. The beer is on me tonight, he said. Really nice of him even though he just lost his pub. 
Surprise and sudden goodbye
We enjoyed the evening with some beers on the roof. Not only that no one got hurt at this accident bit also celebrating Mayas birthday. We have been to Ayvalik that day to buy some cake for her.
All the sudden Kaya called my name. When I was close to him he told me that I should give him a big hug. Not really sure what he meant. "You guys are leaving tonight" he said. I didn't understand why but I could see in Bastian's face that they have already talked. I can read Bastian's emotions and in this case I knew it must be something good. It was a big surprise for both of us.
We would go on a sailing boat for a few days to sail down south. Kaya just met his sailing friend Soner who wanted to start sailing on the next morning at 5 am. Soner enjoys having company while sailing so he was happy to invite us. What a lucky situation.
At the same time we realized, that we have to say goodbye to everyone within the next half hour, because we would need to stay on the boat that night. We were sad to leave everyone but we didn't want to miss that chance either. So we grabbed all our stuff and said bye to the hotel family. Maya and Islam gave us bracelets. We will miss them.
Kaya drove us to the Marina where the boat of his friend Soner. We have never met him before but were excited to meet him. After a quick introduction to Soner, we had to say goodbye to Kaya. We were very thankful for the time we had at the hotel and that he invited us to his home.
With Gamse, a Turkish woman who is joining us one day and Sonar, the captain, we are the crew. Soner speaks no English but Gamse could translate. There are two most important rules on a boat, Soner said. First: No paper in the toilet. Second: Always listen what the captain says. All right, if that's all 😉
We got a private cabin inside the 12 m sailing boat. The bed size was small but Bastian and I could somehow fit. Not comfortable but good enough. At 5 am we started sailing and were excited what would happen next.