Drinks against Loneliness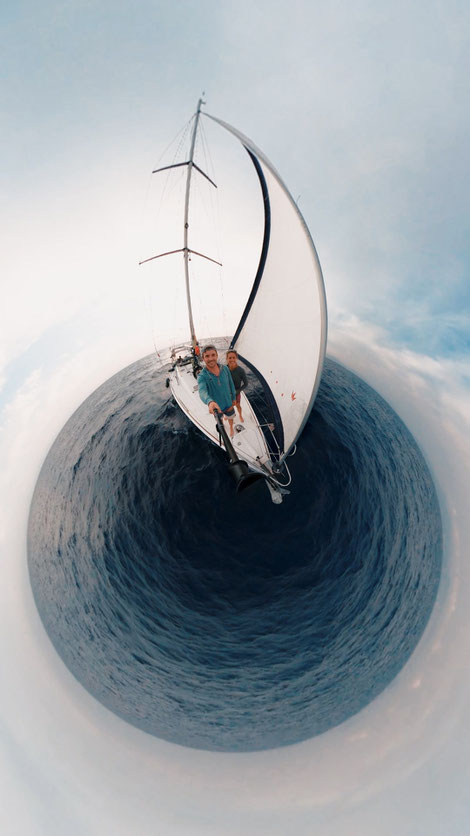 It was 5 am when Bastian, Gamse and I woke up hearing the boats engine. It was still dark and only the lights of the harbor helped us to find the way out onto the sea. The sun started to rise and dolphins were following our boat. Like in a dream, but real.
Our captain Soner told us that it would take 10 hours to get from Aycvalik to Chesme by boat. Soner is not only a good sailman but also a good chef, he said. He will prepare some nice turkish meals for us. We were excited for everything: Breakfast, lunch and dinner besides the whole boat trip itself.
As breakfast time came, Soner gave us a hotdog... well not really Turkish but we were happy with whatever. He opened his first beer. With music and sun we seesawed with the waves. Our captain forgot about lunch because he had two more beers.
I got seasick the first time in my life and lost the hotdog from breakfast 😄. Luckily it didn't take a while till the sea became quieter. I directly felt better as we stopped in a beautiful lagoon to swim.
Sonar told us that he is trying really hard to find a woman. He said that he has a lot of money but is lonely and therefore unhappy. He is always alone in the sea and would pay a lot to share this experience with someone. Soner knows though, that he cannot buy everything with money. Based on his current situation, he asked me to invite all my friend who are single. Therefore, if anyone is interested, please let me know 😉 
We had funny conversations while sailing. Us knowing only Turkish words like thank you and hello. Soner knowing mainly two words in English: Happy and problem. Therefore, Soner kept asking us if we were happy in if there are any problems. We responded "No problem" and "thank you".
Soner: "Happy?" Us: "Happy!"   
Sonar started drinking Whiskey and enjoyed having people around. It started with one glass and didn't finish after the fifth or 6th glass of Jim Beam. We were wondering if he would still be able to safely transfer the boat to Cesme, but we were quite relaxed since Gamse was still on the boat. She is a very good sailswoman and didn't drink at all.
We had a great time and we safely arrived in Cesme. Sonar was really drunk at that point and was screaming around that he needs petrol for his boat. Since no one of the harbor staff showed up, he kept using his signal horn. When he tried to get off the boat, he fell into the small jollyboat. Luckily he didn't hurt himself.  
Gamse left the boat to drive home by bus. She was planning to stay another night on the boat but got scared. Sonar treated her differently when he was drunk. He bossed her around and told her what to do all the time. They both know each other from the sailing club and are good friends since a long time. But this was too much for her.
Gamse is a mother of a three year old daughter and got divorced last year. She is really competitive with herself in running and sailing. Same in her business career, she is really successful. Gamse was in a top management position at Renault and now is planning to study medicine. She is one of a few women, who do sailing in Turkey. 
Bastian and me left the boat as well for a while to find some food. We hoped that Soner will stop drinking if no one is around and maybe would sleep for a bit. We came back after two hours and he was in a better condition. He actually warmed up some Turkish food called Köfte for us. We shared vegetables that we bought at the local supermarket.
With a full stomach we used his small jollyboat to cruise along the seaside of Cesme. Some more wine and whiskey on the boat, but not as much as before. I felt a little uncomfortable too since Soner started to call me darling or babyface and tried to get closer to me whenever Bastian was not around. I was unsure if we should leave the boat as Gamse did before. But together with Bastian, we agreed to stay and sleep on the sailing boat for that night. We decided to lock the door of our cabin. The next day Sonar would be better for sure.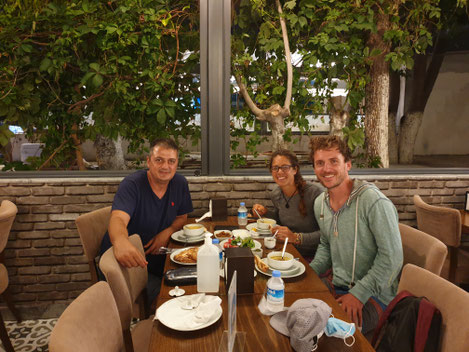 On the next morning Sonar came towards us and was really sorry about yesterday. He kept saying sorry for the entire day. Interesting how a person can change when he is not drunk. Without alcohol he was welcoming, generous and friendly. Even though I was a little scared of him the day before, I felt really sorry as well. I think this situation just happened because he usually is sailing alone and he was very happy to have people around him.

We had coffee and after that started to go further south... 10 hours on the boat. Yesterday he had mentioned that we would stay in Cesme for one or two days and would record some videos for his friend. It seemed that Soner has a lot of friends, but unfortunately they never show up. Same this morning when he decided to go further south. It was around 10 am when we started sailing with a sober captain. 
Soner was really tired and had a big hangover. We definitely didn't have to worry about him drinking. Todays sailing was hypnotizing. A lot of time being forced to do nothing.
We arrived in Kusadasi very late. A really nice marina with a gorgeous view on a charismatic little town. Soner first told us he would go for dinner with a friend and that he would sleep at a friends place. But a few minutes later he asked us to join him. It turned out to be a dinner with the three of us. No friend. Soner invited us for a delicious Turkish dinner and apologized again for the day before.
Beeing back at the boat, Soner seemed to be stressed. We were asking if everything was ok and if there is any "problem"? Soner told us that he couldn't find his car keys. Maybe he lost them the day before when he was drunk. After around 30 minutes, he gave up and decided to stay another night on the boat. A friend would pick him up at 5 am. With that decision, we asked him if we could stay for the night as well. "No problem". So we slept on deck. Happy that we didn't have to search for a campsite that night. 
We woke up at 8 am. No friend came and Sonar was still sleeping. We started packing. A few minutes later we all left the boat. So did Sonar. We were happy that we had two days together with Soner and that we got to know him. It has been a pleasure to sail with him. 
Hitchhiking from Kusadasi to Barbaros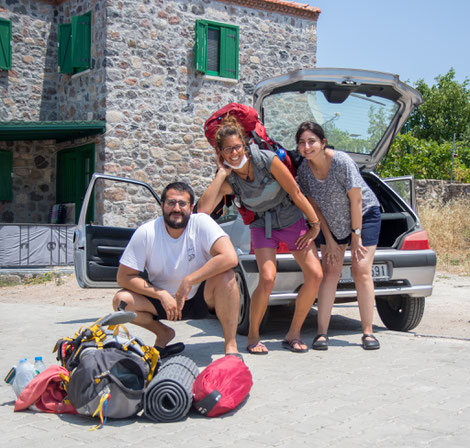 Walking to the main road gave us a good opportunity to find a ride towards Izmir. Gazem and Nortem stopped for us. Their kids are both musicians: The son is a famous pianist and the daughter plays the flute. The proud parents themselves have a little shop and sell a variety of items on a bazar.
At the gas station they bought some water, for us as well. Again an example of a culture that likes to share and care for others. Or maybe we just looked like we were in need ;-) They dropped us off at a junction at the highway - right on the highway. Never possible in Germany. 
We waited exactly at that junction for maybe five minutes until Ülkam and Thailan stopped. Really small car and a cat as passenger challenged us to organize some room to sit since we were still near the highway.
Ülkam is an English teacher for kids but unfortunately has lost her job due to the pandemic. She is confident that she will find a teaching position after the summer. School kids have 3 months of vacation in Turkey.
Thailan produces music with electrical guitar and adds some artificial sounds to it. He is creating mixtapes. He lived in Berlin for 3 months but unfortunately didn't have a good experience. He got confronted with a lot of racism, he said. We told him, that he should visit us in Germany again so that we can show him better German habits.
Ülkam and Thailans destination was about 30 km before our destination. First they wanted to drop us off at their location but after they quickly talked to each other in Turkish, they decided to drive us all the way to Barbaros. Unbelievable! About 45 minutes further than they needed to go.
The car did weird clicking noises since we were very heavy. The car was touching the ground every once in a while. When we reached Barbaros, we had to walk for about two more minutes... We were expecting a long hitch hiking day with a lot of walking. We were wrong.
Hobbit House Barbaros - Arrival in a spiritual world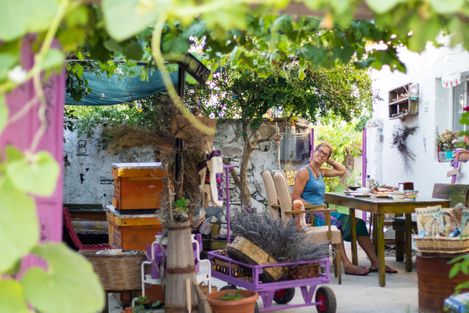 We reached our next workaway project called "hobbit house" at around 1 pm. No one was expecting us at this time. What a cute little cafe with a pension. Three rooms lovely furnished. The whole area was created with such a sense for every detail. A lot of handmade ceramics and paintings on the walls. Plants and herbs let this place look like a botanical garden.
Sinam, the owner of hobbit house, had not arrived yet. But her friend Sirma and Sirmas daughter Mavi (5 years old) welcomed us and offered some coffee and tea. Since both didn't speak English we started a conversation via google translate.
Sinam arrived and was surprised that we have already arrived. She showed us our room which was about two minutes walking distance away from hobbit house. Sinam warned us: We came earlier than expected so she didn't have time to clean up. We told them that we can clean up, no problem. To be honest, at that point we didn't know that the room was that dirty.
Covered with ants and spiders, leaves and dirt. Bedsheets used, a dirty outside toilet, towels and clothes everywhere. No problem - we got this. After about two hours of cleaning, we felt like it was good enough for us to stay there. As we were done cleaning, Bastian opened the washing machine. Not knowing that there was still a lot of water in the machine, he flooded the entire room J We used all towels and clothes to dry the floor. At least cleaner than before. 
Sinam, Murat and their projects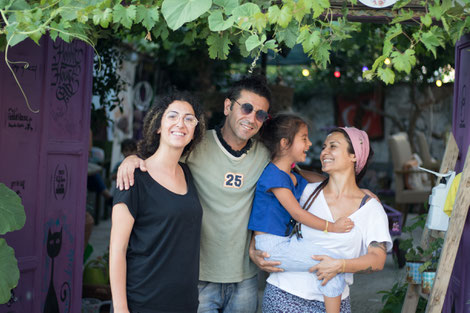 We walked back to hobbit house to get some more details about how we can support their project. To be honest, we didn't exactly know what kind of projects they are working on besides that they run a café and have an Airbnb. We asked the hobbit house owner Sinam so many questions. Together with Murat, she is running the hobbit house.
Sinam grew up in the east of Turkey in a small village. They lived near a river with lots of nature. Her parents weren't conservative at all. Sinam is really into herbs and sells their oil and energy of the plants. She collects them in the mountains and produces some kind of energy boxes. One example of how they make money besides their cafe and pension.
In their free time Murat and Sinam collect books and toys for kids. With these books, they go to villages in the mountains and create libraries. The villages are usually far away from civilization and most of the citizen don't have access to books and toys. Their schedule is pretty open. They do things when they feel like doing it. Energy and inspiration are words they use a lot.
We were careful about what we were throwing away when we cleaned up. We didn't know yet if these items, plants or little creatures had a meaning to hobbit house. 
We made a fire and had a little barbecue in the evening. They didn't used to do it often because Murat doesn't really know how to build a fire. He just threw the coal including the plastic bag into the fire. When Sinam and myself saw this, we tried to fix it by taking the melted plastic out. As soon as there were proper flames, Sinam threw the onions directly into the fire. I was sceptic about this technique but the onions tasted delicious together with lots of meat. About three cats were watching us having dinner.
While eating we were talking about Sinam's and Murat's past. It made this night very special because they shared a lot of insights. We started to understand their concept and way of creating projects better than before. Their way of building up a business is not based on money. They focus on energy, passion and recycling.
The first main project before hobbit house was a café in Istanbul. They furnished it with stuff they found in the trash and recycled them. They don't take any money as donations because they don't want to be put under pressure. Instead they take things, books, toys etc. Here in Turkey they are quiet known as "robin hoods". Politicans have often tried to give money to them but they always refused.
Even for big donations of books or toys, Sinam and Murat took the donators with them to the villages. They wanted the donators to give the donations in person to enjoy the feeling of helping. Not just dropping off the things at Sinams and Murats place. They wanted the rich people to understand the effort but also the experience in supporting people in need. I think this is an excellent way of teaching people how to give and share.
In the villages Sinam and Murat usually ask kids where to find poor families. "Kids are the most honest", they said. If you ask adults, it is difficult for them not being biased. Very clever way of distributing the donations. We appreciated that conversation and learned a lot about "the business of donating".
Daily habits at Hobbit House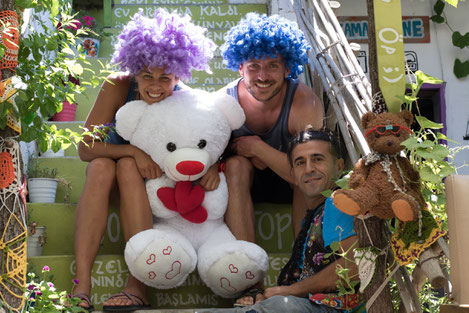 In the early morning the noisy crickets, the wind, the sun and I seemed the only ones being awake. Running up the mountains made me happy every morning. Usually Bastian joined me but one day I could convince Sinam to run with me. It was more like a dancing powerwalk with little sprints. However it was a lot of fun and Sinam started going for walks every morning since then.
The people in the village got used to see us running. But at the beginning you should have seen their faces. Just confused with many question marks. Not sure if they were able to see us anyways because I haven't seen many of the elderly people wearing glasses. I`m guessing most of them didn't see us clearly.
After having a shower the daily hobbit house routine started like this: We drank a traditional Turkish coffee with Murat and Sinam, not doing anything else for a while. We didn't talk loudly in the morning, instead only whispering was allowed. Together we started cleaning the kitchen and got ready for guests. Sometimes Sinam and Murat were motivated and sometimes they felt like they needed some more sleep and went back to bed J. So we served drinks and food to the guests by ourselves.
People usually started to show up for breakfast between 11 am and 3 pm. So no hurry at all. Hobbit House served really good food. They serve olives, tomatoes, cucumber, green leafs and herbs, strawberry jam, liquid sesame paste, cheese, bread, fried bread, eggs in different versions and Turkish Gözleme. For Gözleme an elderly woman from next door came over to prepare it on a hot stone. Whenever guests arrived Sinam just walked over to her house. Easy because people are always home in Barbaros.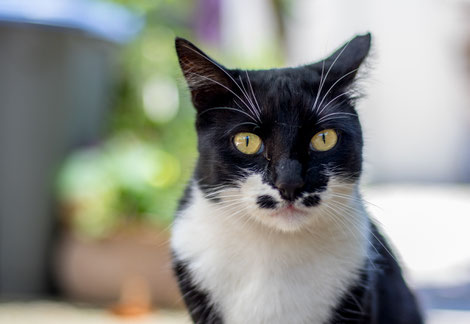 The most hectic but funny morning was when Sinam got a phone call around 8.30 in the morning. 17 people were already on their way to hobbit house for breakfast. Sinam thought they would show up one day later. So we all were in a hurry to get everything ready.
It was a group of students and volunteers from Izmir who met for breakfast in Barbaros. They were interested in our story and in talking English, since this was one of the projects they offer: English classes. They invited us to visit them in Izmir. Maybe we would have the chance to stop by because we anyway wanted to stop in Izmir next. 
Because of the pandemic Sinam and Murat struggle to earn enough money. They both think of other options to make money or even closing the cafe. While Sinam was sitting in front of the computer to work on new inspirations, Murat was driving around with his bike to get good ideas.
At those kind of days Bastian and I did duties around this ecological place. For example: Fixing the tomatoes and watering all the vegetables. Bee boxes had to be cleaned out since they havn`t been used for a while. When everything was done, there were always many entertaining cats around. Especially Charlie Chaplin who had a mustache turned into Bastian's favorite buddy
Hobbit House - Getting to know Sirma and her daughter Mavi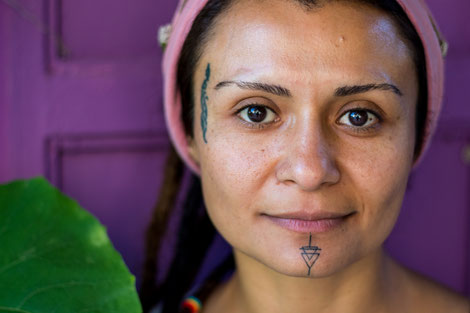 At one afternoon, we went to the beach with Murat, Sinams friend Sirma and her daughter Mavi by car. It was very windy and stony so we didn't really swim but played a lot with Mavi.
Sirma's brother and aunt live in Germany because otherwise they would be in Turkish jail. Sirmas brother is chased as a political offender and is currently working as a Turkish news reporter in Germany. He is not supporting the current Turkish president and is writing critical about him. We skyped with him and talked about his news reports.   
Sirma continued and showed us a picture of her husband. She told us that he died when Mavi was one month old. It was a climbing accident near Kas, Turkey. Sirma also used to run a café in Izmir, but due to the pandemic, she had to close the place. Really sad story - A life with many challenges.
Mavi is a really energetic kid and since she grew up without a dad, she was focused on Bastian a lot. Mavi is a single child and very shy to play with other kids. We were really patient with her not letting her do and have whatever she wanted. Such kids can be really challenging, but we had a lot of fun with her when she understood our rules. On the way back Sirma wanted us to try Turkish traditional food: Intestine cutted in little pieces on a bread. Of course we tried, but not our favorite 😉
Earthquake and "Bikeride" to Ildir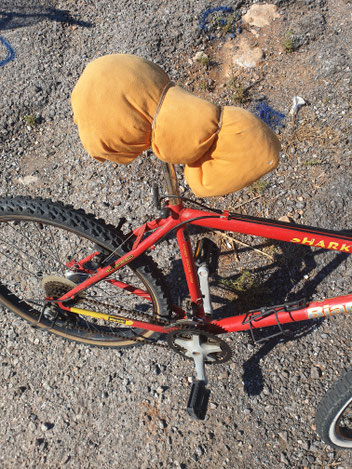 One night Bastian experienced something for the first time in his life. The whole village was holding on to their breath for a minute because an earthquake shacked the ground in Barbaros. I seriously didn't realize it, which is a miracle and I still don't know why. Probably because I was in the bathroom focused on something else... so I missed out on that 🙈 Luckily nothing happened.
On our day off we were riding the two "bikes" that Hobbit House owns to Ildir... both bikes were in bad shape. Mine was kind of alright, just saddle way to low. Bastian tried hardly to bring it up. The result was that the saddle stayed the same height but turned about 30 degrees to the left. No way to bring it back straight.
Still better than Bastian's bike. His saddle was a pillow same way too low. His brakes were not working, so in the beginning he walked downhill. Not really the point of taking a bike. So we somehow figured out to tighten the brakes at least a smidge. Good enough to not walk down the hills. But there was still another problem.
Bastian's pedal seemed to fall off with every turn. We could tighten it but after about 100 meters it was the same like before. We asked people in some villages a few times on our 35 km bike ride for some screwdriver to tighten the loose pedal. The bike trip of 35 km took way longer than usual. Half way we reached the seaside of the ancient city Ildir. Old ruins in a cute little fishing village.
At lunchstop we received a huge cucumber as a gift from restaurant owner Ferro. Ferro invited us for tea, because he enjoyed talking German to us. He lived in Austria for a few years. Many Turkish people that we met lived in German speaking countries for a while but somehow went back to their home country. Mostly because of the lifestyle and not open-minded people in Germany.
After a refreshing swim in Ildir, we started to fight our way back to Hobbit House. The way back was a lot of uphill. Slowly but steady we came closer to the village where ice cream was our motivation!
Private Physio of Barbaros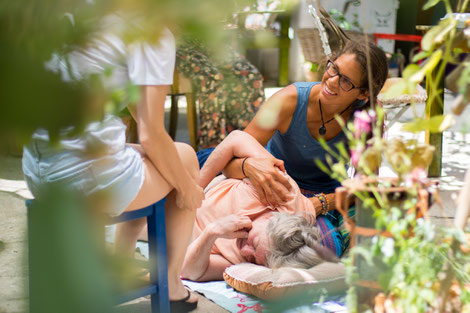 When Murat and Sinam found out that I am a physiotherapist, we decided to offer physiotherapy to the people in the village. Murat announced the offer in the village WhatsApp group where the villages major is the admin.
When I walked through the village a little later, the elderly women started to show me their knees and shoulders. Even though they knew that I don't speak Turkish, they kept talking to me with hands and feet. I tried to let them know that they should come to Hobbit House where Sinam could translate.
On the next day I did some physiotherapy to three people. No appointment needed. They just show up. A man with back pain, a woman with pain in both arms and another woman with headache and dizziness. I was very happy because I actually felt the people were thankful and I could somehow help them. Apparently most of Turkish doctors simply give painkillers.
They appreciated me to ask many questions and testing the functions of the body. Sinam was helping with translating. At one of the benches in the middle of the café, I did the treatment. All the patients had no problem me touching them or seeing their skin for diagnosis. One woman brought eggs as a gift. Others consumed some coffee and food.
In the evening, I received a message on Instagram from an unknown person. She said that her mum Jüsin got a treatment from me today and she can move her arm again. Jüsin takes care of her physically handicapped sister since she was a child and carries her around all day. Such a warm hearting message is worth more than any amount of money.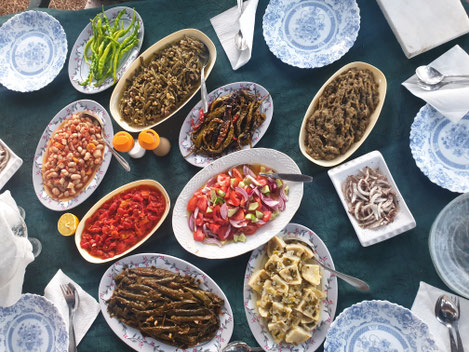 Jüsin came again two days later. She felt better after the last treatment. Happy she came back so we could improve with some more physio this time.
She said that she would like to invite us to her home and showed us pictures of her sister living with them. I really wanted to go there because her sister would need a physio even more. She could not walk, had spasms, smiled a lot but seemed to be happy.
A couple days later Jüsins husband picked us up from Hobbit House. Jüsin wanted to invite us to her home, where we met their 11 dogs, more than 50 cats and of course her sister with special needs.
Her sisters` name was Nimet (65 years old) has Cri-du-chat Syndrome and is not able to walk or to do anything by herself. With this syndrome, she has a normal life expectations but is mentally and physically handicapped. Unfortunately there is no chance to cure this illness because it is based on a gene defect. But with this syndrome patients are usually happy people and not too much bothered by pain.
To my left there was Nimet sitting beside me trying to reach my bracelets while giggleing. To my right there was a blind dog trying to figure out who I am. Bastian was surrounded by a dog with three legs and two cats with wounds in their faces. The smell in the house let is assume that it`s hard to keep everything clean. Even if this warm hearted couple dedicate their lifes for all of their patients.
Nimet is a cute women that loves Coca Cola and Ice Cream. Not easy for the couple because they have to carry her around and help her with all daily chores. Eating, washing, changing sitting positions or anything else. She is dependent on her strong sister and her powerful husband. Nimet really liked my bracelet, so I gave it to her. Jüsin and her husband told me that Nimet puts the little balls in her ears and nose. They always need to be careful with giving bracelets to Nimet.
Two days later, they invited us for dinner again. We didn't expect such a delicious meal with fried fish and an incredible variety of tasty side dishes - at least 10 different kinds. The 11 dogs and the 50 cats where around us all the time because they smelled the fish. They were fed with some leftovers. Everyone was happy and satisfied. 
Bastian's project "Wise Women of Barbaros"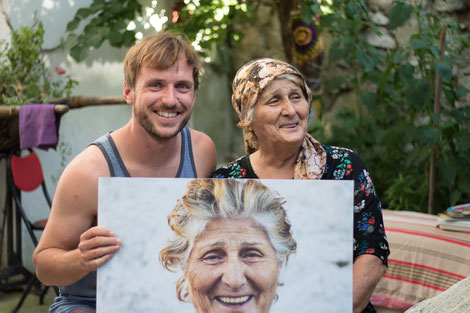 Murat as the creative mind of Hobbit House asked Bastian if he would be interested to take pictures of the elderly women of the village and create an exhibition. Great idea, because usually they do kids projects. In this case it would show respect to the elderlies and recognize their wisdom.
That for the next days Bastian and Murat were either riding motorbike or walking around the village doing some old women's photo shoots. Murat and Bastian where pretty productive. After a couple days they have collected about 24 pictures of elderly women.
With this photo-package they took the motorbike to the next town called "Urla" to print the pictures. Murat felt free and like a little happy kid on the motorbike. He was constantly honking and singing while riding. He was excited and full of positive energy.
Bastian was very excited when he actually saw the printed pictures for the exhibition. Murat was expecting that each photo would cost about 5 Lira (0,70 €-cents). After hearing the price of 40 Lira per picture, Murat was shocked. After some negotiation and some minutes on the phone talking to Sinam, he agreed to a deal of 500 Lira (70 €) for all 24 photos, which is a very cheap price.
As the deal was being agreed on, Bastian and Murat went to Urla to wait for the photos being printing. In the city all the sudden Murat stopped and took an old and musty carpet out of a trashcan. He was so happy. He would clean it sell it for at least 500 Lira, he said. The cost of the exhibition is basically covered. As Murat and Bastian went back to the printers shop, the owner invited them for some Turkish Dürüm.
While walking back to the motorcycle Murat was asking Bastian if he could have a look through his sunglasses. He liked what he saw so he didn't give it back. Murat made Bastian understand that the sun is too bright for him. Well that was actually the reason why Bastian brought them. But it looked like Murat decided it would be his turn for now. :-D
Saturday the 18th of July, we opened the exhibition in the afternoon. Before we still needed to prepare a lot for the visitors. Women from the village came to see their pictures. Most of them had to go really close to find their faced.
In the evening many old women came for physio and to see their pictures. We recognized that they were proud of their pictures and at the same time making jokes. One 88 year old lady was talking about a picture of her neighbor who is 80 year old. "She looks very ugly and older than me with her many wrinkels" she said. So funny, we all laughed.
After the exhibiton, Hobbit House will donate the pictures to the elderly women of Barbaros. Such a nice gesture. 
Interesting people of the village and their gifts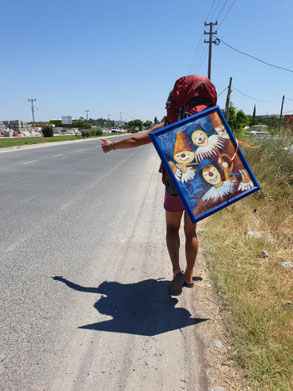 At one of the walks we stopped at Sinams freinds house. She is the baker in the village also sending bread to other cities. She goes to bed at 12 and gets up at 3 am. Since 12 years two or three hours of sleep are enough for her. Funny and energetic woman who right away invited us to try her homemade jam and her bread that was still warm from the oven. Very delicious! As this hadn't been enough, she even put the rest of the bread including 2 glasses of jam in a bag.
Sinam and I were visiting an artist with Parkinson for physiotherapy. His house is an art gallery. He is creating pictures and jewelry made of little stone pieces. A lot of work: Finding the stones in different colors, crushing them into tiny pieces. Piece by piece putting them together into a picture. A lot of passion and patience. Because of his Parkinson he had to stop most of his work. He is a lot slower than before and the coordination in his hands were reduced.
Sinam warned me before we went there, that he likes to spend a lot of time with visitors. When we came in he jumped right up to show me his jewelry. I got transformed into Cleopatra with his handmade hair decoration. He gave me two massive necklaces as a gift for me and my mum. He explained how much work it is to create them. It would be a shame for him if I wouldn't accept the gift. 
The biggest surprise at the last day was when a village citizen came back with a present. He brought two friends before for physiotherapy and was thankful that I could give them some advice. So as a gift he brought a painting of clowns wrapped in paper. What a nice surprise even though that I didn't know how I should transport it while travelling with a backpack. But I was happy.
What an amazing time in Barbaros. We spent 10 days there and especially the people will be remembered. Our luggage is much heavier with all these presents we got, especially to transport the picture will be a challenge. But we like challenges ;-). Next Stop Izmir…