With the clown picture on my back, which was a gift from a patient, we started walking towards a bigger street for a ride towards Izmir. The picture was uncomfortable to carry but I guess it was as much fun for drivers to look at us as it was for ourselves.
Looking back down to Barbaros we had mixed feelings. The people in the village were special. A peaceful place where Murat and Sinam just fit perfectly in with their helping hands
Easy hitchhike towards Izmir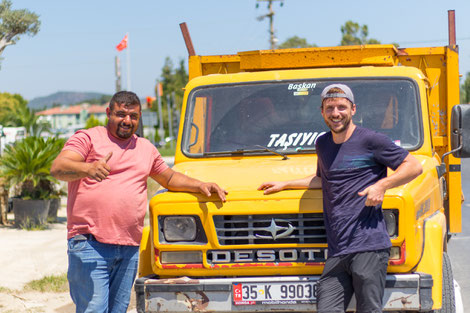 Actually we couldn't even walk up the road. Our head was still trying to finish up with the Barbaros project getting ready for Izmir when a truck interrupted our thoughts.
"Do you like to drive towards Izmir", the driver asked. Of course we wanted. Good that the windows were open so part of our luggage was hanging out. Otherwise we wouldn't have fit. Serdaf the truck driver took us about 15 min towards Urla. 
There we were about to put our thumb out and two cars at the same time stopped. Both of them were waving for us to decide for their car. We were laughing, what a random situation. We decided for Erhahn just because he could take us all the way to Izmir.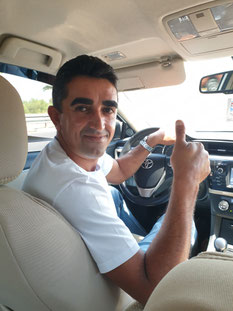 Erhahn was on the phone a lot being on a business trip with a rental car towards the airport. No problem for him that we were enjoying the air condition in the back. We didn't talk a lot because he was working. On the highway he dropped us off since he had to take the exit towards the airport. 

We walked next to the speeding cars for a while until we found a whole in the fence to escape from the busy highway. After 40 minutes of walking we reached our meeting point, where we agreed on meeting with our couchsurfing host Asim. Well, we thought we would meet there but Asim didn't ;-)
It was a misunderstanding where we would meet our host. We waited at that cafe nearby for a while as he was waiting at his place. After 30 minutes we decided to just walk to his apartment to meet.
Couchsurfing in Izmir with four kittens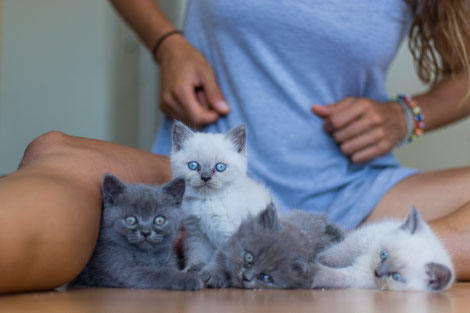 When the door opened eight eyes in fluffy little faces were directly watching us. Asim owned four kittens that were six weeks old. Two white ones and two in grey. And a proud mum was snorring while we cuddled all of them. Falling over their own feet when they tried to run made us constantly smiling. 

Sitting on his balcony with an astonishing view down on Izmir, we watched the sun going down. That night we had a talkative night with Asim about politics and economy. Good conversations made this a really interesting evening.
After downing the first beer we were suggesting to Asim if we should order more beer. I was thinking about maybe getting one more or share one with Bastian. Asim right away said, good idea, I take three... We were laughing and Asim was surprised that we laughed since he was serious. It was a Monday and he had to get up at 6, haha. I liked his way of not thinking about tomorrow and not worrying too much.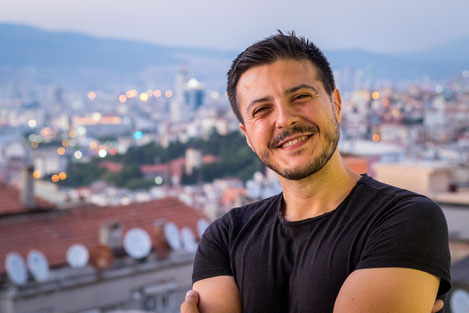 Asim is 31 years old and works in a sales position selling ironing boards to big international chains like Aldi or Lidl. He is commuting to work about two hours every day.
He is also hosting Manhia, a Philippin girl he met via Tinder, who joined us later. I could not keep my eyes open as long as the boys. I think it was a few beers later and around three o´clock when Bastian went to bed. Asim was sitting on the balcony for another hour. Not much sleep for him but he got up at 6 o´clock and did not complain or regret.

We got up later for a run. About 10 km along a beautiful walkway near the water front. We didn't run all of it but parts were enough of sweating in the heat. Long and steep stairs back to the apartment killed our legs. That is the other side of living up on the mountain and having the best view ever.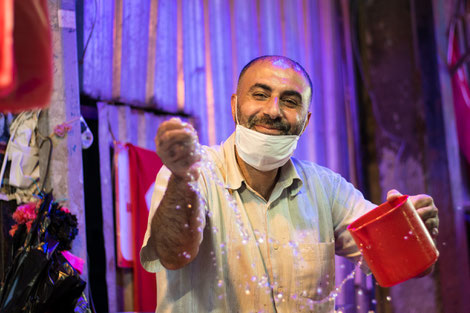 Stepping out of the touristic main roads gave us interesting insights of a different Izmir. We explored the side streets and there you could see a more conservative sight.
Women were covered and the men didn't look at me and my shorts. Usually they were not greeting us. Interesting to see how life in a big city is different just a few streets besides the clean main and prepared roads.
We explored the enormous labyrinthine bazar. Taking pictures and laughing about always having the same small conversation with the same words. But the stand owners (fish, olives, clothing, pide baker…) were excited that we at least tried. With our five words in Turkish and well trained body language, we got to know them.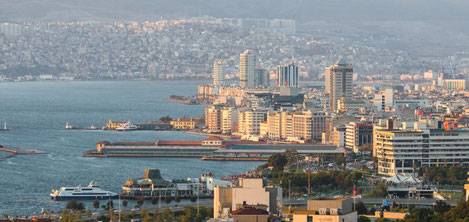 Back at the main road we were happy to find a public toilet. Of course we thought we use it both for the one lira we had to pay. Bastian went in first, when he was done I sneaked in right away before the door closed. But this toilet was smarter than us.
I put down my pants when all of the sudden the door opened automatically again. Kind of funny but a little embarrassing as well.  I didn't give up that easily. I quickly closed the door again concentrating on my business.
Three seconds later the door mechanism opened again. Even more ashamed this time, I asked Bastian to close the door. We entertained some strangers who came along and were laughing about it. Still not sure if it was worth to save one Lira J
On our way back to Asims place we wanted to use the tram to be faster. Since we didn't have a card for the public transportation called "Izmir Card" yet, a security guide told us that we could not use the tram. A man walked by and just tipped his card for us. Before I even realized and could say "thank you" he disappeared in the tram towards the opposite direction. How generous!

At night we explored Alsancak, that's where the nightlife of Izmir is happening. The pubs and coffee places around that area were full of young and cool ones drinking. Impressive how many drinks people are having even during the week. Seems like Turkish people are better in enjoying themselves.
Asim told us that we could find the best "Izmir Bomba" in Alsancak. It's a warm, liquid chocolate surrounded with a thin dough. Absolutely tasty, definitely a market niche in Germany if anyone wants to produce it before we do ;-)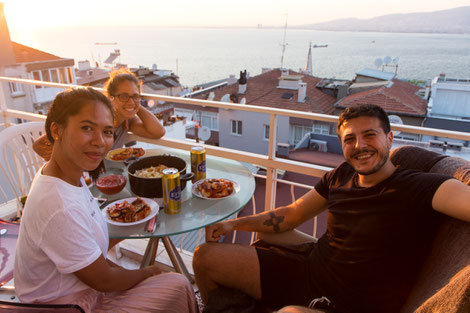 I have to confess that I gave the clown picture to Asim. He really liked it and at the same time it would be impossible for me to carry the picture all the way to Japan.
I told Asim the story of the picture. That I got it as a present for my physiotherapy work I did in Barbaros. He will take good care of the gift and will not forget about us.
Asim might even come to visit us in Germany. Same with Manhia, the girl from the Philippines. I gave her a nice neckless because I knew she likes jewelry and would wear and appreciate it more than I do.
The day before she bought jewelry for 1600 liras (183€). We thought that she is financially struggling and therefore living at Asim's place until her working visa for Turkey is approved. Maybe that was not the case, we don't know. She is invited to visit us in Germany as well. Or we will visit her in the Philippines. We will see. 
Ataturk Youth Center Invitation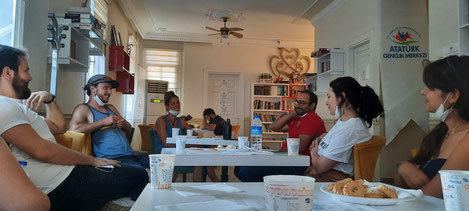 At one afternoon Bastian and I got invited from about 12 people of the youth community center, we met at hobbit house a week before. They came there for breakfast and were interested in us talking English. We didn't really know what to do there, but they told us to be there around 4.30 pm.
It turned out to be an open conversation in English about the German culture and our trip in general. In exchange we got some insights in their volunteering work at the youth center.
They offer English classes, events and many fun activities. They further explained how the Turkish university and the school system works. All of them said, that it is still difficult to follow your own way, especially for girls.
Their parents' generation still expects them to marry early and to have kids. But if the girls are planning to study and to step into the business world, they have to be ready for arguing with their families.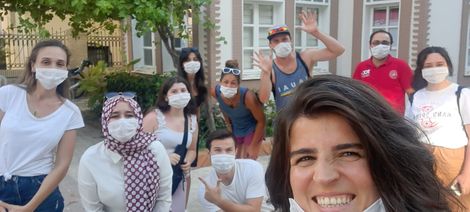 They granted us to be able to travel and to explore. They know as a Turkish citizen this kind of travel would be hard to realize. The Turkish currency is so bad, the language barrier is a problem and their passport is not as powerful as the German. They would need visas for almost every country.
The students we met at the youth center tried to step out of their regular habits. They take the extra effort to learn English and they demand to go to university. Even the girls do. As a German you feel blessed and appreciate the opportunities. We at least try to give people something back with motivation, interaction and connections. 
Hitchiking from Izmir to Marmaris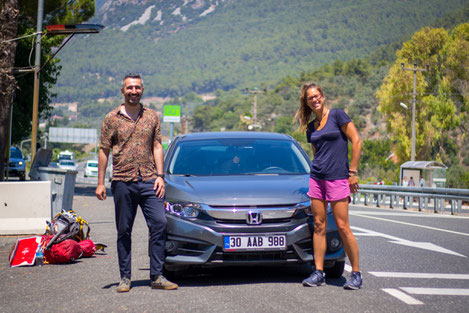 The next morning we got up early to catch Asim before work to say goodbye. Also every kitten got a goodbye-cuddle. Even Maniha, who usually sleeps in long, looked out the door to say goodbye.
We were planning to hitchhike to Marmaris and volunteer at a tourist agency for a couple days. I contacted the agency via Instagram and asked if they need support. They agreed and even told us that we could stay at their apartment.   
We walked 4 km towards a highway and waited about 30 minutes until Abdullah stopped. He is 34 years old and works in the police department in the criminal section. Very friendly man listening to great music. He dropped us off about 20 km before Marmaris.
Sezgin, long hair and 40 years old stopped for us next. Somehow he made room in his tiny car for the two of us. He had loads of stuff in his car since he was about to drive to a market and wanted to sell his products. Before driving us right in front of the travel agencies office, Sezgin stopped at a viewpoint for us to take pictures. At the office we were supposed to meet Mehmet.
Mehmet and Sinam giving us insights into their business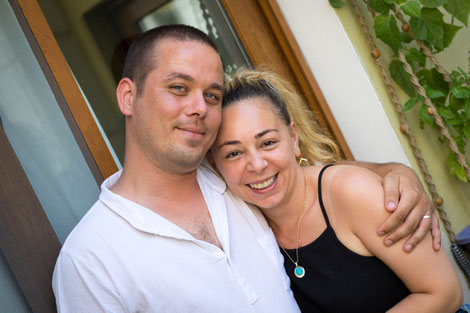 At the office Mehmet was already waiting for us. So far we knew that he and his wife Sinam wanted to start a few projects with excursions. At the office Mehmet started to tell us a lot about their projects.
He is cooperating with his boss since his boss owns one of the biggest and powerful touristic companies in Marmaris. Having a big travel company is always helpful to be able to offer good prices as well as getting good service from the tour operator.
The agency is usually just the middleman cooperating in between the guest and the operator who owns the equipment for an excursion.
Talking about his business made us understand how the tourist industry works. Mehmet is usually doing the marketing and online stuff while his wife Sinam is receiving phone calls from potential customer. Last year she received about 300 phone calls a day 😳 She said about herself that she is really talkative. That helps for sure.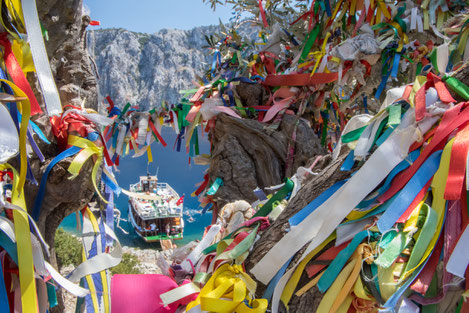 Mehmet has been a tour guide for 10 years and told us many funny tourist stories. For us it sounded funny but not for him. He is tired of dealing with the same questions every day. That's why he stopped being a tour guide and wants to focus more on a passive income via online bookings.
Mehmet wants to offer excursions all over turkey and started a platform for this. They furthermore prepared a website to offer train rides from Turkey to Iran for individual travelers. Both does not really exist yet. As long as their advertisement is reaching their clients, we are sure this is a good idea. 
Mehmet and Sinam asked us to do some advertisement for them and offered us to join some of their excursions in exchange. Our duty: Checking the service of the operators and taking pictures and videos for their advertisement.
We should join a diving tour and a boat trip on two different days. Besides that we should have a look at their websites or even translate some content into German. We were excited to help and also get to participate excursions. Mehmet and his wife Sinem repeated many times that they want us to enjoy and whatever we deliver they are happy with it.
Sinem cooked an amazing dinner. We felt sorry for her, because she was on a diet eating just a little. Mehmet and Sinem are married for nine months and know each other for 2 years. Since Sinem knows Mehmet she gained 23 kg because he introduced her to fast-food ;-) Mehmet is not that into healthy food. But Sinem cares and has started a diet. 
Exploring Marmaris and its tourism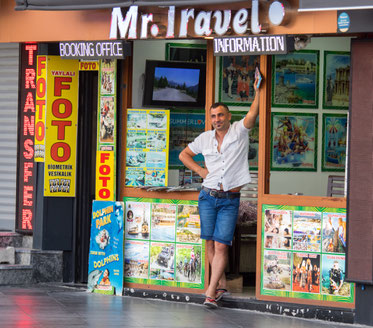 Marmaris is the perfect spot for long runs along the water. But you have to be early, otherwise the heat will challenge you. I woke up early, no problem ;-) That is the best time of the day anyways.
Marmaris is a really touristic place which we didn't expect. One hotel besides the next. A luxury harbor with tons of expensive boats and an old town full of shops and a party area.
Apparently mostly Russian and English people are visiting Marmaris, which we could imagine by the food restaurants offer. While watching burned bodies, all-inclusive bellies, dressed up people taking selfies, we felt being at the wrong place.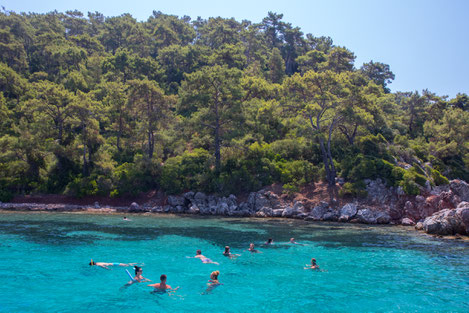 It was a coincidence when Mehmet saw us in between all these people that evening. We were browsing around all these restaurants when he suddenly waved at us. Mehmet and Sinem were sitting in a bar and asked us to join them for some beer.
We had even more fun talks about tourism and cultural fun facts. Very interesting how different a tour guide has to handle people from different countries.
Some of them are always punctual and don't care where they sit. Others never feel any time pressure and would start a fistfight if someone else is taking their seat. To those differences Bastian was suggesting an interesting study of Hofstede who exactly tried to define differences in cultures.
After two beer we all were a little dipsy and ready to walk back. Again no chance for us to pay. After many "tesçecur" (meaning thank you) we had a lot of time to be excited for the next day while walking home. Back from the city is about 1 hour by foot. On our way back we saw a wild pig with 4 babys in the middle of the town. So funny, I think they were eating the cat food people put everywhere for the street cats.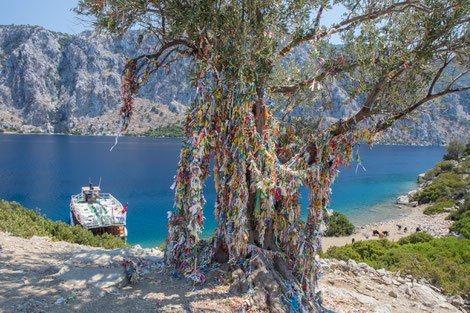 On the next day we were happy to join a diving trip. We were the only ones with a diving license. The dive master was excited to actually go on a deep dive with clients because usually there are only discovery divers who have never dived before. 
At our dives we went about 33 m deep and saw sea cucumbers, lionfish and a sea star. Not much fish and coral but good visibility. Everyone else tried diving for the first time and dived about 5 m deep. Many of them enjoyed, some got a little scared others didn't even wanted to put their head under water.
For the boat tour we got picked up at 8.45 am. Mehmet's boss asked Bastian to join a boat trip for taking pictures and videos and I am just invited too ;-). The boat stopped at five nice beaches and lagoons with cristalclear water to swim.
Lunch was delicious. They prepared some chicken, pasta and fresh salad for about 30 people in that small kitchen on a boat. We were impressed. Apparently before Corona they used to have about 90 people on the boat. I don't know if it would be still enjoyable then. 
At one of the islands where we stopped, thirsty goats and an ancient church were waiting for us. We fed the goats with watermelon the staff gave us and tried to give them as much fresh water as possible. They were still thirsty but maybe someone would come at night to take care of them. Somehow they survive on that island. We could visit the small church with a tree full of colored bracelets.
The guests were all happy and we got a lot of pictures and videos and can give the trip a good rating. For sure Sinem and Mehmet would ask us again since they wanted to know every detail about the service on the boat and the satisfaction of the clients.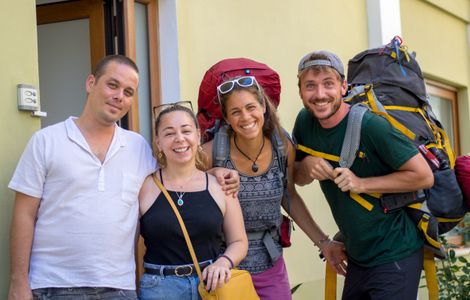 As promised, we made some pizza for dinner. Homemade dough sauce and the topping was "everything the fridge had to offer". Especially vegetables, which Mehmet seemed not to like that much. But at the end everyone was full and happy.
Homemade pizza is what we do if they ask us to prepare something german. Maybe not the typical german dish, but who would know how to make "Knödel" or "Schweinsbraten"? 

After having some Turkish delicious breakfast "Kahvalti" with Mehmet and Sinam, it was time to say goodbye again. We were thankful for the time we spent with them, they let us deep dive into their lives and their business. We wish them the very best!
We will hitchhike to Fethiye and are ready for an cultural event since we will celebrate Kurban Bayram, turkish Eid al-Adha with Isa´s family. Isa was our couchsurfing host in Istanbul. He will be there and we are happy to meet again!