It`s been 83 days days since we left Germany. While we travel, we document various information about our trip. Based on the data we collected, we will share some facts and figures at the end of each month. Lets have a look at the data of August 2020.
Cash is King – Travel cost facts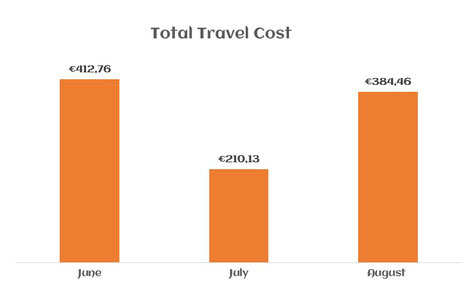 We have travelled 31 days in August und have spent 384,46 € in total. That's a daily average of 12,40 € for two people or 6,20 € per person.
Compared to the last month we have spent about twice as much because we have worked less at workaway locations. This results in a higher cost impact on food since at workaway places food is usually provided. 
Combining June, July and August, we have spent a total amount of 1 007,35 € for 83 days of travelling. That's a daily average of 12,95 € for two people or 6,98 € per person.
What did we spent our money on?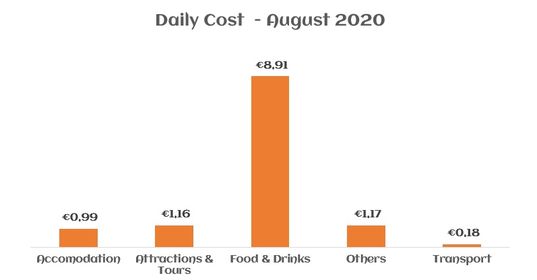 With an August-total of 276,17 €, we have spent an average of 8,91 € for two people per day on food.
We were not able to stay at the same level as July (6,34€) because we stayed less at workaway places where food is provided.
Food was and will most likely stay as the cost driver No. 1.
Combining June, July and August, we have spent 78 % on food, 10 % on accommodation, 5 % on attractions, 2 % transport and 5 % on others.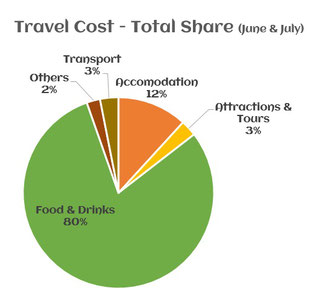 Should I stay or should I go - Transportation and Hitchhiking Facts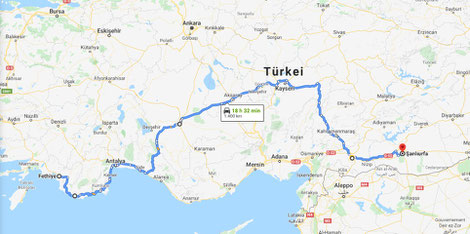 In the month of August we have hiked 97,5 km carrying our backpacks (18kg) and 165 km without any gear. This makes a daily average of 3,2 km with backpacks and 5,3 km without.
At the beginning of August we started travelling from Fethiye and ended up in Sanliurfa at the end of the moth. If you would ask Google maps about the fastest route that we  took from Fehtiye to Sanliurfa, it would take 18h and 32 minutes to make a distance of 1400km.
For us it took 25 hitchhikes on 9 days making a distance of 1343km. That's an average of 53,7 km per hitchhike. Distancewise, it`s less than the Google maps distance because we hiked about 100km with our gear.
Combining the months June, July and August, we hitchhiked 53 times on 21 days making a total distance of 4311km.
In September we will decide where to travel next. Its rather a decision on which border is open since some countries like Iran have closed their borders due to Covid-19.
All about the sleep – Accommodation facts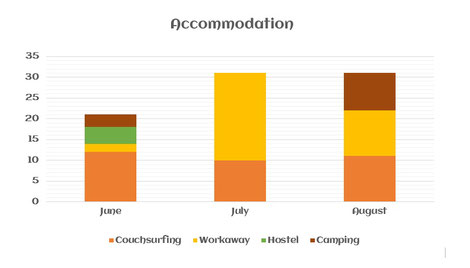 In the past while travelling, we have experienced that accommodation usually takes most of the travel cost. For that reason, we have decided to try on reducing this cost category if possible.
In August we stayed only one night at a payed accommodation. It was a campground at Butterfly Valley which costed about 30€.
Breaking down 31 nights, we have stayed 11 nights with a couchsurfing host, 11 nights at a workaway place and camped 9 nights.
Compared to last month, we camped a lot more and spent less nights at workaway places.
Combining June, July and August, we have stayed most of the time at either workaway places (41%) or couchsurfing (40%)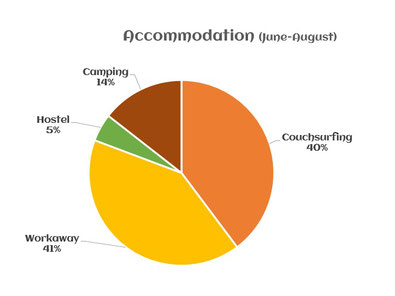 Cheesy life – Hygiene facts
In August, we had the chance to shower 19 times. This number leads to an average of 0,61 showers per day.
We washed our clothes 3 times meaning that after ten days we usually need to do some washing.
Combining June, July, August (83 days) we had the chance to shower 53 times and used the washing machine 9 times. That's a daily average of 0,63 showers per day and 0,11 washings.
Please let us know if you like those numbers or if you are interested in any other facts. In the upcoming Blog we will include the indirect like health insurance as well.