Hitchhiking from Marmaris to Fethiye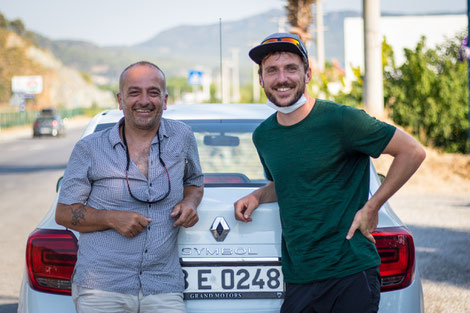 Leaving Marmaris in the morning heat by walking 5 km towards a gas station near the main road towards Fethiye, made us tired. We were planning to hitchhike to Isa´s family to Fetihye that day. Isa is our couchsurfing friend from Istanbul whom we spend one week with. At the gas station we bought some ice cream to cool ourselves down until Kubi stopped for us.
He is a sailsman, transferred boats from one place to another and loves to travel in general. For him sailing doesn't seem like work. As we told him that we want to hitchhike to Japan, he directly asked for our contact details. He is planning to find work in Japan, so we might meet him again. Kubi dropped us off half way directly at the highway.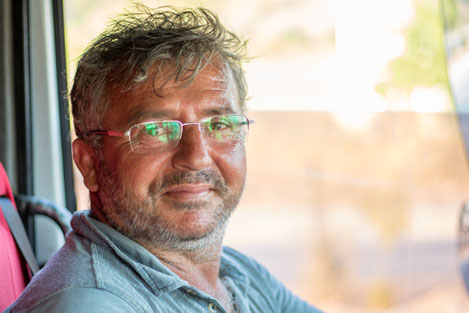 It took about 10 minutes until Nusrat picked us up with his big MAN truck. Even though we didn't speak the same language, he showed us pictures and the Facebook account of his son, an American football player. Nusrat is a really proud dad.
He continued showing us pictures of his wrestling career when he was young. Now a truck driver since many years.
We stopped with the truck at a steep hill because the truck overheated. Even though we went super slowly (20km/h), the 16.000 l of water in the back were just too heavy. And the breakes maybe not the best ones. From where he dropped us off, we walked about 15 min to the house of Isa's parents.
Insights of a traditional Turkish family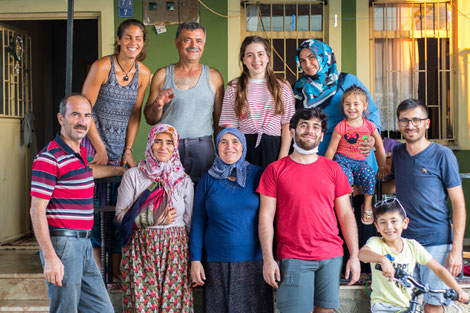 Bastian and I were really looking forward to see Isa again and now we would even meet his family. Not only seeing him again, but also knowing that we can ask him anything about his family, made us excited for this experience.
Isa has sent us the directions to his family home via Whatsapp, since he will arrive a couple hours later than us. When we arrived at the two big houses, we weren't firstly sure if we are at the right location. 4-5 families could live in this building. It seemed that all of them are somehow related to each other.
All doors were open. One women was cleaning the stairs in front of the house and looked at us. It must be Isas mum. Her face looked like a female copy of Isas face. We introduce us and Yes, she knew about us. We were happy that we have found Isas family.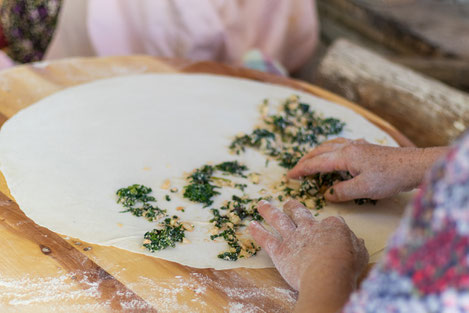 When Isa arrived his mum welcomed him with a big hug. His dad just gave him a fistbomb and his sister didn't even look at him. Isa already told us, that the relationship to his sister is a little tense because of the support he received during his studies. She didn't.
It was the time of Bayram holiday, the victim fest in Turkey. For this holiday the women started to prepare some food for the big slotter fest. They bake bread and börek, a traditional Turkish dish. It took them about 9 hours. One women was rolling the dough and didn't change her position at all.
Sitting in front of an open fire with 32° outside temperature. Same position, not taking a break. She impressed me a lot and was probably well trained in doing this. I was impressed how all these women worked together. When one women arrived, one left. In total it was about seven women helping each other.
First they prepared the dough. Then they made little balls and rolled them afterwards before putting it near the open fire. For börek they prepared some filling. The women made piles of this bread to share it between everyone. They will also share it with poor people in their neighborhood. The men watch the women during this procedure.
Usually the men do farming and have some hard days during tomato season. But now, there is no harvest season, so they enjoy their break.
Hiking Saklikent Nationalpark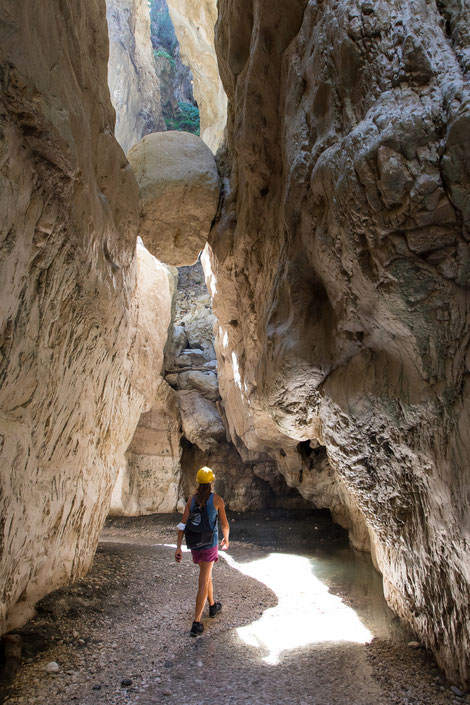 While spending lots of time with Isas family, we hitchhiked and explored Saklikent Nationalpark. It took us 5 cars to make the 45 km (even though at least 8 of them we walked), but 5 interesting lifes to ask questions about. 
When we arrived we didn't expect that much. But Saklikent impressived us a lot. It starts wide and gets more and more narrow. A little stream is running through the canyon with fresh blue water. The rocks are about 50m high on each side and the further we went the less people were there.
We climbed and hiked as far as possible. It ended with a small waterfall where you could take a refreshing bath. A guy walked with us for the last little part to help us climb, which we didn't ask for. At the end, he asked for money. A lot of money. We gave him some because it was nice that he showed us, but we didn't like that they think tourists don't know the prices and over calculate massively.
Our way back we tried hitchhiking again even though we were very tired. We at least wanted to give it a try. Two minutes of thumbs up and someone from Fethiye stopped. What a trump we thought first. Well we didn't know that they would stop at about five houses to give people food. This was a tradition on the day before the Bayram festival. They also stopped at the cemetery to visit their family members. We joined as well.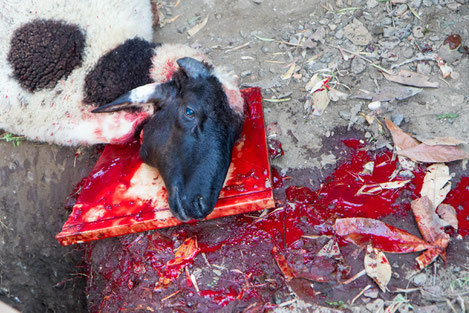 It was a brutal day – All about cutting those sheeps and preparing the meat. Two sheep would be slaughtered today by Isa's dad. All of the older boys of the family would help.
The sheeps arrived on the back of the pickup truck. Isas cousins, his dad and Isa were calmly leading the first one into the garden. Bastian and Isa have digged a hole before, so that the blood would flow into. They laid the strong male sheep down, cuddled and touched it very friendly.
Praying and singing calmed it down. They believed that the sheep was a gift from Allah, even though they paid for it the day before. When the prey was finished and the sheep was calm, the dad quickly cut the throat. For a few minutes the dying sheep tried to breath. The blood was splashing around and the next moment the dad was cracking it's neck...
We didn't know what kind of death the sheep was going through. But even though it was brutal, we were still sure it was better than dying in any other industrial slaughterhouse. The muscles kept on moving for a while but the movements became slower and slower.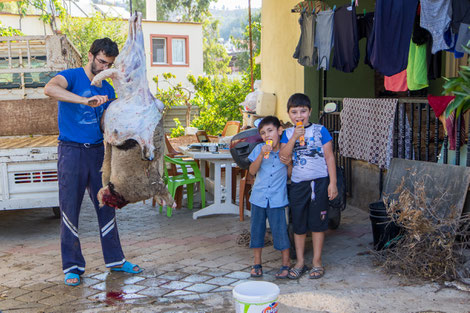 As the sheep was clearly dead, the next step included getting off the skin and cutting it in pieces. For this step, Isas dead was blowing air underneath the skin with a bike pump. The bloated sheep was hanging on a hook. With a truck they pulled off the skin.
Organs have been carefully taken out. Some of them would be eaten. Some will go in the same hole in the garden and will be buried.
At the end the meat was weighted. Isas dad seemed to be happy about the amount of meat. The first sheep gave 25 kg of meat, the second 28 kg. 
During the whole procedure the kids were running around and were not impressed about what happened. They are used to this procedure.
Everyone was invited later on to try the meat. It tasted delicious even though we had all these pictures in our minds.
Isa's home village with old memories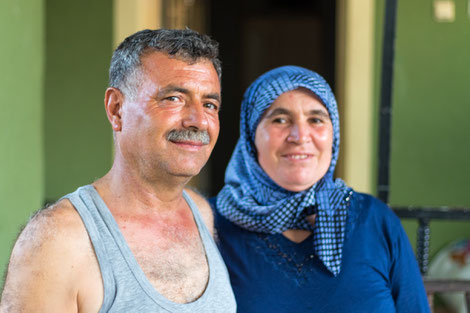 At one evening talk Isa gave us a lot of insights of his childhood. We only met his mum as a very good and welcoming person. And Isa loves her. But he has some really bad memories how her mum and grandma educated his behaviour.
During the day when his mum had to work and his grandma couldn't watch him, they just put him on a leache like a dog. He was attached to it for hours. Since he was one of the oldest children in the neighbourhood, his grandma thought that Isa would cause trouble.
Isas grandmother was beating him a lot and sometimes they used the most horrible penalty for him: His mum and grandma made him taking a shower with boiling water. Isa burned his skin several times. Actually Isa's mum was controlled by his grandma. She made her treat Isa like that.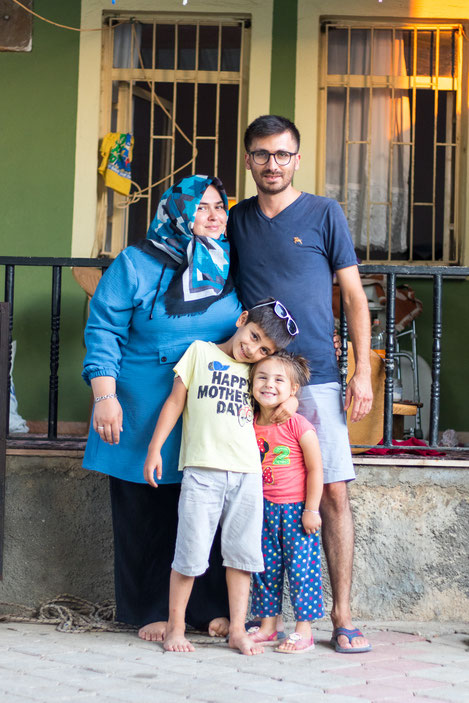 Isa continued that his mum just made a big mistake a few weeks ago. She went to a fortune teller, because she was very unhappy with her life. Her husband didn't really take it seriously. The fortune teller told her to pay 100 000 turkish lira (about 12 000 €). If she wouldn't pay, something bad would happen to her kids. So what did she do? Of course she paid.
Asking for money from her son, from family and friends not telling what she needed it for. At the end she had to tell the truth to her skeptical husband and her kids. Her husband was shocked and mad.
Since Isa wasn't home at this time, Isa was afraid that his dad would kill her mum for doing this. But somehow they figured it out. They took a lawyer and are trying to get their money back. It is very unsure, if they will ever get some money back. We were sorry for her, but she just tried her best and got tricked. 
Isas sister is actually from another mum, but they grew up together.
A couple days ago Isa got the information that apparently he and his sister have another sister from a third woman, which his dad declines. Isa was sad because his dad was keeping this secret for 25 years to all of them... actually a really tricky family constellation with many challenges.
Isa told us that he wants to write a book about his past and how he learned from it. Today he is a strong and well educated person who tries to find his own way of happiness.
Isas family meets Isas girlfriend Irem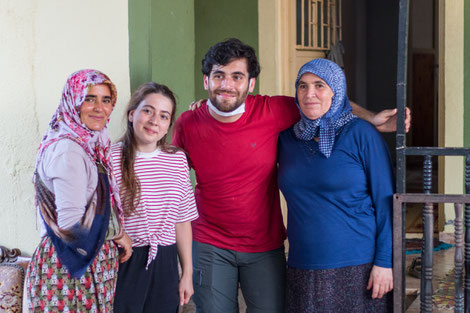 Irem, Isas girlfriend, arrived one week after we did. The family prepared a really nice "Kahvalti" (breakfast). You could feel, that the Isas family was somehow welcoming Irem but at the same time weren't too welcoming either.
Irem is not a girlfriend that the family has chosen for Isa and she isn't from the same village too. Isa told us that it will take a while until they will fully accept Irem as his partner.
I was really hungry, because we ate around noon and went for a long run in the morning. We prepared for the evening because we were planning to leave for a hiking trip along the coast. Isa, Irem, Bastian and I went to buy a little goodbye present for Isas parents and bought some stuff for camping. When I saw what Isa and Irem chose, I added some vegetables and fruits.
We were excited to have two more days with Irem and Isa, but were also looking forward to travel on our own again. We just know each other so well and mostly want the same. With other people you adjust to other habits. Luckily Isa and Irem are easy going. We bought some beer and some cigarettes for Isa, that he had to hide. His family including his sister doesn't know that he smokes and drinks. 
We had another barbecue in the evening even though we had three full days of meat, three times a day. And their fridge was still full of more meat.
After spending one week with the family, we knew, it was time to say goodbye. Hard for us since we got to know everyone very well even without talking. We appreciated that we got all these insights from a traditional turkish family. We definitely learned a lot about their culture and their rules as well.
With teardrops we left fetihye. Isas cousin drove us close to that first beach, where we wanted to do some camping. Ready for some hiking in the heat and chilled nights at the beach. I don't even think we would need our tent... just sleeping under the stars besides the water might be enough...