Hitchhiking into the Turkish Alps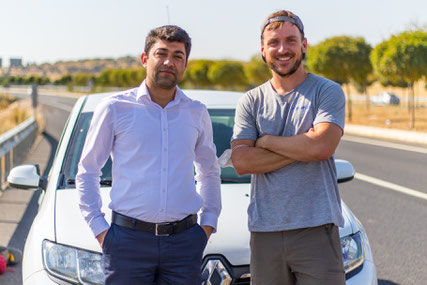 We started our trip from Mardin to the north of Turkey by breaking our daily record of hitchhikes. Seven different cars we counted.
We started with Ismail, who took us from Mardin and bought us a bag full of fruits and sweets for breakfast.
Second car was a couple with their 4 year old son Jusef. We rarely met kids or women while hitchhiking. Since they were sheppards, they liked the fact, that we milked goats in Cappadocia ;-)
They were very interested in our status. They asked if we are married and why we don't have kids.
We told them we are married just to make things easier. But we didn't start a family yet since we want to travel.
Not really an understandable answer for them since it doesn't really fit into their cultural values. We understood, that this was an interesting question for Turkish people. That's why we almost answered this question in every single car J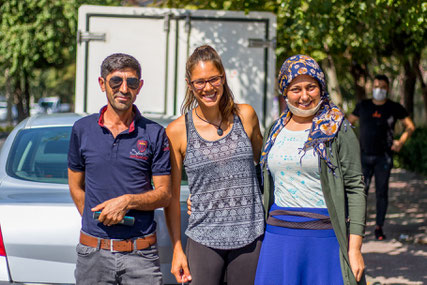 We had to walk for a few kilometers through Bingöl to reach a good spot. The police on the walkaway was stopping us and asked us where we would go.
We told them about our trip and they got interested. They offered us to have breakfast with them. Such a tempting offer. Imagine sitting and eating with the police who even invites you! But we had to keep going. Still a long way to go to the North of Turkey.
Abdullah and Mustafa were driving us through the Tundra of Turkey. Around us yellowish large mountains with no trees nor water... just all in yellow with a clear blue sky. Shepherds seemed to be the only ones living there. Rarely small villages. It looked like a no man's land.
Ahmed, driver of car number five, was Kurdish and he told us right away that he is against the Turks. We recognized that during the last couple days in the east. There is still a lot of tension in between the Kurds and the Turks.
With the last two drivers Akif and Gelmek we made it to Aşkale where we decided to stay for the night. We didn't make it all the way to the Black Sea region that day.
A creepy night in Aşkale (no pictures needed)
Wasn't easy to find a place to sleep. We thought people would let us stay in their backyards with our tent. But everyone we asked was scared. Either of Corona or because they have never seen tourists in this small village. Houses were surrounded with high walls, which made it difficult to talk to the owners. Only kids were playing in the streets.
We met one local guy (we call him Mustafa) with his wife, daughter and granddaughter. He would have let us sleep in his backyard but his wife was the boss in the house and decided against us. We got the advice to sleep in the corner of the village park. "Should be safe there", said a military man of the village.
We set up our tent in the village park. We knew it would not be a night where you feel comfortable and safe, but we trusted the locals' advice. We took all our important belongings with us and walked back into the villages center. What a surprise: We met Mustafa again who wanted to let us sleep in his backyard.
Mustafa offered us to stay in his apartment because it would be very cold that night. He seemed to be a nice person and we felt safer in someone's house than in a park. We grabbed our tent and walked to his apartment. We were unsure, what his wife would think about us. But she seemed not to be at home.
Mustafa opened the door and invited us into his living room where he was drinking beer and watching a movie. He was super friendly, almost too friendly. He kept on smiling, telling me to get relaxed and comfortable and bought some more beer when he realized Bastian would help him drinking.
I should get that comfortable to even lay down on the couch, because he brought me a pillow and a blanket to lay down. We both were tired enough to just fall asleep on the couches. Our host came at least two more times to reorganize my blanket, which I could have done by myself. Also Bastian got a blanket and a few minutes later he just fell asleep right away.
The host kept on watching Turkish TV, smoking, drinking beer and making that clicking noise with his prayer beads. Muslems use this kind of bracelet during the day to pray. He brought our glasses back into the kitchen. From the noises I woke up and asked him if he would need help.
Since we didn't speak the same language, we had to use bodylanguage. Maybe I thought he would come that close to understand me better, but he started to touch my face and lean on my chest. That moment I understood: He had other interests.
But whoever knows me very well, knows, that I believe in the good of a person. So I still hoped he just didn't understand and pushed him slightly away. But that just made him come even closer, telling me that I was beautiful, putting his finger on my lips. He was that close now that I could smell him and even without contacts I could see every wrinkle in his face.
Then he tried to kiss me: That was the point when I was sure what he wanted. "Yok!", I said a little louder and pushed him harder. He walked back to his chair turning around one more time smiling at me which made me scared.
Bastian didn't wake up from this, even though he was on the opposite site of the room. I wasn't loud enough. I was mad at myself that I just could not say anything bad into another person's face. Even though he was doing something clearly unacceptable. I should have yelled at him, but I didn't. I pretended to sleep again, but watched him through an eye slash.
Whenever he left the room, I tried to quietly wake up Bastian, but he didn't. So I decided to get up again, brush my teeth and wake Bastian up as well to brush his teeth. That moment I was happy that Mustafa didn't understand German.
While brushing our teeth I could tell Bastian everything. Bastian was confused, since our host seemed to be nice. Even though Mustafa didn't understand the language, I was pretty sure he knew we were talking about him.
I asked Bastian if we could both try to stay awake until Mustafa goes to bed. Bastian promised he would. Back in the living room Bastian was watching Turkish TV which he didn't understand. Since our host couldn't see if Bastian's eyes were closed or open, he left the room several times and came back to check if Bastian was sleeping.
But Bastian was in fight mode and held his eyes open. It became like a weird game of the two who could stay awake for longer. I at some point fell asleep again. Until 2 AM the host kept on clicking with his prayer beads, smoking, drinking and walking out and back into the room to check on Bastian.
Then Mustafa gave up, turned off the TV and left. Bastian immediatly went to the bathroom again to check on his sleeping room. The door was still open. Bastian didn't trust the situtaion and closed our door of the living room in a way that it wasn't possible to open from the outside. A table in front of the door blocked the handle bar. Finally Bastian could go to sleep as well.
It was 5.45 am when someone tried to open the door. Why ever our host was awake after not even four hours of sleep but he was. And he was surprised that he couldn't get in. We removed everything so he could entered. Mustafa turned on the TV and started again with his clicking noises. We grabbed our backpacks and left right away.
We were happy to be out of that place at 6 am. Both being very tired but still kind of shocked what happened.
Finally getting to the black sea region
Walking along the road in clean and fresh air felt good and cleared our mind after that night. We reminded each other that we have met hundreds of nice and welcoming people. This experience shouldn't change our general positive impression about Turkish people. And it didn't.
With Ismael to Bayburt, with Murat into the black sea region. While getting closer we realized how much the nature around us changed. The yellow grass became more and more green, the bushes became trees and the hills became mountains.
The black sea region is the Turkish version of Austria or the Black Forest in Germany. With Adam we made the last kilometers to reach Hamliköy, where we booked a night in a lodge. We had to hike to the cozy little wooden house with cute small rooms. We were happy after hiking up that hill to reach this place, taking a shower and washing off last night's impressions.
Many Arabs come here for holidays. They love the rain, the clouds, the green trees, the mountains… nothing they know or experience in their home country. Many signs and restaurant menus are in Arab.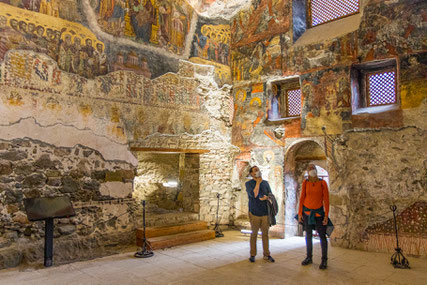 After a night in the mountains we were planning to visit Symela Monastery. With Murat and Mustafa in the first car and Ammar in the second, we luckily made it.
Ammar was a perfect match: He was happy to have some company since he was travelling alone. And we were happy to meet someone with an interesting background.
Ammar is Syrian but lives in Kuwait. Kuwait is not accepting him as a citizen even though he was born there. Citizens don't have to pay taxes, that's why they don't give citizenships to foreigners.
He continued giving us a lot of insights about the Syrian war. It was interesting to hear how his friends still live in Syria trying to protect their country. One of them converted to ISIS and others still support the rebels... very difficult for him to keep contact with them. And it won't be easier in the near future, because "this war will last for a lot longer", Ammar said.
The monastery was stunning. Far away from any city. Those days especially during winter I cannot imagine how they lived there around 1600 A.D. How did they built up such a massive monestary the rock. Truly fascinating!
A genius' and a gamer's world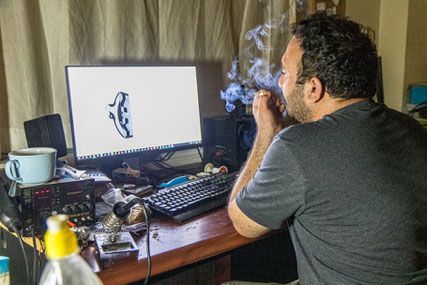 Meeting Baris, our host in Trabzon, was a dive into the life of a genius. He already warned us that his apartment would be messy. And he wasn't lying. His apartment was probably one of the most chaotic places we have ever seen.
As we got to know him a little better, we could understood his genious way of living. Abnormal intelligent people often live in chaos, but they know where to find every single tool they need.
Baris was working on about eight projects at the same time while we stayed with him. To give some examples, he made a sample for a dishwashing company where the dishes in the corner are washed as good as the ones in the center. Baris furthermore was about to finish his work on a power plant that produces energy from the worlds magnetic fields.
Baris is about to complete his self-study in medicine and is combining his knowledge with a project where people with spinal paralysis are able to walk again. He already tested this project on a dog.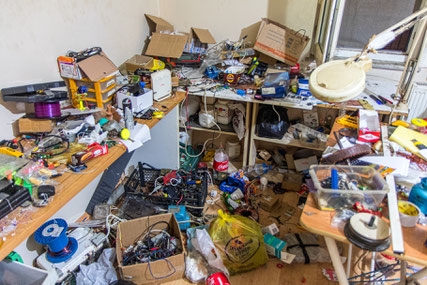 We just couldn't stop listening to all the projects he was working on. What a super brain. So here in his laboratory, he eats and sleeps, he works all night whenever he has an idea. Sometimes his friend comes over. They either continue on their projects or they play Counterstrike to relax.
Baris has a roommate and he is a gamer. He plays videogames all night and earns his money in this parallel world. His charactere had a value of about 200 000 lira (about 25 000 €).
Constant money he makes with selling tools like swords or weapons. If you buy them you also just buy a virtual tool with virtual money. Very strange for me. I have never met a person living in a virtual world.
Friends, work, freetime, everything happens in that virtual world. I don't think that this is healthy in any way, but he chose it. All he does is playing all night, sleeping during the day and he is going outside only if he needs to buy something from a grocery store. Bariş has never seen a real person visiting him.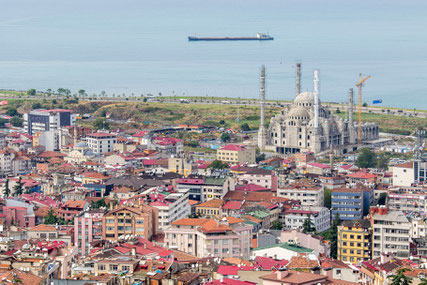 I learned a lot about the gaming life. Bariş once played as a defender of a professional FIFA team. He lived near the stadium where the real football players live.
They played virtual soccer games against other teams, had meetings with the coach and their teammates to talk about strategy and tactics. Bariş lived and worked for the team every day. Virtual… very new for me!
Trabzon itself is a nice city but even Baris told us before that there is not much to see. Baris has lived in Trabzon for too long and would love to move to Sweden.
Baris treated us very nicely. We knew that he had a lot of work to do. But it didn't stop him from showing us a nice viewpoint where we had tea together. We tried the traditional cheese fondue for breakfast, which reminded us to the fondue from the swiss alps. We went to the local market and cooked fish for dinner. 
We enjoyed our days wish Baris and knew that we would see again after a couple days. Our plan was to hitchhike to Rize (about 80 km), hike for a few days and then come back to Trabzon. Before we left, we could luckily leave some of our clothes and luggage with Baris. Our backpacks were prepared for hiking.  
"Hiking" the Gito plateau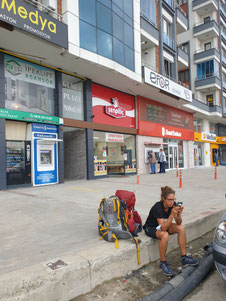 3-4 days of hiking, just the two of us. Away from socializing and crowded areas, that was the plan. Hitchhike towards the mountains and starting to hike with our tent was what our body and mind asked for.
Maybe to process all the impressions of the last weeks here in Turkey. A few days in quiet nature to reset our mind and get ready for the next country. But everything came different. And at the end we were happy that our endevour was not going according to plan.
We experienced that when we tried to stay flexible, unexpected encounters happened. And those were usually the best moments we had. So be excited for this one.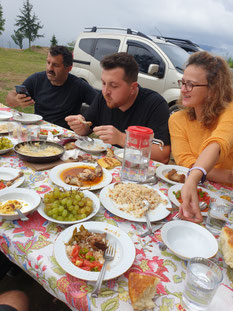 We woke up early that morning because we knew it would not be easy to hitchhike deep into the mountains. We didn't expect it would take us 6 hours for 80km. We thought about giving up and staying overnight before our destination. But suddently a car stopped for us.
Nurten, Sinan and Ibrahim stopped with their Volkswagen pickup. It turned out that Nurten's ancestors are from this region, but she is German. Noone could be better in explaining the whole history about the Laas culture near Rize.
Her ancestors belong to this rare existing population, who still try to keep their language and culture alive. The Laz mainly lived from their agriculture with tea ("çai") and they actually still do.
Many of them moved into the nearby cities. The government also kind of forced them to give up their life in the mountains by closing all the schools in the villages. Furthermore, the younger generation wanted better chances for education and jobs in cities.
The Laz language is about to die. Almost no one speaks it any more.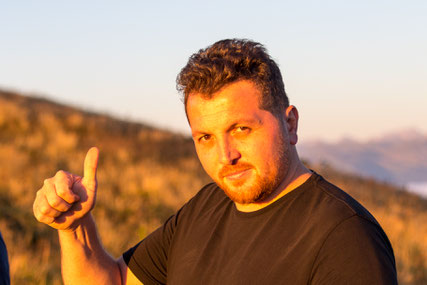 The Laz and the Kurds are the only two populations who survived all different leaderships until today. Sinan, the driver was her friend and originally from a Laz village.
It turned out that they were on the way to that village where his parents were still living during harvest season. About 100 tons of tea they produce every year and get 200 000 liras (25 000 €) for it per year.
With this amount they have to calculate the whole year because they receive the money as a one time payment. For Turkey it is actually a pretty good salary. But they also have expenses to pay. Sinan asked us if we would like to join them into his village. What a question. Even though we would start later on with our hiking, we didn't want to refuse.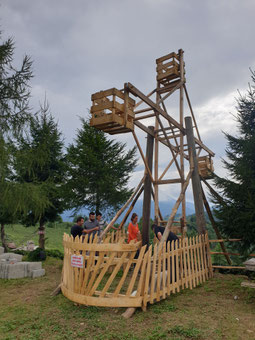 With the three of them we drove up a steep mountain, on a street that was just as wide as the pickup. Gladly it wasn't Sinans first time to drive up there. He was a good driver and we made it through all those tea plantations and corn fields up to the highest point. 
There it was: The house of his parents. The best of all: A homemade wooden big wheel Sinans dad built by himself. No electric, only manpower was turning four people who could fit in.
It has been the funniest thing I have seen for a long time. Apparently in the past people used it in the mountains to entertain themselves. And it truly was entertaining. It was a mix between laughing until the cheeks had cramps while almost getting sick and throwing. It was definitely entertaining.
Sinan's mum cooked traditional cornbread as crumbs in a goat yogurt, melted cheese to dip with bread, beans with meat, rice and salad. Plenty of food for everyone.
Sinans dad used to be a famous musician and played 10 instruments. One of it was the bagpipe, which he builts himself and sells them as additional income. He was singing at the table and Sinan motivated everyone to join a traditional dance (see the video).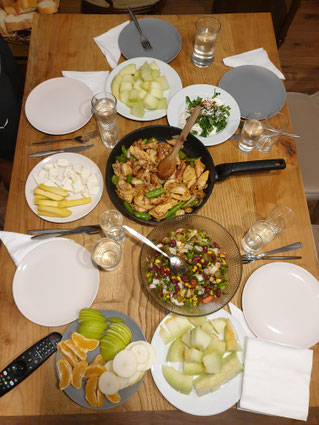 We thanked his Sinans family for his hospitality and left. It was still raining when we reached the car and Sinan offered us to stay at his place instead of hiking somewhere.
It was almost dark. No way that we would reach that plateau. Also starting a three day hike by being wet at the first day wasn't too exciting either. So we joined them for some Raki and delicious cooked dinner in Sinans clean and renovated apartment.
While having dinner, Sinan asked us to join him the next day. He would work as a wedding photographer and shoot a couple at some hidden and beautiful spots in the mountains. Great, we joined.
It was perfect to see all these hidden spots with his pickup which we would have never been able to reach by ourselves. The married couple was always following us with their own vehicle.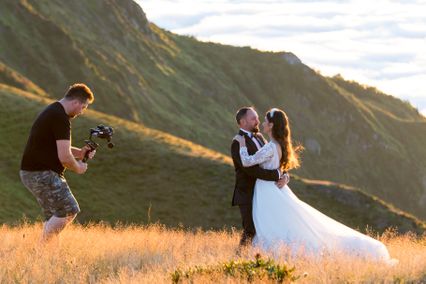 We enjoyed receiving some insights into Sinans job as a wedding photographer. 
Taking pictures of the married couple at those gorgeous spots were stunning. And Sinan told us that he is happy about his job. Sometimes he feels bored because its always the same. Not this time though. 
Our backpacks and our tent were used for the bride and the groom to make their wedding pictures even more special.
At the last shooting spot -  called Gito plateau - Bastian and I decided to stay with our tent for the night. It would be easier to start hiking on the next day. We were above the clouds. A stunning moment. It looked like an ocean of clouds where we would love to dive in.
Before Sinan wanted to drive back to his apartment and letting us camp at Gito plateau, he invited us for dinner at a local hut. Delicious cheese fondue combined with traditional Lazish music made this day special.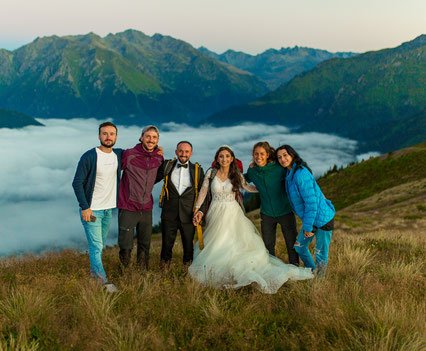 We came here to be for ourself and to clear our mind, but instead we got the full load of cultural insights and met not only a talented photographer but also an amazing person.
Sinan is a smart and kind person that we enjoyed to spend our time with. Even though we could only talk "Tarzanish" to each other (which means talking with hands and feet like Tarzan) we had a lot to talk about.
One situation describes him very well: We saw another photographer taking pictures on the plateau and we asked Sinan if he knows his competitor. He just said: "Yes, he is my friend," Impressive, because the other photographer actually copied his business, but he still calls competitor his friend :-)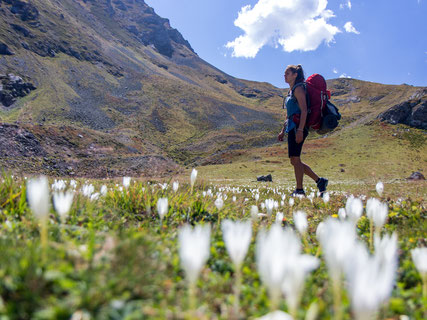 The next day we actually started hiking. We enjoyed being by ourselves, no need to talk too much. 900m up and down with 26 km made us tired. We came back to the same camping spot before hiking down the next morning.
It was about 1200m down from the mountain and hitchhiking back towards the black sea coast line. We surprised Sinan in a café near his office because we wanted to thank him for all he did.
He was proud to show us his Instagram profile, where he posted a kissing picture of us… "Turkish don't kiss each other" Sinan said. He was happy to have a kissing picture beeing part of his profile.
As a gift we received a shirt with Laz words on it to remember him. How could we forget him! But we for sure would wear the shirt as often as possible and would send him pictures from everywhere in the world. We were thankful and happy that we had the chance to meet. We invited him to come to Germany and visit us. Hopefully soon.
Our decision to travel further
Back in Trabzon we had to figure out where to go next. We needed information about the current status of the surrounding borders. We called the embassies of Georgia, Armenia, Azerbaijan and Iran. All of them gave us the same answer. "Sorry, borders are closed".
We had to extend our research and started to look into countries that have been on our initial list before the pandemic started. After checking all details on the foreign affairs website, Bastian suddenly said: "Kyrgyzstan is open. Hey, how about Kyrgyzstan?" No visa nor PCR test needed.
We knew that the pandemic wouldnt let us hitchhiking there. Since we had to leave the country within 5 days we had do decide. Right now we could either go home or fly to Kyrgyzstan.
After quickly looking at each other, we directly knew that the first one was no option. We booked the flights right away. 220 Euro later, we had purchased one ticket each from Trabzon to Bishkek, the capital of Kyrgyzstan. 
What an adventure it was. Hitchhiking three months in Turkey. We experienced an enormous amount of hospitality, good food and landscapes. We worked in a hotel, on a horsefarm in Cappadocia and as a waiter at a beachbar. We were sad and excited at the same time. 
Most of all, we are exciting and curious what we will experience in Kyrgystan. Lets see what we will happen next.