Darboğaz Koyu to Butterfly Valley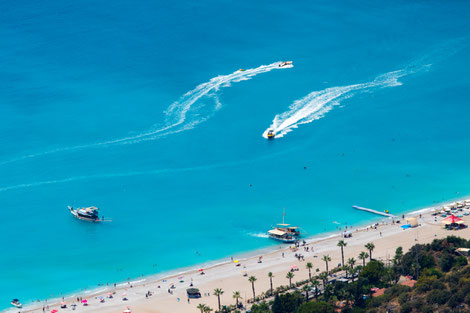 First night of our hike along the Lucian trail we spent in Darboğaz Koyu. A beach 20 min away from a tiny quit street. Not too many people know about this beach, exactly what we like. Swimming at night, sitting around the fire with other people, singing... good start into our next adventure. 
The next morning we explained Irem and Isa our plan for today. Our hiking distance would be around 20 km. They decided to rather hitchhike to the butterfly valley, which would be our final destination of the day.
We actually thought this is the better option for Irem because she just went for our "hiking-trip" with cute boat sandals. Unfortunately not functional at all. We agreed on meeting again at the evening at butterfly valley.  
Isa said: "should we start at 3 pm?" We had to tell him that the current time 10 a.m., was already late to start. So we packed our stuff and left. We skipped making tea and coffee that morning. A fire would take way too long.  
We hiked up the hill and almost stepped on a small snake. I had to get used to them anyways. Up on the little street we split up since hitch-hiking with 4 people is pretty much impossible. Every 10 minutes a car passed us. Bastian and I started walking since we realized it would be hard to find a ride. Noone picked us up.  
We hiked 5 km uphill with temperatures of 30 Celsius into the next village where we met Isa and Irem again. They found a ride. This time Irem and Isa started walking and we tried our luck to get a ride. We needed a short break since the weather was rediculous hot and our backpacks heavy from all the water we carried. Luckily a car stopped for us first.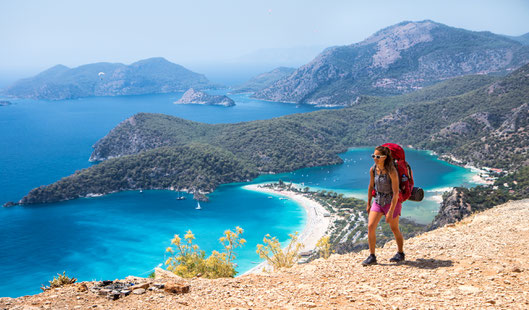 We passed Isa and Irem jelling at them out of the car window like they did to us before. We know each other pretty well now and make fun of each other. We asked our hitchhike opportunity to stop at the trailhead of the Lucian way. From there, we started hiking with our heavy backpacks and got surprised of the beautiful viewpoints along the way. 
During the first two hours we didn't make a lot of distance but took many pictures instead. We still had to climb 500m up and realized we should start rolling, otherwise it would be dark until we arrive.  
Fighting the heat, we walked through beautiful sceneries along the coast and through massive mountains. Only small villages have been along the way where animals and people live uncomplicated all together. We had some ice-cream before we started the last steep part down into the butterfly valley.
We didn't expect it that tricky. But with our backpacks we had to climb down with ropes and ladders. For our tired and shaky legs it was a challenge. But we made it and were happy that Irem and Isa made it too. They took a boat to get there. With Irems shoes it would have never been possible to climb down.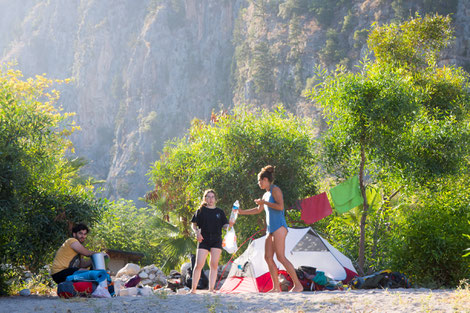 We didn't know that down in the valley everything belongs to an alternative commune. A beautiful place with a lot of spirit and colours. Everyone here had to pay for food and accommodation. Even if you sleep with your tent directly at the beach.
We stayed for about 250 liras (30 Euro) which is kind of expensive compared to other camping sites in Turkey. But food was great (dinner and breakfast), the location was stunning, so all good.  
We were asking if we could volunteer here for a few days, but volunteers have to stay at least 1 month. We didn't have that much time. So we just enjoyed that one night sleeping at the beach and spending some more time with Isa.  
Irem wasn't to excited about this trip. I think Isa didn't really prepare her for camping so they told us that they would go back to Fethiye the next day. Sad for us but understandable. Isa was planning to do a biking trip for five years together with Irem. We hope she will do it with him. We had an impression that she doesn't enjoy the outdoors as much as Isa did.  
Isa for example hiked from Istanbul to Ankara in 10 days during winter, to set a sign against terrorism. It is 520 km in total. Can you imagine how tiring this walk was? Hiking 50-60 km every day, I would not be able to make it. Isa showed us pictures of his blisters after the first day. It looked extremely painful.
We hope that they will figure their idea of travelling our before they start their endeavor. I think Isa wasn't in a really good mood on our last night for this reason. 
Butterfly Valley to Kabak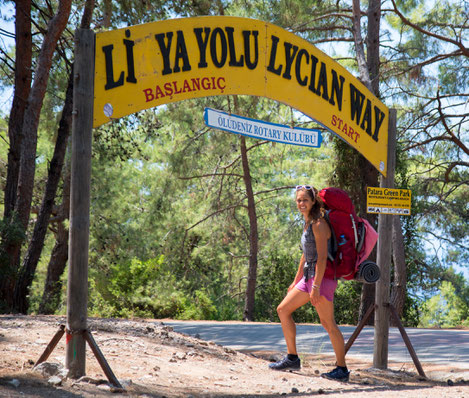 The next morning we said goodbye to them when the first boat took them back towards Fethiye. Isa was the first person we had a really deep dive into his life. We are thankful to know him. He is a strong person standing up to what he beliefs.  
We were spending all day at the valley writing blog and enjoying the water. We had to wait for the sun to go down so we could climb out of the valley and hike towards our next destination Kabak.
Butterfly valley was fascinating for us. A valley that is pretty much not reachable by foot, it was really dangerous to climb down. So usually people go there by boat.
Around 5 pm when the sun was a little lower, we started to walk up the valley. Steep and tireing path again but stunnishing view. After those 300 m up it was another 200m to get to the highest point from where we could see the coastline. Turquise blue water smashing the rough walls and creating white foam. Some lagoons with nice small beaches.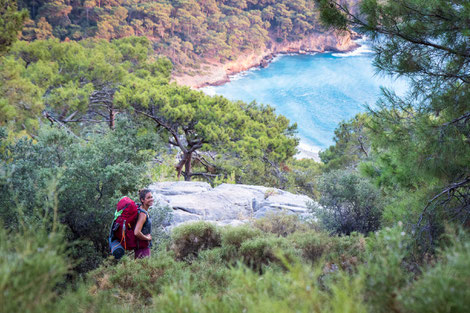 We were already close to Kabak when the sun was going down. Down to Kabak was not as challenging but still steep. We arrived down there assuming there would be an ATM for some cash, but there wasn't. So we had to make a plan how to spend the night and the next day with 6 €.  
We knew prices in those valleys are much higher, since it costs a lot to transport groceries to villages like Kabak. Noone expected credit card so we bought mainly bread and water with some little additional things.  
No free camping allowed, you have to pay for camping or you sleep at the beach under the stars. What a question, nothing sounds better than sleeping with the sound of the waves during fulmoon at a beach under the stars.  
Well, we didn't know that for many hours that night people under drugs were dancing besides us ;-) But they didn't even realize us I guess. They were somewhere else. Of course mosquitos found us as well but we got enough sleep to hit the trail around 8 a.m again.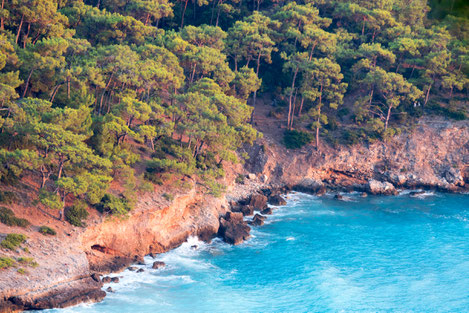 We started climbing up and soon I saw a second snake. Bastian and I bet we would see either one or three snakes. Bastian already lost. Let's see if there would be a third one.
After about 3 km we just interrupted a couple having sex along the trail. They must have thought that no one is hiking up that trail early in the morning. They were really ashamed when we passed. We thought it was funny.  
Three hours up, we hit a tarred road in Alinka. We were chilling in the shade, watching a private helicopter of one random villa in front of us, a big pool in this little village of 10 houses. At the little supermaket right besides the villa, we asked the owner if they accept credit card because we ran out of cash. They didn't. The shop owner gave us water and some pears for free. He had a small business where almost noone was passing. But he was still generous and helpful.
We waited for at least one hour. About seven cars passed us. The eight car, a pick-up truck, stopped for us. He made us understand to hop on the back. We were excited to simply hold on to the steel roof in front of us. Hot wind and dirt was refreshing our skin. We had a great safari feeling along the coast.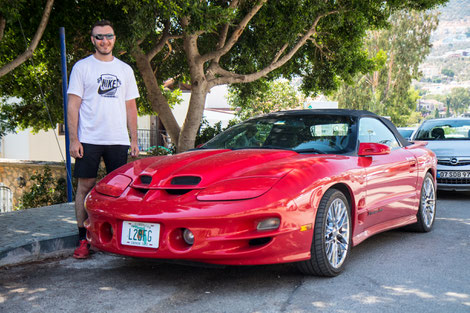 He dropped us off close to a bigger street where a supermarket was located at a junction. They luckily accepted credit card so we bought all we wanted. We were hungry. At the next street we didn't wait for very long and were surprised who stopped.  
Yunus with his red Corvette was busy at his phone but stopped the phone call and his car for us. Some effort to fit three people and the luggage. Yunus was perfect in English since he is the Turkish Airline Country Manager of Nigeria. He is Turkish, studied in the States and lives now in Nigeria.
He came to Turkey to visit but also to export this car to Cypress for 6 months before he can bring it back to Turkey for 2 years. That's how he is saving taxes. He owns another 5 or 6 cars like this. They are like his kids.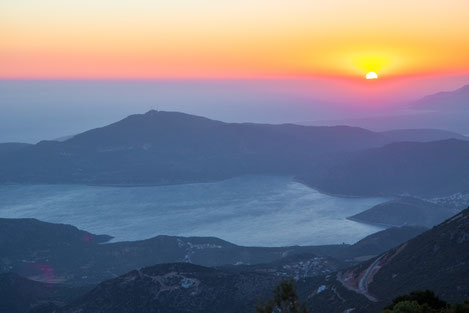 We didn't go fast since he had to solve a problem with a Cargoflight from Turkey to Nigeria. The airplane was not allowed to land but would arrive in 3 hours. So he had to call the embassies to get the agreement for the landing.
It seemed to take many phone calls to sort it out. Between the phone calls Yunus was very interested and askes many questions about our travel plans. He was calm between answering all these very serious phonecalls where several 100.000 USD could be lost.  
Yunus and ourselves were hungry so he decided to join us in Kalkan. We sat together at a cafe near the beach. We were surprised about Kalkan, cute town with charismatic cafes and restaurants. Many English people are visiting.  
Yunus invited us and said he likes to invite people if they don't take advantage of it. He had situations in the past where people took advantage of his money and his position. He continued that he earns good money and whenever people earn good money it becomes hard to tell: Who is interested in him and who is interested in his power or money.  
We also liked him and were talking a lot about of cultural things again. E.g. cultural differences in Germany, Turkey or Nigeria. He had a sore knee where I could give him some advice and after 3 hours of talking he kept driving.  
We went to the ATM, got some more food for the evening, went for a swim and spent the evening writing. As soon as it turned dark we would set up our tent close to the beach hidden behind some trees. Shouldn't be a problem.
We were too lazy to set up a tent and decided again to sleep at the beach under the stars. This time we took two sunbeds which were quiet comfortable. Even though it was 36-38°C during the day we needed our sleeping bags at night.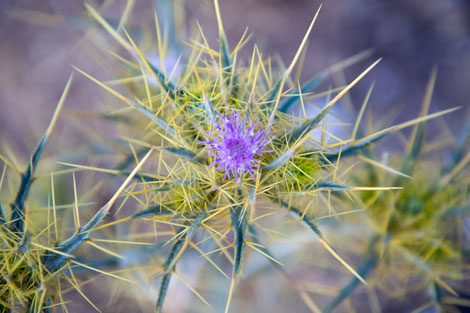 At 7 a.m. we were ready to hike up 800 m to a village called Bezirgan. Good choice to start early. We reached the village around 10.30 a.m. and found the perfect spot under a tree to make it through the hot noon hours.  
Here in Bezirgan we were in the middle of the village activities. Many old men joined us under the tree for a lunchbreak. None of them seemed to be busy. Women didn't show up, so they probably take care of the house.  
It was a Friday meaning that all men go to the mosque together. After the mosque a family served sweet doughballs. First we thought this is an event every friday. But it was a special occasion: The grandma of this family died 40 days ago. It is a tradition to serve food to the village people after 40 days. Of course we got some. They came three times to offer us those balls and since it is unfriendly to say no we took them all.  
After napping and some writing we left the village to reach a campground that seemed to have a nice view. At least thats how it looked on the map. Same with a little steep trail downwards. Looked like a shortcut but turned out to be the most painful part since the trail was really small and the dry thorns of the bushes were scratching our arms and legs. We were delighted after finishing the descendent part. The bleeding scraches hurt when the sweat ran down our skin.
We reached that grassy area where we were able to set up our tent. It was a stunning view down to the sea. The dinner (bread, cheese, cucumber) tasted amazing with this surrounding.
Camping between Bezirgan and Cökceören - Kaş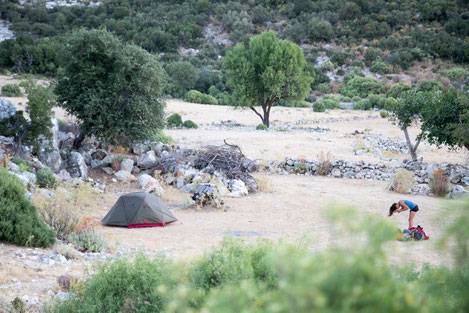 At 6 am when the temperature was around 25 degrees we enjoyed getting touched by the first sunlight. We know lateron we would try to escape from them. Quietly we were hiking towards the next little village hoping to find food there.  
Those villages mostly have nothing to purchase. Sometimes there is a small kiosk. With the last sip of water we reached Cökceören where unfortunately there was no kiosk. It took not even a minute until Mustafa, an old man, waved for us to come to his house.  
He and his wife made some Gözleme (filled thin pancake), Ayran (made out of goatmilk) and some tomatoes. Before we left we also bought many bottles of water since we didn't know where the next supermarket was located.
The next part towards Cukurbağ we walked along the street to possibly ask a car to hitchhike for a few kilometers. Not many cars passed. About every 20 minutes one showed up driving into our direction.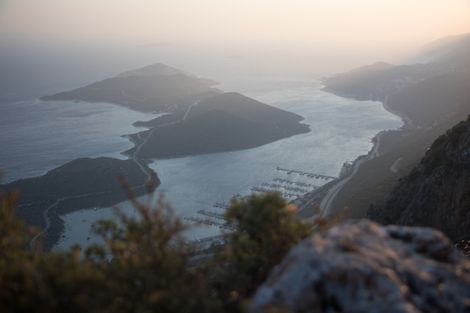 After hiking for another 4 km Hussain picked us up and took us to the next junction. We thought he would go a different way than us. But it turned out that he drove off exactly into our direction. We were laughing about our lack of understanding and communication. We continued walking ;-)  
When we arrived in Çukurbağ it looked like the other villages before. We felt like we had to knock on someones door to get food. But luckily there was this amazing little supermarket with two chairs in the shade. Here we could eat fruits and some ice cream and felt like in heaven.  
We rested and waited in the shade before we continued walking to find a camping place near Kaş. An amazing wild campsite with a fascinating view on Kaş. We enjoyed the sunset with olives and bread at the sunset gave us a satisfying sleep.
On the next morning we hiked 300 m down to Kaş. And there it was - I won - The third snake. All of them tiny and just escaping as quickly as possible. When we arrived in Kaş, we were looking forward to find a shower, some food, accommodation and Wifi... none of them we organized before.