Arrival in Bishkek and first impressions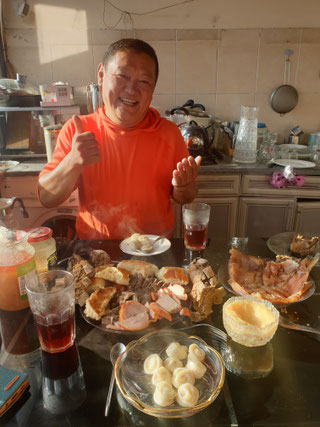 We started in Istanbul and arrived in Bishkek in the early morning around 6 am. We took a public bus from the airport into the city center of Bishkek for 70 Kyrgyz Som each (about 0,70 €) and walked through a sleepy, but very clean city.
At 7.30 am pretty much no one except some street workers cleaning the streets were visible. We had to find the apartment of Rustanbek, our couchsurfing host in Bishkek. All his directions and messages we received were in Russian. Google Translate was our best friend ;-)
Close to his apartment a small person in a pink jumper walked towards us with open arms. Must be him. "Rustanbek?, we asked. "Helloooo", he screamed back.
His apartment was like a little museum with lepard pattern wall paper covered with pictures and souvenirs from all the places he has already travelled.
"76 countries in total", he said. How much time he spent in each of them, we don't know. But at least it seamed like he brought a souvenir plate from every single country.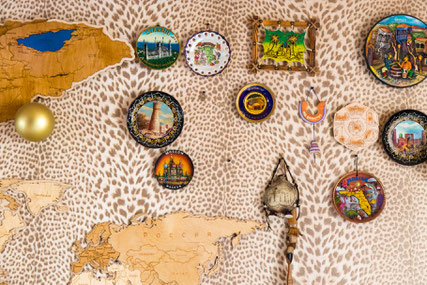 Rustanbek gave us his keys right away because he had to leave for two days. No doubt for him not to trust us. When we will leave, we should drop his keys off downstairs at a restaurant.
Rustanbek prepared a quick local breakfast which consisted of dried chicken, beef meat, raw fish, Tortellini and bread. "This is the best breakfast in the world!" he promised. Yes, the taste was definitely special ;-)
We had some short Google Translate conversations and asked him about what he likes the least about his country. "Corruption" he said right away. Rustanbek continued explaining with the funniest Kyrgyzs saying: "Kyrgyzstan paid not to be first place on the list of the worlds most corrupt countries" :-)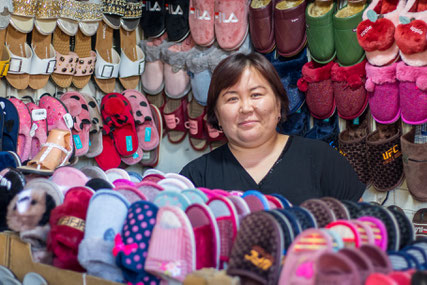 Kyrgyzs are not called early birds. They usually start working around 9 or 10 am.
It was already 10.30 am when Rustanbek suddenly stood up from having breakfast with us. "I have to hurry". He changed into a full orange sweatsuite in about 2 minutes and left the apartment.
On our own we started to explore Bishkek. We loved browsing around Osh Bazar and directly recognized taste difference. We tried some of the drinks they offer along the street. One drink looked white like Aryan, the other yellow with pieces of seeds in it...
I usually try not to judge, but we were not used to this kind of taste. Those two drinks tasted like the smell of puke. Maybe the white one was a bit more drinkable, but even with this one I was suffering. Bastian lost a bet and had to drink both of them ;-).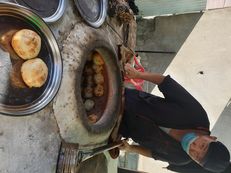 In a bakery a Kyrgyz woman was waiting in line in front of us. We talked some English to her and her English was better than the average of the people we met so far. We told her that her English is very good.
When we wold her, she directly ordered two muffins for us. I think she was proud about being able to talk in English to us and wanted to make us happy too. The muffins were delicious :-)
At Osh bazar we could find many traditional Kyrgyz dishes like filled bread or filled dumpling with hot meat, potatoes and onions. "Mantes" or "Samse" they call them.
Samse is beeing baked in a stone oven where the bread sticks to the sidewall. We felt that Kyrgyz dishes consist of meat with some side dishes like bread or potatoes.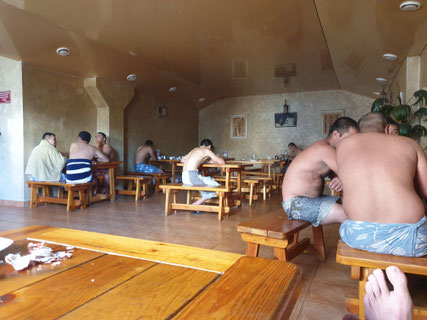 As part of our first impressions, we enjoyed the local experience of visiting a "Banya", which is a Kyrgyzs sauna. People were completely naked, just like it would be in Germany. We felt like home :-D
We could only tell a difference because people and the building looked different. The building was built by the the former Soviet Union. A lot of concrete with no windows. The walls were white from the lime that the water contained or black as they have been on fire at some point.
The entrance fee was about 3 €. For another 3 € we got a full body scrubbing. Every corner of our naked body felt like it was bleeding after the scrubbing. No doubt, the dead skin for sure was off :-) really good and local experience. 
First hitchhike in Kyrgyzstan - heading east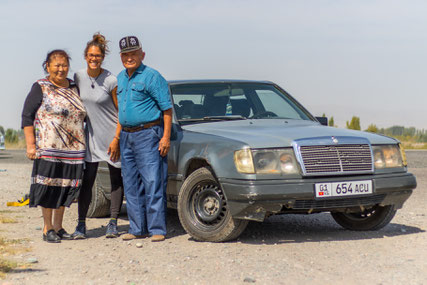 We dropped off Rustanbeks keys at the local restaurant and tried to make our way outside of the capital city. Our plan was to hitchhike from Bishkek to a family project near Issyk Kul Lake.
First of all, it is common in Kyrgyzstan to share gas money if you hitchhike. We learned that Kyrgyz people expect you to pay since the bus system in the villages are really bad. Everyone with a car is earning additional money as a taxi.
We asked two elderly people in an old car to stop for us. They asked for 2€ together for 70 km. We agreed. Most of the cars in Kyrgyzstan are old, so this was no criteria for exclusion.
In the car the old couple drank Coca Cola and as you know, coke is very fizzy. For the next five or ten minutes they kept on burping forward and backward, whoever just took a zip.
Bastian and me were almost exploding in the back trying not to laugh. It was so funny because after every zip we knew about three seconds later there would be a very loud burp ;-) 
Cultural deep dive with lots of differences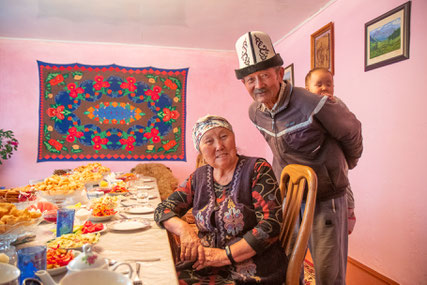 We contacted Bakydbek about one week before arrival and asked him if we could stay with his traditional family. We would love to learn more about the Kyrgyz culture. 
Bakidbek agreed since he asked us o help his family with the kids and update their website for their hostel in Bishkek.
When we reached the small village of Kara-Koo near Issyk Kul Lake, we could luckily find his family via GPS. Bakydbek had four girls between 6 years and 2 month. His mum (71) and his dad (80) live in the house next to theirs.
About 10 to 15 people were at Bakidbeks house constantly. Five chickens, two cows and a dog with the body of a German Shepherd but short legs included. With the kids we played many kind of games without any tools. We used our and their creativity and used stones, books, mats or car wheels.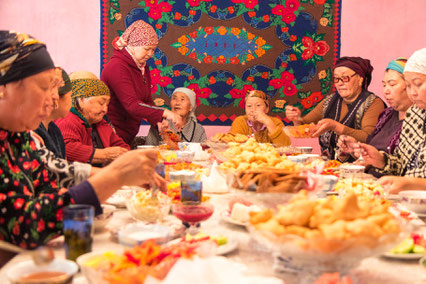 The day we arrived Bakidbeks wife and his mum were very busy cooking because that night they had a babyparty for the newborn.
It is part of the culture to invite all the neighboring women if you gave birth to a baby. The rest of the family ate later when the women were done and even packed more as a takeaway.
Funny to see how they packed the food: Everything went into one bag they got from the host. Salad, cookies, rice… everything mixed ;-) 
When we heard baby party, we thought that every women will at least see the baby. But the women were not allowed to look at the baby and show excitement. Here in Kyrgyzstan people believe in devil and daemons. Looking at the baby could harm the baby giving it a bad soul. Negative energy could make it sick.
To save the baby, the parents even put dirt on the babies forehead to make it look ugly. No one told us before not to look at the baby. The siblings mostly took care of the baby and gave it to us whenever they were bored and wanted to play.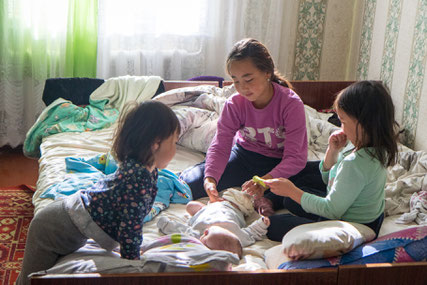 We were suprised how the 7 or 11 year old kids took care of the baby. Bakydbek told us: "I expect the girls when they are 8-10 years old to take care of the baby. They are responsible for the baby. My wife is basically only breastfeeding it."
in Kyrgyzstan even the 4 and 6 year old girls carried the two month old baby arounf. The adults trusted their girls a lot.
We furthermore recognized, that a "thank you" in general was very rare. If the kids helped, which they did a lot, they didn't expect any "thank you". Parents just expected that their children would do it. And the kids did without questions or grumpy face.
The younger woman is always serving the older one. If the mum tells the daughter to do something there is no discussion at all. If the grandma is telling her daughter in law something, for sure she does it. Here they call it "respect to the older ones".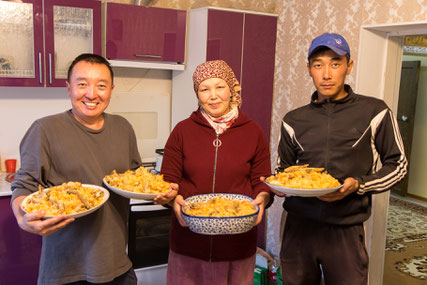 The family usually follows the Islamic rules, but one day the 10 year old girl didn't feel well. So whats the Kyrgyz way of solving this problem?
She received wodka against her stomach age. Yes, two shots for the girl please to feel better ;-) Maybe she felt better or it simply gave her a headage and made her drunk. We don't know.
Men in the household helped more than we thought. Everything changed though as soon as the family had guests. Then the man didn't show any supportive hand to the woman.
Maybe thats a difference to Germany. I would say it is the other way around. Whenever guests are around the men are getting very active and helpful around the women ;-)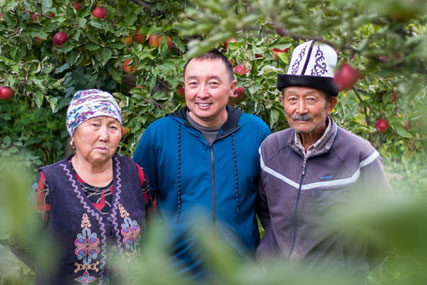 When it comes to marriage the parents in the village expect the sons to stay and take care of them. They usually build a house for the sons and hope the boys will stay and do farming.
Bakydbek was one of a few who wanted to study. Not in Kyrgyzstan, he chose universities abroad. He applied for scolarships and actually got one to study in the States.
No one of his family was supporting him at that point. Nobody around him in his age in the village was interested to go the same way of education. But he followed his dream and later on he was able to work for international companies.
"It is hard to break out of the system here but it is possible," he said. Bakydbek knows now that they deep inside his parents agree to the decision he made when he left to the States. Unfortunatly they would never admit on being proud of him.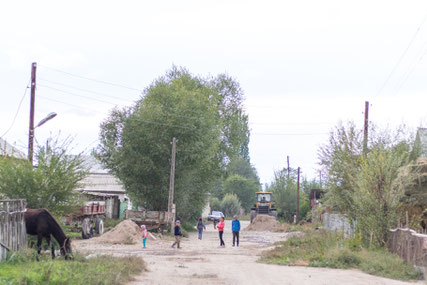 Regarding the marriage, there is still a weird tradition in Kyrgyzstan: Women sometimes get kidnapped by the men forcing them to marriage.
If parents or the girl don't agree to a marriage right away the man and his friends might appear in an unexpected situation to take her. The woman gets pushed into the car and will be driven to the mans' family. There the family prepares a big meal and if the girl stays, she basically agreed to marry him.
If she is really unhappy with the situation and it is no option for her to live there, the man will bring her back to her family. But it almost counts as a divorce, which is a sin for the woman. It will be difficult to find another man for her afterwards. At least now it is possible for women to decide, but the consequences are still not acceptable.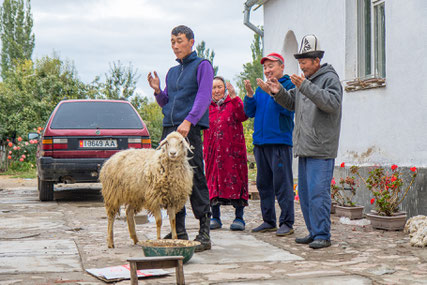 The Kyrgyz dishes are influnced by the nomadic lifestyle. The food contains a lot of meat. The more fat it contains the better. Especially in the mountain areas Kyrgyz eat all the fat, otherwise they believe in being cold and weak.
The family slaughter their own sheeps. The day we arrived, the family asked us if we would like to join the slaughter.
It seemed that we needed to get used to this scenario, so we decided to join. The slaughter took anyway place right in front of the house.
The whole family prayed, thanked Ala for the gift before the men cut the throat of the sheep. They really honor the animal, but still it is brutal to watch. We like the fact that they just use every single part of the animal. Even the head and the legs they sell. All the organs count as delicacy and everything else besides meat, including blood, goes to the dog and the chickens.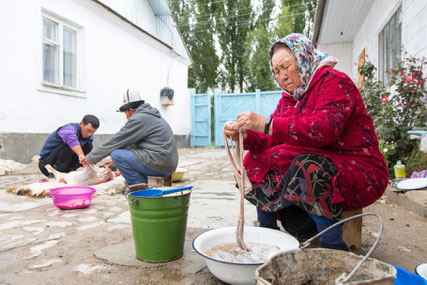 Wealthyness is still counted by the amount of sheep people own. This family counted as being rich even though they drive a car from 1988, a VW passat CL. The front window was broken and it sounded like a concert with all the noises it created.
The battery ran out over night, so we had to push the car before it turned on. Not the first time this happened. Bakidbek's brother said he would take it to the "car hospital" now ;-)
We recognized that alcohol was consumed a lot here in the villages, mainly by men. Almost everyone in Kyrgyzstan is Muslim, but they don't follow all of its rules. Wearing a Hijab (headscarf) is getting more popular, but quitting alcohol is not something they like to consider.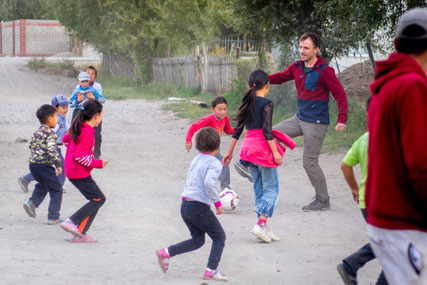 We saw many drunk men still driving. "Drink and drive" is common in Kyrgyztan.
We not only saw one drunk guy almost crashing his car but also some young boys helping their drunk dad to find the way back home. The boys seemed to be very ashamed.
To make these first days a full Kyrgysz experience Bastian got a free stomach and intestine cleaning the day before we left Bakydbek. Something his stomach didn't order or ask for.
He threw up and had diarrhea. He couldn't eat for one day. It was the first time since three months of travelling that we have eaten something wrong. 
The next morning me and a little weaker Bastian said goodbye to Bakydbek and his family. We enjoyed the time with them a lot and were very thankful that they have invited us to their home.
While receiving all these insights of a traditional Kyrgyz family life, we could imrove Bakydbeks website for his traditional homestay in Bishkek. We hope that we could contribute to future bookings.
While leaving, we were looking forward to meet Alibek, who works at an NGO in Bokonbaevo near Issyk Kul Lake. We have contacted the NGO called "Destination South Shore" a couple weeks before. They were very happy that we got in touch with them because they were in need for photo and video content as well as some website updates. At this time, we didn't know that one of our highlights of the trip will occur. Bokonbaevo, here we come!