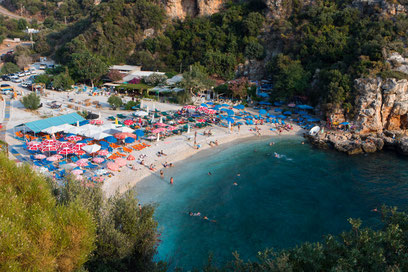 Our hike along the Lycian way ended in Kaş. We were planning on getting some rest, follow up with writing before heading towards Antalya. Kaş is a small town with cute cafes and restaurants. A little more expensive than usual because of tourism. This year there was mostly local tourism because of the pandemic.
We were planning to find some free accommodation, since every hotel would be above our budget. It was not that easy because: Couchsurfing no one responded. Voluntary work, no one needed support because of Corona. Camping, wild camping was not allowed.
We asked at a couple cafes and restaurants, if they need help with the local tourists. After two hours of asking owners, until Ramazan agreed that we could stay two nights at his beach bar called Ömür Restaurant. Seemed to be a good plan to sleep at the beach on sunbeds while writing the blog and finding a couchsurfer host in Antalya. We slept well on those sun beds that night until the early morning when flies and mosquitos were waking us up.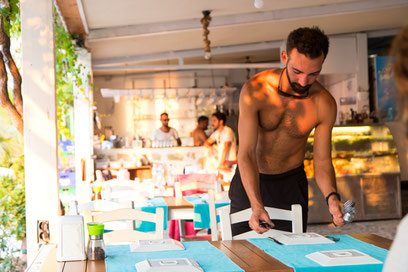 I went for a long run in the morning, while Bastian cleaned up the beach and got everything ready for the guests (Ups, I wouldn't have gone for a long run if I would have known about the beach cleaning ;-)) Ramazan and his crew didn't show up before 10 am in the morning, but they were happy to see a cleaned beach.
We had fun helping them in the restaurant. In the evening we supported the waiters Mehmet and Mario with serving food. They were very thankful that we helped and started offering us the liquor Raki with spicy pepper juice. That's the way how they drink it here. We also got to eat from their buffet which finally brought some variation in our food plan.
We appreciated being part of the team here and got an offer by the owner Ramazan to work at his restaurant next year for the summer season. We told him that won't be around next year. Furthermore we know their working hours. 7 days a week with 16 hours a day. They start around 9 or 10 am and work until the last guest is leaving. Could be 3 or 4 am. Ridiculous working hours, for about 850 € per month! So not an option for us.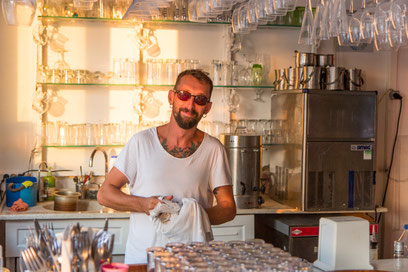 Around 1 am Mehmet wanted to say goodbye to everyone, because it has been his last working day. He worked here for eight weeks and was ready to leave. He met an American women at the restaurant, who is 10 years older than him. They fell in love and now they are planning to move to Istanbul together. In October they may move to Miami where she lives. What a love story…
Not that exciting for the restaurant owner Ramazan though, because Mehmet actually quit his job because of her.
That night Mehmet was expecting Ramazan to pay him his salary. Both disappeared to talk about the finances and we thought we would wait those couple minutes to say goodbye to him. We were expecting a thankful goodbye from the family, who owns the restaurant. Maybe even with a little present for Mehmet since he was a hard-working man. But instead: The chaos started!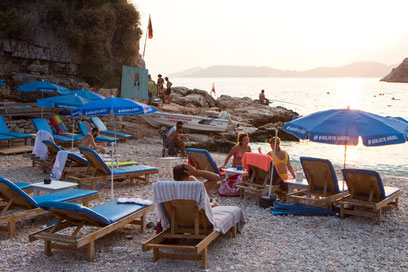 First of all there is no written contract. They agree on payment by talking and a handshake. Mehmet told us before that he always has to bag for his money, also this time. Apparently that's normal.
After about half an hour he came back just telling us they needed another 10 minutes. Both refilled their Raki glasses, lighted up a cigarette and went outside to talk again. We were wondering why it was that complicated! Poor Mehmet. He worked so hard always unsure if he would get the money at the end. What a pity.
The owner Ramazan actually seemed to be a very nice person with one tooth at the top left. He was always wearing the same shirt of Che Guevara and gained most calories from alcohol. He didn't study, which doesn't matter, but made some discussions superficial. He didn't believe Corona existed and liked to talk about this topic over and over again. I think he has his heart at the right place. A man, who grew up in Kas and just tries to survive with his small restaurant at the beach.
Talking about his wife: She has a temper. She didn't like the fact that Mehmet quit his job because of that American women. That night she started fighting with her. Even though we didn't understand a word we could see she was really angry. The American woman felt hurt and almost cried. Mehmet could figure out that they transfer the money they agreed on and tried to leave as fast as possible.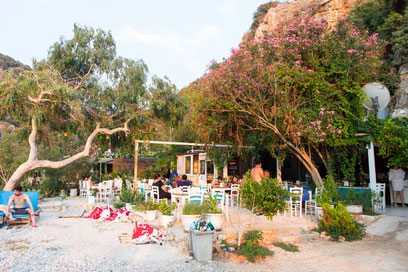 Ramazan tried to calm their women down, but both in very different ways. While Mehmet kissed the American woman asking her to be quiet, Ramazan solved the problem more radical.
He grabbed her at the throat and choked her for 2 seconds. Can you imagine Bastian and me sitting in between all of them just watching the whole scenario like in a movie? The other waiter also felt a little uncomfortable and offered us beer and Ice-cream.
We were too full of ice-cream, but saved the offer for another moment. We had such a good night with all of them but apparently there was a lot of tension we didn't realize before. Mehmet and his girlfriend left quickly around 3 am, otherwise this fight would have never ended. The women of the owner was still arguing with him outside while we found two sun beds further down at the beach where it was quiet enough to sleep... until mosquitos and flies were back.
The next morning, again we were awake long before anyone else, Bastian was hungry...nothing was open except the Ice-cream Box... so at 7.30 am Bastian had his Magnum he missed out yesterday ;-) Then it was time for us to leave.
While saying goodbye and thank you to everyone we had a weird feeling, since last night was quiet turbulent. But we tried to separate the relationship we had to them. It was a good one. We turned around and waved, hiking up the steep hill towards the street to Antalya. It was 11.30 am, 38°C, 250 m up with 17 kg backpacks and a lot of sweat!
Hitchiking from Kas to Olympos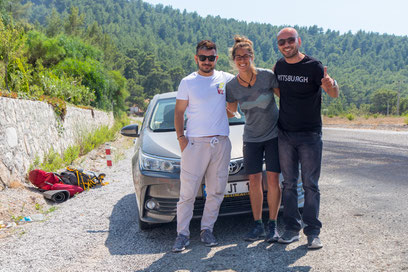 Hakan and Ümit, about our age, took is towards Olympos. Google translate helped us to communicate. They were checking out two girls in Antalya and we could all hang out that night, they said. But we wanted to take a stop in Olympos and actually wouldn't enjoy being part of their tinder date.
At a junction towards Olympos they dropped us off. There we saw something that almost made me cry. Bastian said, that under the trash bin there is a dead dog.
When I looked at the dog, it was moving. We could count every single bone, his skin was full of tics and rashes. He opened his eyes to look up to us. He didn't lift his head from the ground and we could see his dry and sad eyes. He probably was hiding there to die.
We cut off the bottom of our plastic water bottle and filled it with water. As soon as he smelled the water he used all his energy to get up. We had some bread and tuna with us and gave it to him as well. He was downing everything so quickly that we had to be careful that he wouldn't bite off our hands. We left with good hopes for him that someone else would provide the next meal for him :-( 
The ancient city of Olympos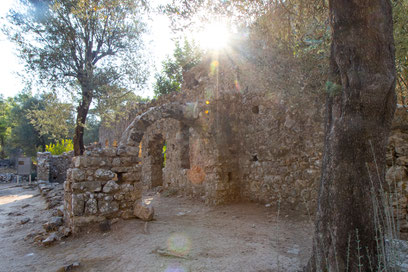 Achmed and Akif picked us up from the junction. We asked them if we could do some voluntary work for them. Apparently his homestay would be fully booked tonight, so no space, Achmed said. But when we arrived at their homestay, Bastian played the piano, well their keyboard, and suddenly we could stay. J
He asked Bastian to play the piano for the guests. We agreed. But there were even at night no guests coming. No one, not one single person. Just the smoking mum was still sitting there with his slightly disordered sister.
Ok for us, we got a private cabin with a comfortable bed. We were excited to sleep in a bed after camping and sleeping on sun beds for eight nights. Air-conditioning, a shower, what else would we need? We slept like babies: not too hot, no flies, no mosquitos, no stones underneath.
On the next morning we hiked towards the ancient city of Olympos. The entrance fee for the ancient city and the beach were 40 liras (5 Euro) for ten times entries. There is no way to reach the beach without walking through the ruins which was actually surprisingly impressive.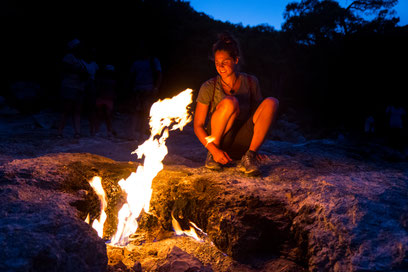 We furthermore got surprised by the nearby Chimera Mountain. It is a mountain where eternal flames come out of small holes. It looks like a burning mountain. The inside of the mountain produces a combination of chemical substances that lets it be in flames since 2700 years.
Hiking up to Chimera Mountain was only one kilometer, but most of the Turkish people were not used to hike. They also were dressed up to take selfies up there. We wouldn't mind, but it was almost impossible to take any picture without posing people in it. Bastian was kind of annoyed, but actually, it was just sad for them since they miss out on the actually magical atmosphere.
A long hike back to the homestay along the beach and through the ancient city was kind of spooky. It was night and there is no one. If I would have been by myself, I don't know what I would have done. Especially because they closed the gates.
Bastian also knew there is no way around, so we decided to open the gate and quietly walk through the mystic stones. At the end there was a security man sitting, but when we passed him in a big circle, he looked like he either slept, he didn't recognize or he didn't care J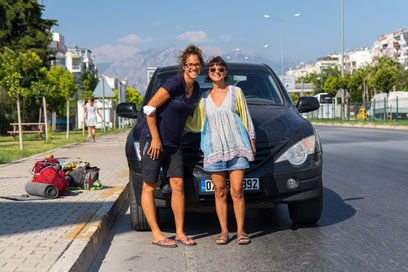 As Achmed told us we should clean our room until 7 am the next morning since then the guests would arrive. We already knew they wouldn't be here at 7 am because we knew our host by that time ;-) but of course we did what he asked us to do.
We anyways wanted to start walking towards Antalya early. Since no one was awake in the morning, we left a note on the table and walked towards Antalya.
A woman called Baryhe stopped her car for us to take us to Antalya. It was the first time that a woman was our driver. Baryhe is producing Kambucha, a probiotic drink and sells the unique created bottles in Antalya's cafes. This is the work she does while being retired. A few years ago the women's retire age was still 45 and she counted still into that regulation.
Baryhe could drop us off very close to our couchsurfers place. Our couchsurfing host Emilia was surprised that we were already coming four hours before we told her. But since we didn't have mobile data at any time we couldn't text her. So we just surprised her. And she was easy going, so no problem for her that we showed up early.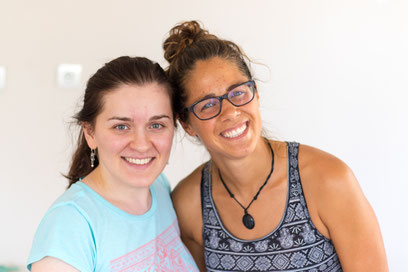 Emilia has an interesting background. She grew up in Uzbekistan because her grandparents got send to Uzbekistan after the Osman Empire. They lived the Turkish culture and felt like being Turkish but living and growing up in Uzbekistan.
She explained to us that there is some racism against them in Uzbekistan. Her family apparently never felt really accepted in Uzbekistan.
Emilia's passport says that she is from Turkey, which always was confusing when she travelled or had to put down her details in any document. She also needed a visa for every country she wanted to go. The Schengen-Visa is still very difficult to get.
She needs to tell the Schengen-country exact dates, exact locations and exact plans of the trip. The kind of travelling we are doing right now would not be possible for her. It is a pity.We heard about this visa situation a couple times already.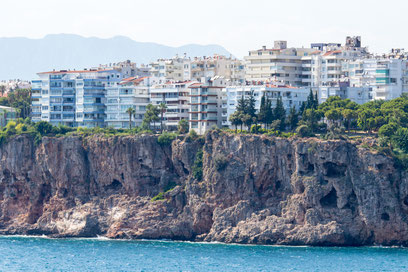 Emilia is a doctor and came to Turkey for work because in Uzbekistan she earns 150-200 Euros a month. How can this be enough for living, we asked her. Everything is super cheap there, she said. Housing is organized by the state (still from the Sowjet Union), so no cost for living. Medicine is free and they only pay very low taxes.
It is also quiet easy for them to get scholarships to study in other countries. And if they get them, the state is funding everything for them. Housing, food, education and some pocket money. However this system works, but most of the young people take the chance to escape to another country.
Emilia is 29 and her younger sister is 27, who got married last year. They are both like best friends. Apparently it is hard to find friends here in Turkey if you are not originally from here, they say. So the two sisters just stick together and hang out every day ;-)
We had dinner and breakfast together and during the day Bastian and me explored the city. The old town of Antalya is actually quite small. We expected the harbor to be bigger as well. A very steep coastline also didn't fit in our imagination. That's why most of the tourists just take the flight to Antalya, but then go to all the beaches nearby.
Scrubbing our durt off - Turkish Hammam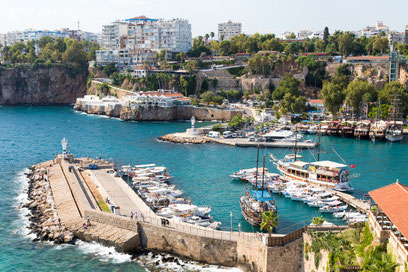 What would you want to do while you are in Turkey? Being in Turkey for such a long time and not adventure Hammam would be a pity. Emilia told us a good place where locals go. It was only about 20 min by walking.
She explained us everything we had to do there and how to act because we wouldn't understand them. Every single step she mentioned. No one speaks English there.
We went to that Hammam spot and they were asking for more than the double price. They showed us a different price list made for tourist. We were already kind of expecting something like that. But we don't like the feeling of people cheating on us. So we ask them for another place and left.
We were disappointed because we always try to be as close as possible to locals and even behave like them. But those are moments where we realize we are just seen as normal tourists.
At the next place we told them right away that we got recommended from a Turkish friend for 85 liras. We gave them the note Emilia wrote where it says which treatment we want and then we got separated. Bastian to the main entrance for the man, woman around the corner.
A woman showed me my dressing room and gave me the key for it. Everyone has their own small room to leave stuff and to prepare before and after the washing. The typical checkered Hammam towel I wore around my waste over my bikini. Walking down into this big bathroom where the Hammam was happening felt like walking into a butcher's slaughterhouse ;-)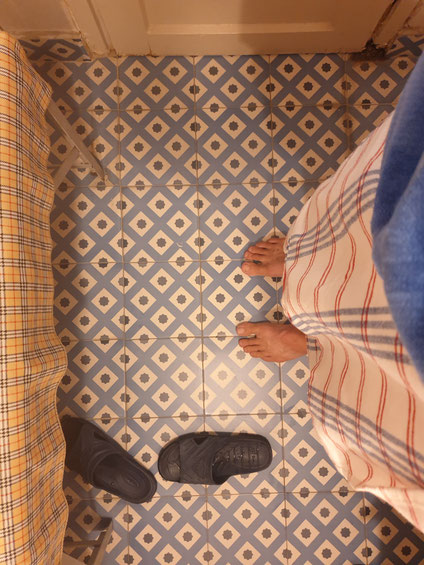 A moldy smell, water dripping from the wall making a constant noise. It was super-hot and I felt a little lost. Then I saw another woman coming out of the sauna, now I felt better and watched her what she was doing.
She was laying down on that warm stone in the middle of the room which was big enough that at least six women at the same time could lay there. Another woman came in and I figured she was the one doing the treatment to the woman on the warm stone.
The Hammam women pushed me into the sauna. I understood, this is the first step. I was sitting in there sweating even more watching the other woman getting the treatment. After about 5 minutes another tiny but robust woman came into the bathroom.
Short white hair knocking at the sauna door making me understand I should come out and lay down as well. Only in my panties I laid down on my stomach on the warm stone. She started scrubbing all the dirt and dead skin off my body not missing any part. It felt like she scrubbed off all my skin. My pantie she moved around whenever it was in her way.
When she was done with my backside she slapped me on my leg two times. I copied from the other woman that this means I need to turn to the side. Without saying anything she grabbed my arms and legs and brought them into the position she needed them.
Another two slaps meant to lay on my back, and a third time to turn on the other side. I felt like my skin was burning and red, but when I sat up I was shocked how much dirt she scrubbed off... definitely more than my neighbor woman :-/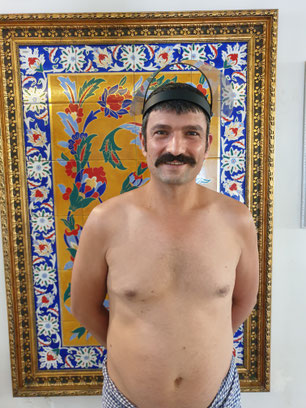 I was kind of ashamed and felt sorry for the strong woman scrubbing me. But she was in her routine and sent me to take a shower. I rinsed all the dirt off and came back for the soap bath. She covers my whole body into soap and started to massage the soap into the pores of my body.
With her strong hands it felt like she really pushes deep into my body. I don't think I am weak but I really had to grid my teeth. The next moment she was speeding over all my rips and bones with her elbow and whole bodyweight…and she wasn't skinny J
Without talking a word she turned me around... I kind of felt like my paralyzed patient in wheelchair when they don't understand me and I just grab them and bring them into the position I need them. That was actually a moment of switching roles and I felt guilty. That's actually how they feel...
We'll I was done after that and felt a lot lighter after losing all my skin and showed her that I am thankful she did the treatment even though it was harder to communicate.
When I met Bastian outside again I was curious how it was for him. I would say, as a woman you are more used to be touched by the same gender but not so much for men. Bastian's therapist had a mustache and seemed to be excited to massage a European body.
At the men's section everyone has his own hot stone like in a separate room. Woman share one big stone. Everything else was pretty much the same and we both were happy about that experience.
Partying in old town Antalya
When we explored downtown during the day we saw that the bars are preparing for live bands at night. We decided to come back at night and see how Turkish people party.
We bought some beer to go and walked through the busy streets. It was as it seemed to be, life bands and DJs playing everywhere. We found a bar where they showed champions league football Bayern winning against Barcelona 8-2. Wow, we were impressed and bought another beer to cheer on this.
After 10 pm selling alcohol in the markets is forbidden, but most market owner gave us a black plastic bag and we could hide the alcohol in there. For sure the police knew but maybe they are just supporting the shop owners to make some money during this pandemic. Or the police made some money in not seeing it J
Around 1 am the music stopped everywhere except in the clubs. So we checked out "Two doors", had to wear face masks going in, but in there no one was using them. Social distance? No, but we also enjoyed some dancing and Turkish pop music. No trams were running when we decided to go back home around 3 am. We walked another hour, good that we are used to it. After about one hour we quietly went to bed to not wake up Emilia.
Sleeping until 9 am the next morning was still not much sleep. I went for a quick run and doing a 6 minute workout with Emilia. After breakfast we left Antalya. Our next destination is Konya. We are looking forwards to some more hitchhiking and making our way east.