Getting in touch with Destination South Shore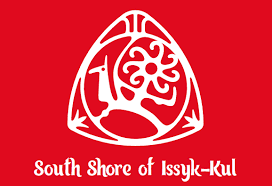 It was about 3 days before when Bastian and I did some online research about cultural organizations near Lake Issyk Kul. While browsing, we found an NGO called Destination South Shore.
On their website they offered traditional tours like yurt building workshops or traditional felt art. One tour caught Bastians eye immediatly: Meeting a traditional Kyrgyz Eagle Hunter.
"Viviane, we have to contact them!" Meeting an Eagle Hunter has been Bastians dream for for many years.
So we did. We directly contacted Destination South Shore via e-mail and asked if they would be interested in exchanging benefits like taking us to one of their tours and we would take photo and video material for them. They could use it as marketing content for any channels they like.
No response.
We found a phone number that we tried to reach via whatssapp. No response either. We started doubting that this organization was still active. Maybe it closed because of Covid-19.
"Ok, last try", we told each other and contacted another number that we found online.
"Success!" This account was still active and Nazira from Destination South Shore replied that she would be very happy to meet us.
We could either stay at her or her colleagues homestay. She briefly explained to us that the organization would need somebody for taking photos and videos for their website. Also the website would need some updates.
You can imagine how excited we were. Creating videos while exploring the countrie's nature and culture sounded amazing. We thanked her and informed her that our plan was to stay for a couple of days. Maybe 3-4 days.
At this time, we didnt know that we would stay more than 2 weeks with Destination South Shore. There was just so much to do, so much to see and so much to enjoy.
Arrival in Bokonbaevo - Meeting Alibek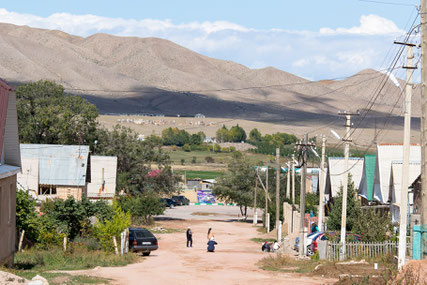 When we arrived in Bokonbaevo, we tried to navigate to Nazira's colleague called Alibek. While we volunteer for Destination South Shore, we should stay at his homestay.  
Alibek still lived with his parents where he and his wife started a cozy little homestay. For him it would be no option to live abroad, because he knows his fortune of being the youngest son.
The youngest son of all children is the one living with the parents. When they become old, he will take care of them and also supporting them financially.
Alibek has several jobs. In winter, he works as a ski-instructor in Karakol and sometimes supports hunting tours. In summer, he works for organizations like Destination South shore or CBT as a guide.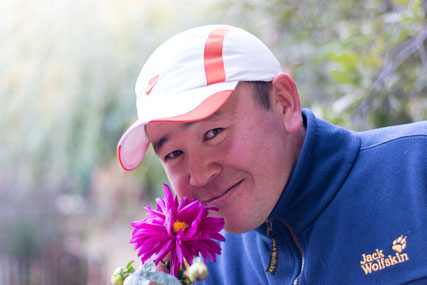 While explaining his tasks to us he continued that he together with Destination South Shore tries to not only offer tours but also protect the nature against mass tourism through cultural and economic projects.
For the next three years he and Destination South Shore will try to get the certificate for a UNESCO Geo Nature Reserve. It is very hard to get certified.
All over the world there are raughly 150 reserves. This Geo Park would protect the southern mountain region of Issyk-Kul with it's unique nature and culture.
After we understood the importance and the meaning behind their work, we got very excited to be part of this endevour. Creating videos and pictures of beautiful and cultural places of the south shore of Issyk-Kul lake would be our task. Especially supporting a bigger meaningful goal, to become a UNESCO Geo Park, motivated us. 
While we stayed in Bokonbaevo, Alibek organized trips or attraction for us almost every day. Each day was different and unique. We were exciting to experience everything.
Experience in the mountains near Bokonbaevo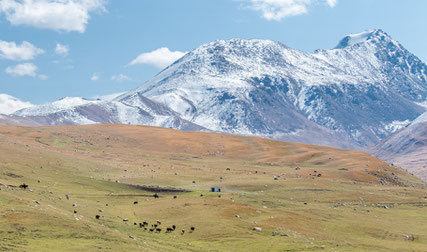 At one of our first days, Alibek wanted to show us the Kyrgyz mountain region. It was a short and sporty day, 
With 850 m up, 1400 m down and a roundtrip of almost 7 hours we had a fabulous day. We started at 2900 m and hiked up to 3750 m.
We could definitely feel the altitude. It became harder to breathe the higher we hiked. We had to use our hands to hold on to the rocks because it was a very steep.
The landscape looked like we would imagine Mongolia's nature. No tourists, except us. Just here and there some sheppards on a horse or by foot to keep his animals together. Sheep, donkeys, cows and horses seemed to be wild. 
No fences, no stables, just out there in the endless valleys surrounded by snow-covered mountains. Alibek explained to us that the animals have owners but they let them free during the summer and fall. In winter they bring them back to the valley.
Up at the top the wind was blowing in our faces and we could hear the sounds of eagles circling above our heads. We felt much attached to the nature.
With some GoPro videos we took, Bastian created the first one minute video for the project.
First meeting of a traditional Kyrgyz Eagle Hunter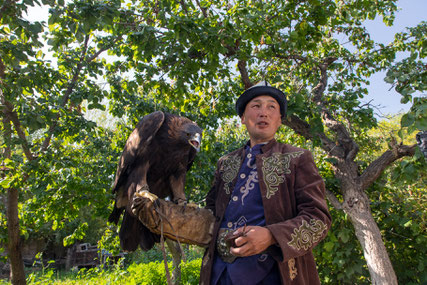 It didn't take long until we had our chance to meet our first eagle hunter. An exciting day was ahead of us.
The eagle hunting tradition goes far back in the Kyrgyzs history. Those days people fed their family with the prey that the eagle coughed. Today it is more like a hobby for the eagle man. Also Ruslan has another job.
The three eagles he owns are all females and weigh 5-6 kg. Male eagles are not as strong and a lot smaller. He has to keep the three strong females in separate cages, because they would fight with each other.
Actually they would fight anything that is entering their territory, even small humans. So Ruslan gave us the advice to not reach with our hand into their cage.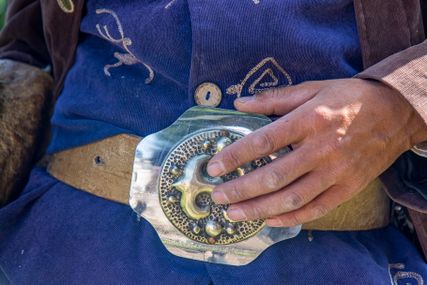 The three eagles have different hunting characters. One of them is very fast, the other one pays good attention to find prey and the last one is the strongest.
She can kill the animals by herself. No need that Ruslan comes to help this strong eagle. Usually he helps the eagles to kill the prey with a knife.
The eagles grow up with him. From the very beginning he trains them. They live with him for 12-15 years before he sets them free into the wild.
We asked Ruslan: "Are you going to be sad when setting your eagles free?" He replied: "No, this is the deal I have with the animals and I know from the beginning..." Ruslan paused for a second and then continued: "...or maybe it will hurt a little." I am sure to do this step will be hard because they built a very strong relationship.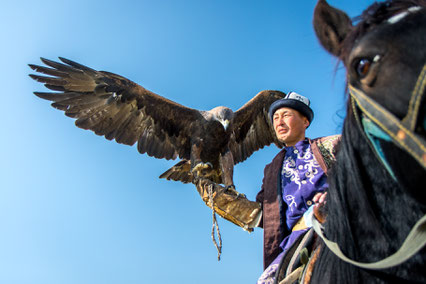 The eagles wear a leather band around their claws. They wear it the whole time while working with Ruslan. When he sets them free and their time together is over, he will cut it.
This cutting has a symbolic meaning. It's a strong leather band symbolizing their strong relationship for many years. He will keep the leather forever as a memory.
Ruslan stopped talking for a few seconds and took a deep breath. Hard for him to talk about those days.
Those quiet seconds gave us goose bumps. The fact that an eagle can turn 60 years old will give those giants of the sky still a lot of time in freedom.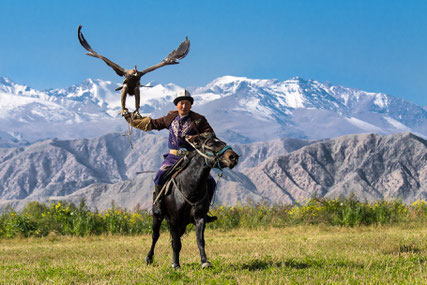 After all those explanations about the eagles Ruslan invited us to join him to the fields. He wanted to show us some skills and how he trains his eagles. 
We took many pictures of him, his horse and the eagle. Ruslan was wearing his traditional outfit. Together with the mountains of the South Shore of Lake Issykul made this moments memorable and special.
We provided all pictures and videos that we took to the NGO Destination South Shore to advertise the eagle hunting ceremony for tourists. Hopefully this helps Ruslan to receive some income for him, but also to promote the cultural tradition of eagle hunting for the Geo Nature Reserve.
Ruslan promised to let us know when he would go into the mountains for hunting. It would be a dream to join him and do some authentic eagle hunting. Let's see.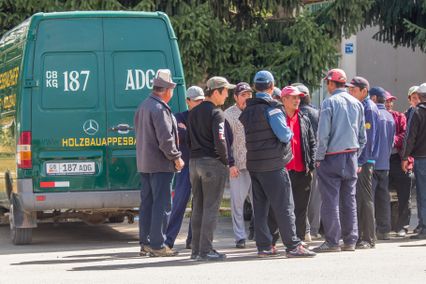 This support wasn't for the NGO project, but still fun for us to participate:
Bastian helped Alibek with a job in taking pictures and videos of a political party's campaign. 
Just a few people came to watch the political party's presentation. Well I think most of them showed up to receive some free balloons, hats and sweets ;-)
We saw one eldery man being really excited to receive a balloon, smiling the whole time. For some reason he tried to open the knot to release the air. We thought he wanted to inhale the helium, but no: He let the air out, carefully folded the balloon and put it in his pocket as a takeaway... very cute.
Another reason why people came might have been the money they earn for voting. Kyrgyzstan is that corrupt, that the political parties pay the people to vote for them. Most of them get votes this way. They pay between 10-25 USD for a vote. Unbelievable.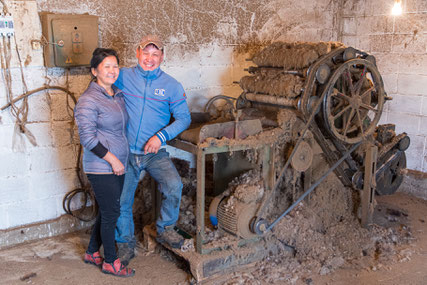 We were invited to take photos and videos at a handcraft community for women. They work with one of the most complicated felt art items that exist: the Shyrdak. Its a carpet made of sheep wool. It's 100% handmade, every string and every needle stitch.
The process starts with receiving the wool from the sheep farmers for 60 Kyrgyz Som per kilo, about 0,60 Euro/kg.  
Then the wool gets pressed into a machine from the former Soviet Union times to create felt. Three layers of wool cover each other. With milky soapwater on top, the wool is placed inside an even louder and older pressing machine. After about 15-30 minutes the wool became felt. 
Since the soapwater hasn't been washed out before, the felt receives its washing after the pressing process... very worth it :-) the water that was running through the felt came out dark brown. The cleaning was repeated until the water was finally clear.
Before coloring and sewing, the blank felt had to dry for at least 5 days. In total 6-7 felt pieces could be pressed by the outdated machines per day. Each of them could be sold for 2500 Kyrgyz Som (25 Euro).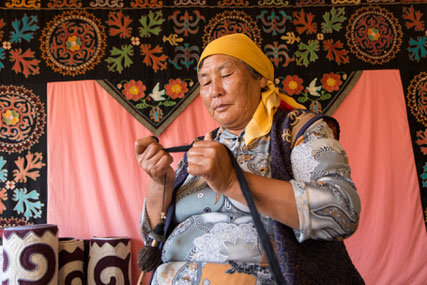 With the dried felt pieces, the women start coloring, cutting and sewing them. It takes about three months until the traditional Kyrgyz Shyrdak is complete.
Many women have worked uncountable hours on this 100% natural product. The average income is 100-250 USD per month.
At the end the carpet costs about 200-700 USD depending on the size. That's at least the price what the locals pay. Some companies export the carpets to Europe or America and sell them for almost ten times the price. 
In the end the women make shoes, pillows, blankets, hats, carpets and many other little souveniers out of it. The women are proud to keep their culture and to be able to create something beautiful and useful. Even old women were able to earn some extra money and to be part of this friendly community. Just like the eagle hunter, the women were happy to show us their work and products.
Spa day, Naziras family and a birthday party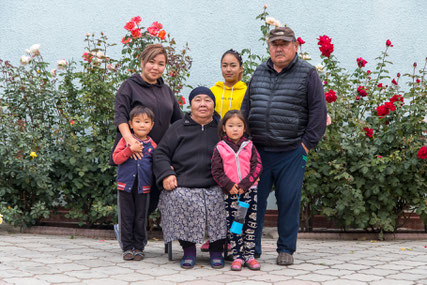 We left Alibeks guesthouse and moved to Nazira's guesthouse. Before moving, Alibek asked us to join him and his family to the nearby hot springs.
Alibek picked us up by taxi and we drove along the Issyk-Kul shore. The beaches along the lake could be the perfect mile for hotels and bars. But there was nothing. Just bushes and sand.
The thermal hot springs were dirty but nice and warm. For the Kyrgyz people it seemed to be the perfect spot to warm up during cold winters. But they don't go too often. Alibek's explanation was: "Men can stay in the water for only 5 minutes. It's not good for their fertility." ;-)  
Beeing back at Naziras guesthouse, Nazira told us that it was their sauna day. We felt like having a beauty and spa day :-) Right after the hot springs, we didn't expect them to own a sauna. But of course, when we heard about it we were super excited. We took two sauna sessions and tried to understand where we currently were: In Kyrgyzstan, in a sauna, at Naziras family homestay...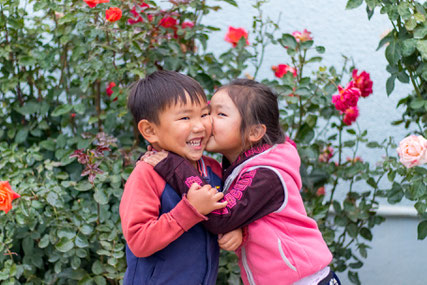 Nazira lives with her parents and her son. Her husband lives in Russia, where Nazira used to live before. Since three years they live apart from each other in different countries. The dad comes to visit about three times a year.
At the beginning we were not sure what kind of relationship it was, but in Kyrgyzstan it's not always about beeing close to each other. Usually it is more about having a partner to manage and finance a family.
Remember the story about kidnapping women in Kyrgyzstan? Nazira's mother actually was a victim of kidnapping. She got kidnapped by her husband. Nazira explained to us that during the first three years her mother was unhappy about being forced to live with her husband. But after that they both got along with each other.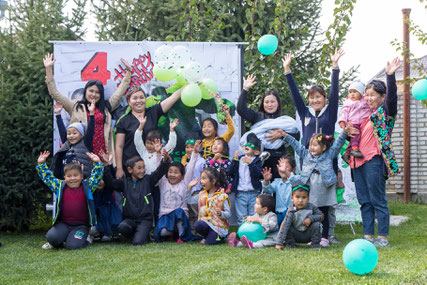 While we stayed with Nazira, her son Isa turned 4 years. A huge birthday party was planned. "Hulk" was the motto and it reminded us on American birthday parties.
A banner with a photo of Isa, a cake with "Hulk" and tons of food Nazira prepared the last two days. Nazira ordered even frozen french fries, which she had to order from the capital city Bishkek. No frozen foods are sold in Bokonbaevo.
Her dad didn't understand why Nazira had cut and placed the potatoe in the freezer. It took a while till Nazira explained to him that she had bought the frozen fries from Bishkek. We were all laughing because Kyrgyz people are not used to frozen food. Or at least potatoes don't belong in a freezer.
She took a lot of effort to make this day special not just for her son, but also for the neighborhood kids and mums. Everyone loved it and seemed to enjoy the event. About 20 kids were running around.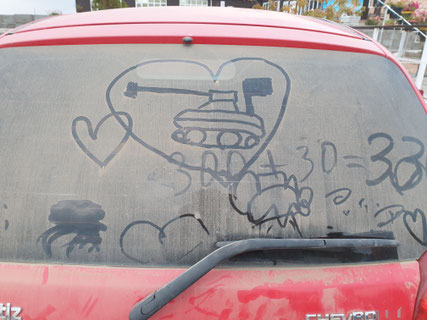 That day we had an interesting conversation with Nazira's dad. He explained a lot about the Kyrgyz history.
The Kyrgyz people all lived as Nomads until 1910 when the Soviet arrived in their country. They brought their culture and started to oppress the Kyrgyz. It was forbidden to produce cultural clothing and the Russians didn't allow traditional handcraft.
Eagle hunting was not allowed that time. The Nomads started to settle down and to earn money in the factories that the Soviets built. When the Soviets left, the culture started to revive.
Traditional food & teaching English 
We only had 5 more days left, before we would head to Karakol to support a school. And we felt that the members of the project realized this as well. Time was running.
Since plans in Kyrgyzstan change often, we couldn't complete everything we planned so far. "Let's go now to the school and take a video. After lunch let's head to a farm and get information about ecological agriculture. Take videos and pictures and put everything on the website. In the afternoon we do the same with yurt building." ;-)
Just an impossible imagination from the team we had to tell them. We felt that the projects were getting more instead of less, since they probably recognized that our help was useful. In the end of that day we visited the school for the video and took photos for cooking classes.
At school we didn't just record a video. The teacher expected us to do the two hour of English teaching with the students, since he didn't prepare anything. Well we neither, but we improvised and created a funny English session for us and the students.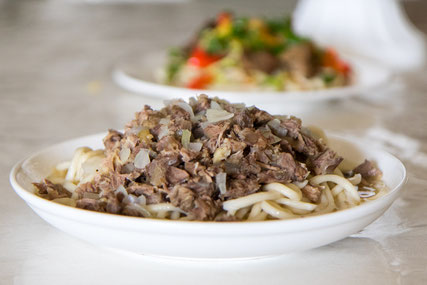 "For lunch try traditional food, take pictures and create food tours for the website" We were happy to try different meals that the team was planning to offer as food tour packages.
Lagman, Beshbarmak, Kurdak and Manty are the names of the dishes that we tried. It all was a combination of meat either with noodles or potato, but each sauce tasted different.
Vegatables and fruits are rare in the Kyrgyz cuisine. It's someting I was really missing while beeing in Kyrgyzstan. But these are moments where we understand that a fridge or a supermarket is not always accessible. We can not always eat what we want. And we like it to not have access to everything.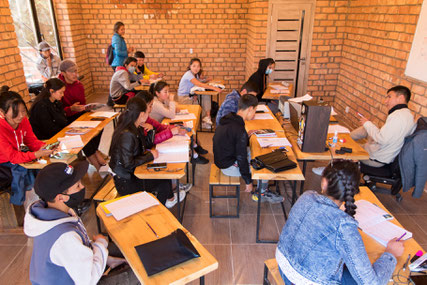 In the evening we were invited to the same school for an English speaking class. Students were between 14 and 16 years old. Most of them have never left their country before and were interested to ask us many questions about our culture.
We enjoyed listening to their dreams and how they imagine the world to be outside of Kyrgyzstan: One girl would love to be a blogger, another girl would like to become a doctor to support sick Kyrgyz people. One boy would love to be a lawyer to fight corruption.
Some of them really wanted to make a difference. We liked the fact that they try to learn English since this is the first step into communicating with other nations. We motivated them to keep studying. It would open many doors for them. 
Insights of traditional yurt building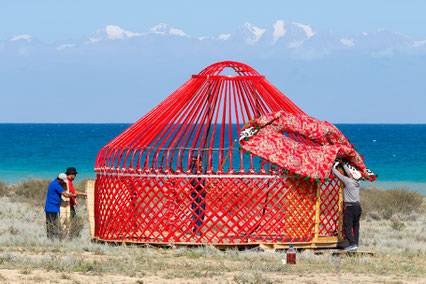 Even though we started early for a morning run we were almost late for Alibek who wanted to drive to a yurt camp. Alibek asked us to help setting down a yurt camp and prepare everything for upcoming winter.
It was the first time, that Alibek arrived earlier than planned, that's why we were surprised and not ready. We were flexible, so we were ready 5 min later.
We could follow every step and learned how a yurt is beeing set up, or at least how its set down :-). From the outside you could see the white waterproof cover. But from the inside the yurts are colorful decorated. With many felt blankets and wooden sticks, it was a cozy and smart setup.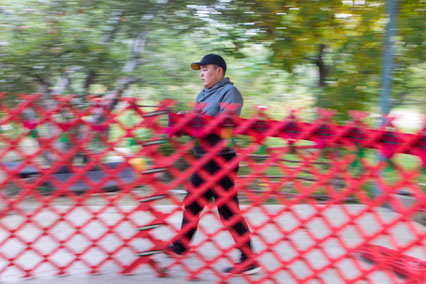 For lunch the one and only woman (besides me) joined the crew and prepared meat for the workers. It was the first time we tried horsemeat and rabbit. Maybe we ate rabbit before, but for sure not horse meat.
Apparently this is the best and most expensive meat. In Kyrgyzstan horsemeat is usually served for special occasions like weddings. We were happy to try some.
While having lunch, we had an interesting conversation with Alibek who taught us two more things about the culture. First one: Kyrgyz men can have more than one woman, but it is rare. Second: A woman doesn't drink any alcohol after she got married.
It is forbidden for her. The husband would hit and punch her if he would see her drinking. Even Alibek, who has been in Germany and for sure saw girls drinking, is 100 % sure that a woman just doesn't drink.
Even the handsome Alibek said: "I would hit her, she is responsible for our son. Drinking would be stupid." He always controlled his sister as well to make sure that she didn't drink. Very different opinions about drinking we have in Germany, but rules are different.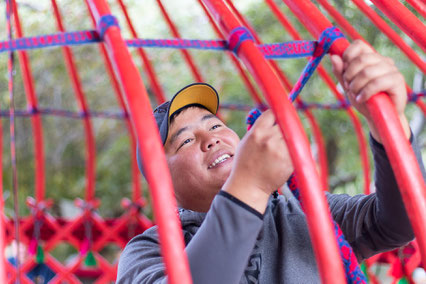 The yurtcamp was located directly at Lake Issyk Kul. The lake itsself is still very untouched. The locals are allowed to fish with fishing-rods but using fishing boats is forbidden. 
Issyk-Kul Lake is a huge fresh water lake with sandy beach, wind and a beautiful scenery... but neither locals live here nor tourism started yet. This is a very rare situation.
Areas near the water, people usually place their houses right next to it and use it for agriculture, fishing or as tourist attraction.
Here: Not yet. Hopefully it will stay like this. We were happy to support organization "Destination South Shore Issyk-Kul Lake" in their project to become a Unesco Geo Park and to protect their culture before mass tourism arrives.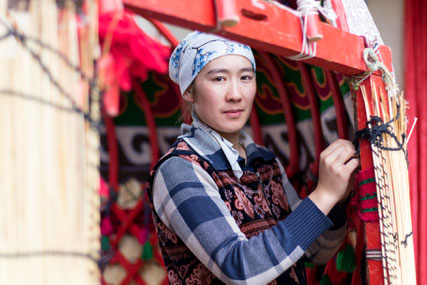 Additionaly to the yurt set down, we had the chance to meet the world champion of yurt building: "But before at 9 am we meet up to go to a farm, at 2 pm we learn how to build a yurt with the world champion", Alibek told us. From both we should take videos.
The reality was: Around 10.15 am Alibek appeared, but since he didn't have breakfast, he first sat down to have coffee. At 11 am I asked when we would leave. The answer was that the farmer cancelled. Alright, good to know :-)
After lunch the driver arrived just a few minutes before 3 pm. Alibek forgot to bring his GoProMax, even though he knew we would shoot videos all day :-) "No problem, his house is on the way anyways" Alibek mentioned.
Well, not really but for Kyrgyz it was on the way. So we arrived at the master yurt builder at 3.30 pm... and surprisingly no one was mad at us. Absolutely normal in Kyrgyzstan to be 1 or 2 hours late. Something that we need to learn and digest as Germans ;-)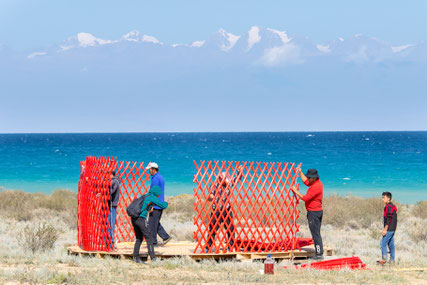 The master is the world record holder on setting up a yurt with his team . In just 7 min and 43 seconds they are able to set up a big yurt. Incredible after we saw how complicated it was to set it down.
Before showing us his way of setting up the yurt, the champion explained the steps of manufacturing a yurt: The wood gets heated and dried into the shape.
The wool for the felt was coming from 100 sheep and is used to cover the yurt so it stays warm inside. Colourful blankets on top make it nice and comfortable.
The yurt master was living in a village where everyone produces yurts. Every year around 250 yurts are being build and either sold to locals or exported all over the world.
While beeing invited for dinner, the yurt master changed the topic and gave us some information about how Kyrgyz people treat cancer in stage 2. They make a drink with a poisonous flower combined with a little bit of pure alcohol.
For 7 days this drink has to sit before it's ready. After that the patient is supposed to drink one drop on the first day and is increasing the amount of drops for 20 days. After 20 days the same way back until one drop. Then the treatment is over. Very interesting and for sure I would keep this recipe.
Finally hunting in the Kyrgyz mountains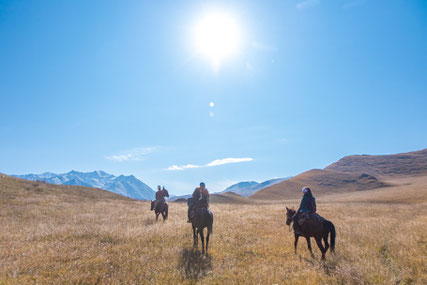 When we opened our eyes we remembered right away, that this was the day we were waiting for so long: We would go hunting with the majestic eagle in the mountains :-)
What a onetime chance in our life. It was part of the project, so we wouldn't need to pay anything. We were ready to capture photo and video footage for Destination South Shore. Also for the eagleman as advertisement. 
We started "early" in the morning which was not Alibek's time to get up. It was sometimes challenging to plan anything in Kyrgyzstan. The more people were involved, the harder it got. Kyrgyz were very open and motivated to do stuff, but compared to other nations quick in changing plans.
For Alibek, who was already changing his own plan every 5 minutes, it wasn't easy to organize 4 horses, a transporter and the eagle men. The night before we were expecting 2 eagle men coming the next day and five horses. The next day it was only one eagle man left and no horses.
But in Kyrgyzstan it was also more spontaneous business, so Alibek found horses and a transporter that same morning. He mentioned, those horses were not as strong though.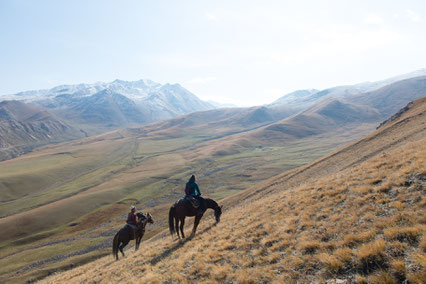 Only one hour later than planned the four horses on the back of a pickup drove up to our meeting point. We opened the door and inside we met the eagleman Salavat, 24 years old, with 24 years, with an impressive bird.
He owns 4 eagles and one falcon. His scraggy hunting dog, who was placed underneath the bench, would join us as well.
We were already sitting inside the pickup when I realized how the horses were beeing transported. Nothing to secure them, just tied to the barrier so they won't jump out. We drove about 45 min into the mountains to a farmer surrounded by nothing then herds of sheep, cows, horses, mountains and rivers.
A little puppy belonging to the farm was greeting us. Barking like a big boss. We drove backwards close to a small dirt pile, that was used to guide the horses down the pickup. The horses seemed to be used to this procedure just as they were used to some scratches. Robust and strong!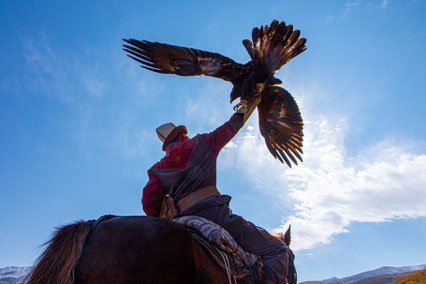 While we prepared the horses, the eagle was waiting on a pile of dried animal poop, what people use here to fire.
The horses were saddled, we were ready and the hunting dog was excited to start running.
Salavat took him and jumped on his horse with the eagle on his arm. The dog was also tied onto the saddle and we all together started riding. What a magical moment.
Bastian's horse was clearly limping and had an open wound at the saddle strip... but what can we do, the Kyrgyz horses were used to it. The horse probably knew that at some point they would be back in their herd living in freedom with no fence or stable.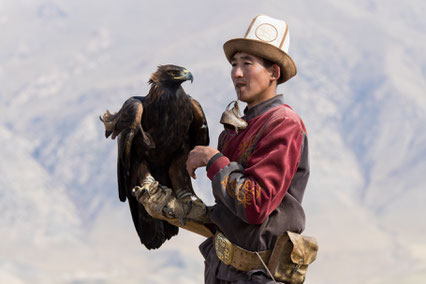 We rode up into the mountains for about one hour and carefully watched out for small animals. A rabbit or a fox would be the most usual to hunt. Up there the dog enjoyed running around.
All the sudden Salavat started galloping. We didn't know what he saw, but we followed. Or at least all horses started following. "Fox, Fox." Salavat was screaming.
Bastian still with his camera in one hand grabbing the mane with the other tried to hold on to his limping horse. I had respect how he managed taking pictures from the back of a horse, especially because he is not that experienced.
Our horses were out of breath when Salavat still tried to get closer to the fox. But he had to give up, because the fox was further up and dissappeared in a foxhole. He explained to us that this was the weak point of the eagle, because she always needs to be higher to be able to hunt. The eagle usually circles high up in the air and when it spots something underneath it will attacks in just a few seconds.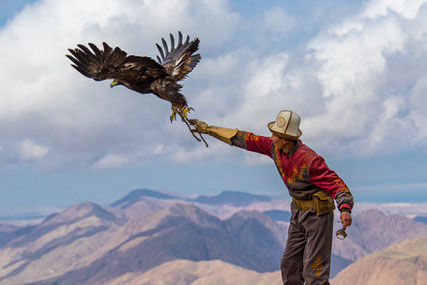 Salavat set the eagle free! I was sure this eagle would never come back. Salavat gave the eagle a bite of a pigeon he brought with him. This would remember the eagle where he would get food to make him come back.
The eagle started spreading his wings and was flying down into the valley. Only for a few seconds until it sat down on a stone. Very unspectacular in the beginning. It just moved from one stone to another, we couldn't even see her anymore.
But Salavat knew his eagle: It needed some time to warm up in the sun. Then all the sudden it started circling up into the air, higher and higher. Another moment when I thought we lost it. Almost to far to see and the sun was blinding us. Salavat constantly made noises and whistled to give signals to it. The eagle enjoyed it's time up there.
After 15-20 min waiting for the eagle to scan the area, Salavat took some fox skin out of his bag and attached it to a long leash. He started running with it. While we were still looking what Salavat was doing, the eagle was speeding down with more than 250 km/h and attacked the fox skin.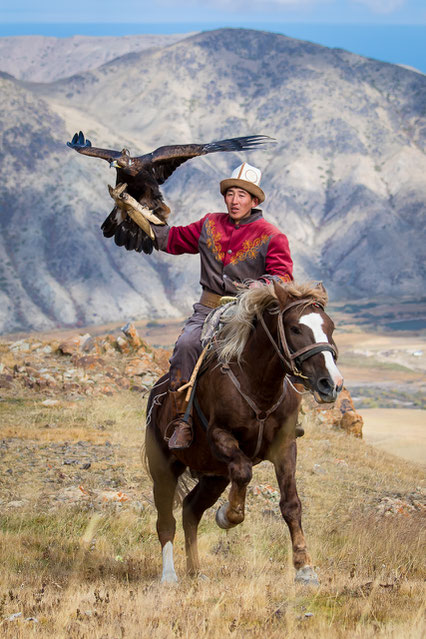 That moment we realized that the eagle was watching us all the time from up there. It was really keen-eyed. We were deeply impressed and couldn't believe what a strong and fast creature it was.
A fox would have seriously no chance at all. Salavat let it fly a second time. That time we were ready for pictures and videos. But still it was hard to catch. 
We almost forgot about the grassing horses with tied legs. They were calm and apparently not impressed of anything that was happening around them. We untied them and swung back on the saddle.
With all these impressions in our head we rode back down the mountains. Just now we realized how cold it was and that we almost couldn't move our fingers any more.
Back at the farm the horses had to jump on the pickup again. You could see them starting to be stressed when they realized they had to get ready for another bumpy ride. Its hard for them to balance because the roards were not paved and many rivers, holes and rocks needed to be crossed.
When we arrived back in Bokonbaevo, we went for a run along the water to digest what we just experienced. A storm with heavy rain hit us. We ran faster but of course were soaked. Would have been nice to have a hot shower after that day, but this dream didn't come true. Well you never can get everything ;-)
Last days in Yurtcamp Almaluu near Bokonbaevo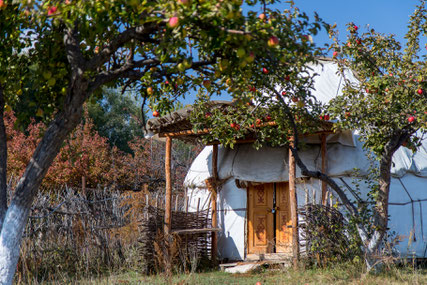 "How about sleeping in a yurt for a few days?" Alibek asked us? Starting from that day we should sleep in a yurt also to compile a video about the camp. Sure we would do that ;-)
We quickly packed our stuff moving to the yurt camp that night. It is a camp with 15 yurts made for tourists. The chairwoman of Destination South Shore is the owner of the camp and actually lives there too.
She showed us her yurt. It was amazing to see that the yurt was built with mud, not with felt. Inside they had cultural decoration, a bathroom and a huge garderobe.
We stayed in a simple yurt with an outside toilet. Two beds and a fireplace where the chairwoman made some fire for us. In the beginning it was freezing, about the same temperature as outside -around 0°
After 30 minutes the fire heated the yurt dramatically so that a tshirt was enough. We were in a sauna, warm and cozy for the night. Being in the warm yurt while outside wind and lightening gave notice about the coming rain.
And there it was, the rain dripped on the yurt, the noise was companioning us into a deep sleep.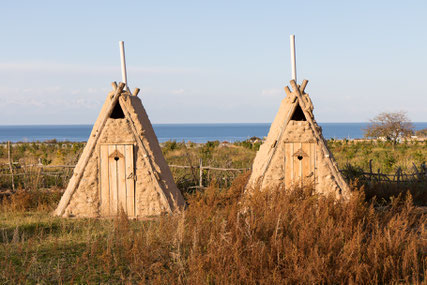 It was a Sunday at Almaluu Yurt camp with no internet. We were excited about having such a day. We slept in, made some breakfast for ourselves  and were still a little unsure if its ok to independently take food or if they would be offended because the culture is used to serve guests.
We started taking videos of the camp, what they asked us to do. Since they didn't have any guests this summer it was a little hard to film the clean and tidy parts, because everything was a little messed up. Most areas it was obvious, that it hasn't been used for a long time. 
An hour later, we took already many videos, the chairwoman came with all her family and said: "Now we will clean up everything for the videos!" Well we were pretty much already done. Another example where our German organized brains needs to calm down, otherwise you do work double because nothing sticks to the plan.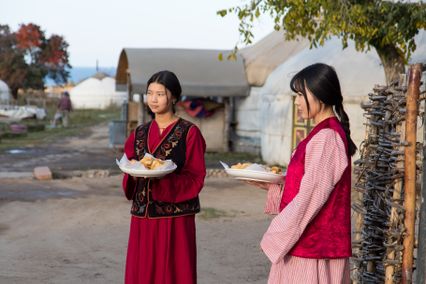 While they were cleaning we went down to the beach. The weather was amazing, the sun was shining, but still very cold. We trained in the sand and decided: We have to swim at least once in the Issyk-Kul Lake.
No one else was down there, so we took off our clothes and went for a quick refreshing skinny-dip. The water was crystal clear!
When we came back we took a few more videos of the tidy yurt camp.
All members of Destination Southshore came that night for a master cooking class for video recording. Furthermore the team organized a folk group playing traditional Kyrgyz instruments. This was our last night with the whole team and their families. We had to say goodbye that evening because we would leave the next day.
We prepared Mantes and Borsok. Mantes are like dumplings, Borsok like deep fried bread. The mantes were challenging to prepare: A super thin dough for the outer, meat onions and spring onions for the filling. After that it was steamed above boiling water. Very tasty. 
Two elderly, two our age and three kids were part of the family band. None of the instruments we have seen before except the accordion.
Some instruments were like flutes, others like guitars. One woman was playing the traditional Kyrgyz guitar calles Komuz. She killed it like Jimmy Hendrix ;-) She used the Komuz for plucking, as a drum and usual playing in a high speed version. A spectacular performance.
For the rest of the evening we were enjoying the sound of different traditional instruments. We were sitting in the yurt on the ground and eating mantes with everyone enjoying our last night in this amazing welcoming big Destination South Shore family. 
What a pleasure it was to be part of this endevour in Bokonbaevo. The goodbyes were for sure the hardest so far. The team and their families all found a place in our heart forever. Especially Alibek, Nazira and their families have played such an important role for us since we stayed 2 weeks with them. A big thank you to them for organized one tour after another and for their support and hospitality.
It was hard for us to focus on what would come next since we had such an unbelievable time. Nevertheless we knew that at some point this project will come to an end. We were looking forward to travel to Karakol, which was about 2 hours by car. It will be the first time for us to support a project as an English teacher for children. Excited for whats next!
Thank you Bokonbaevo. See you soon...