Hitchhike from Cappadocia to Gaziantep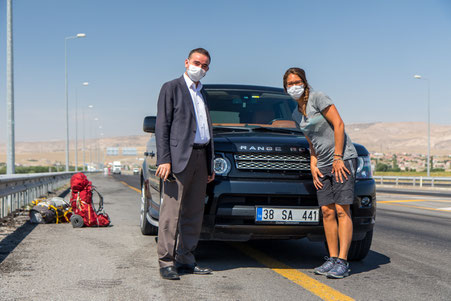 It took six cars to get from Cappadocia to Gaziantep. We were happy that we made the distance of 409 km in one day. The conversations with the drivers were mostly by typing something into google translate and some Turkish that we learned. I was amazed that the drivers didn't feel uncomfortable talking to us in Turkish even though they should have recognized that we barely understood.
Isa and Ali were the first two drivers who brought us towards Kayseri. From there a brand new Range Rover with brown leather interior stopped. Sarfet Aslan and his driver Soner were trying to understand us where we would like to go. When we somehow made our explanation clear, they surprisingly agreed and took us.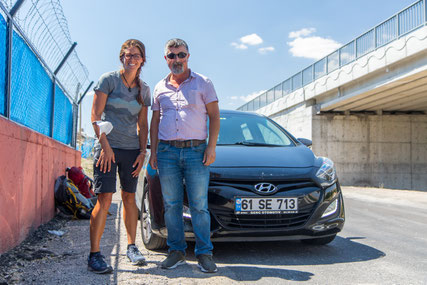 We first stopped at the Sarfet Aslans company to drop him off. He told his driver Soner to take us around the city to the highway that leads to Pinarbaşi where we had to go next.
Alright, there we were in a Range Rover with our personal driver dressed in a suit … ;-) Soner was very nice and we exchanged information about marital and family status via translation app.
Followed by our personal driver experience,  Ermin took us all the way to Pinarbaşi. We had some lunch at a local corner "restaurant". I was the only woman surrounded by men who spend their lunch break. And Bastian got asked if he was from Syria. :-D
We were lucky that truck driver Abdul was taking us all the way from Pinarbasi to Gaziantep which was our goal for that night. We were happy but knew at the same time that it would take more hours than in a regular car. Many mountains needed to be climbed for that truck which was loaded with furniture. Slowly up and down, a teabrake to not getting fined. Abdul didn't like those mandatory breaks.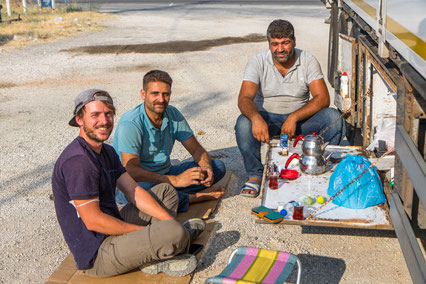 At tea break Abdul prepared his small kitchen underneath the truck where we met Abduls friend. They were both driving to Irak the next day, so they enjoyed their breaks together. We told them that we would like to buy some ice cream for them. They seemed to be excited but told us we would stop at another place, which meant another break :-) 
Passing his friend in the other truck forward and backwards turned out to be a game. His friend was really funny. Once overtaking him, he was brushing his teeth while driving. We understood that their job is usually not very exciting and they were enjoying our company.
When we stopped for ice cream, which was made of goat milk, we tried to pay for everyone but they wouldn't let us. Abdul and his friend saw us as guest and would have been offended if we would have payed.
It was sunset when we reached Gaziantep. We were still 20 km away from our couchsurfing host named Baris. We tried to walk off the highway to find a ride into the city when we had to cross some kind of border control. We directly felt some tension. We knew that we were close to the Syrian border. The border control was armed and directly wanted to see our passports. It was the first time that our passports were checked.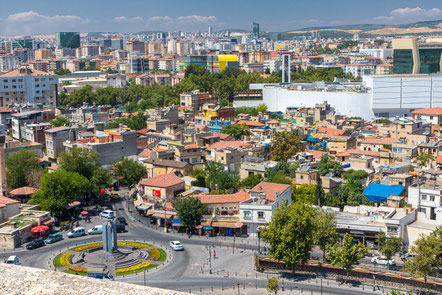 As we tried to hitchhike afterwards, a public bus stopped. Usually we don't take the public busses but we took it this time. It was already dark and no one would take strangers near the Syrian border we thought. We didn't want to risk anything.
In the bus a guy helped us to find the way towards the Gaziantep university where we would meet Bariş in a park. Baris texted us that we should wait at a trash can. I wasn't sure if this was a serious meeting point, but it was. Bariş saw us from his window and came downstairs to take us inside his working place.
Baris offered us several options to spend the night. We decided to stay and camp on the rooftop of his working place. Baris was working for an online-learning startup called OTTO. All "employees" were under 25 years and working really hard to sell their product to Turkish Universities. That night they continued until 1 am. At this time we were already sleeping with our tent on the rooftop surrounded by the street noises of Gaziantep.
Couchsurfing in Gaziantep with Bariş and OTTO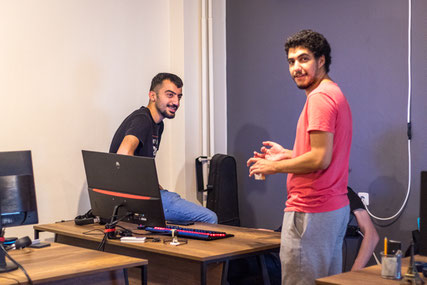 Baris lived in Germany, Italy and France. He is a Kurdish, 27 year old and believes quiet strong in god. He wants to train his body and mind through behaving and punishment if he does mistakes. It doesn't feel like punishment though, Baris told us.
He does fasting during the day and eats when the sun goes down. When he did something wrong or didn't like something about himself, he does fasting. Baris feels very connected to god and the universe in those days. Sometimes this reminds him to be thankful. He wants to be able to guide his brain and to live with the rythm of the sun.
Baris didn't strictly follow the Islamic rules before. He used to smoke and drink and made jokes about god. A very lifethreatening illness changed his mind and behaviour. Bariş fell into a deep depression which almost killed him. No doctor was able to help him. The normal daily habits like going the bathroom, eating, drinking and sleeping were all the sudden not possible anymore.
Besides medication he also tried to find his own way out of this and started to control his dreams. Since he couldn't sleep it made sense to learn how to continue dreaming and not waking up. Baris started a lot of fasting and praying to clean his body. Getting rid of "sins" and also venomous elements in his system made him feel strong and unbeatable. That's the way he still follows and god keeps supporting him.
One night Baris took us to the kickboxing place, he used to train every week. We were excited for some boxing but actually did a circle for cardio and arms. It was fun being the only female athlete between many posing boys.
Suada, a woman converted to the Islam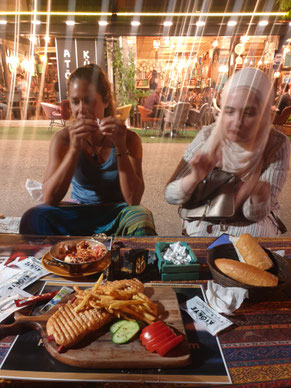 Suada is a friend of Bariş and was happy to tell us her story. She is from Bosnia-Herzegowina, grew up in Germany and lives in Turkey now. Her family is not strict muslim but she herself decided to follow the Islam with all its restrictions. Suada is wearing a hijab (headscarf) and long clothes.
That seemed to be the chance for me to ask her many questions about women in Islam. She was open and happy to answer all of them. The main question was why she decided to wear a scarf and cover herself. She decided to be part of the Islam with all its restrictions because this is her only way to please god. She does everything to make him please her and maybe doing something good for her.
The scarf is to protect the women. Men are getting less attracted, she said. Men have to look down if they see a woman. Ali, another friend of Baris told us that there is another reason for the covering which goes a long time back into history. It used to show that you are not a slave, because only slaves were wearing short clothes. Clothes showed wealth. Interesting endless conversations.
When we wanted to leave the cafe and it came down to paying. Suada told me that women never pay here, so I shouldn't even worry. But I would ask Bariş about this habit because it seemed too normal that she didn't even said thanks. Also when he drove her a long way back home she didn't thank him... maybe normal.
The Syrian friends and collegues of Bariş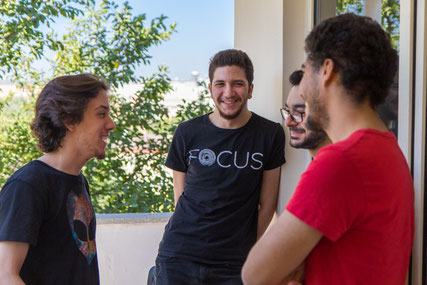 We enjoyed our time with the company and its Syrian influence. Since in Gaziantep live 2-3 million refugees due to the nearby border (only 60 km away) there is a big cultural impact from their country.
In the startup, it was solely young Syrien students and Bariş as a Kurd. Both company owners were Syrian who joined us for football and kickboxing. They furthermore brought us to a Syrian restaurant where we had and absolutely delicious and massive dinner together. We took the leftovers with us which they all thought was funny. But we did'nt want to waste it and were also happy to enjoy it again.
After dinner (it was about midnight, they eat very late) we were all going up on the rooftop for a beer. It might sound normal for you and for us, but for them it was not. It is usually forbidden for them to drink. If their parents would know, they would probably abonden their sons. It is even worse than stealing in the Islam.
In the office most of them are very strictly following the rules because they have to. And most of them want to. So the three we invited for a beer were excited but it had to be a big secret. They havn't had a drink since one year. Thats why we are not mentioning names :-).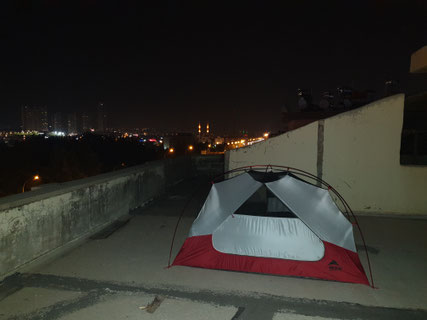 Actually none of them was able to finish the beer while having very good conversations on the rooftop. They wanted to play dare or truth. It felt like three young teenagers were drinking a beer together in a secret spot playing all these teen games the first time. Lovely night.
Syrians are in a really tricky situation. To go back to Syria at the moment is very dangerous for them. Since they left the country they are seen as "loosers" who didn't fight for their own country. To stay in turkey means that they are accepted and are allowed to work. 
Unfortunately they don't receive any citizenship therefore cannot leave the current city where they are living. Even travelling 50 km out of Ganziantep they would have to ask the governmant for permition. As long as it isn't urgent or necessary, they would not have a chance to go anywhere.
One of them was very interested into astrology and the stars. He never had the chance to be that far away from a city to be able to escape from the lightsmog and see the milky way. That was his big dream. I almost had tears in my eyes when I heard that.
We talked about gay and lesbian acceptance. They were laughing, because there is 0 tolerance for that. The penalty is, that Syrians would through you down from a high building to kill you. And that is what they still do. Otherwise they take good care of whoever is born, handycapped or not. Because god decided what you should get as a baby.
The marriages are mostly arranged. Very often cousins marry eath other since the families are really big. One person sometimes has 60 cousins, so it is almost hard to find someone who isn't related to you, they said ;-) All three of them wanted to find someone they really love. We hope they will. Not easy in their culture because men are usually not supposed to just talk to woman nor to date them.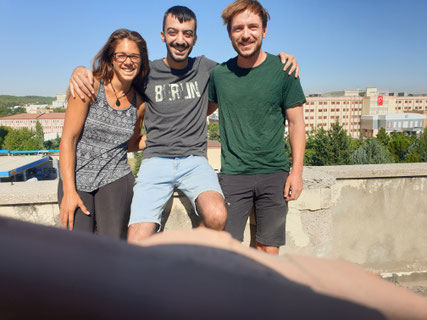 They don't agree with many things written in the coran. Many others well educated people  don't agree as well. But there are still a lot who mostly stick to it.
We asked Bariş who is a strong Muslim why people are smoking. We understood that on one side, the Coran wants your body to be clean and healthy and thatfor no alcohol nor pork was allowed. But how is smoking in line with the Coran?
Baris tried to explain that at the time the Coran was written there were no cigaretts. People smoked herbs and believed in some kind of medication. It was not seen as a drug.
Also the hijab: Women wear the headscarf not to attract anyone. But at the same time women use a lot of makeup. Plus they try to match their colorful scarf with their dresses that may even attract more? Baris shared his opinion that this is the new generation who tries to keep and stick to the rules. But its the womens nature to play with their charme, which is hard to control.
Yes, many questions and discussions that helped us understand more. At the same time we felt like our questions made them think deeper into their answers.
We were planning to drive with Baris to Sanliurfa on the next day. But things changed. In the early morning he came to the rooftop, woke us up and told us that his grandma is about to die because of corona. They will try to see her before it is too late. We were very sorry for him and of course understood the situation. We could only wish him and his family all the best.
When Baris left, we quickly had to decide on our next steps. Since the transportation plans to Sanliurfa have changed, we decided to leave Gaziantep in the early morning as well. We would need to hitchhike instead of driving with Baris.
Hitchhiking from Gaziantep to Sanliurfa 
We hiked about 45 min along a road that lead towards Sanliurfa when Achmed picked us up. He told us that he knew a good spot to drop us off. He first drove towards the highway where we wanted, but suddenly turned towards the city center.
He wanted to take us the central bus station. No, please not :-D As we made him understand that we want to hitchhike, we were already 20 min away from the highway :-) Well, he meant to help us. We walked back to the highway.
The next 3 rides went smooth and brought us right towards Sanliurfa (Urfa). The last drivers Beyram and Mehmet showed us some Turkish Lira when they stopped. We thought that they were asking for money. Bastian took some bills out of his pocket and asked about the price. As Mehmet saw Bastian, he directly shook his head. They wanted to offer us money :-D
We of course rejected and thanked them for the ride. When they left, we were laughing because we weren't sure if we were either looking homeless or if this was just their way of being nice. 
Couchsurfing with beauty doctor Aydin in Sanliurfa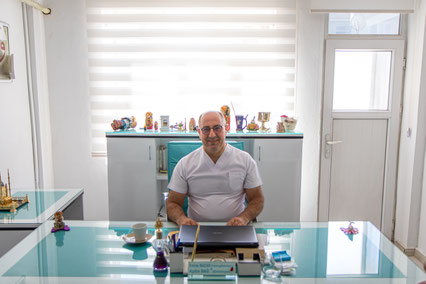 Our funny, energetic little Kurdish beauty doctor Aydin could speak some English and travelled a lot for work in many European countries.
We couldn't believe when he told us whom he is was married to... to his cousin ;-) As we just learned yesterday from the Syrians. It happens very often. I actually googled about the risk of  2nd family degree babies being handicapped: Not as much as you would think. Otherwise for sure they would stop to marry their relatives.
Aydin has a whole apartment to host people. With us there were two kurdish. They enjoyed a photoshooting with Bastian in the evening which was very entertaining. They changed clothes and were wearing rings and bracelets. Satisfying if you can make people proud and happy so easily.
A Kurdish breakfast was a good start into the day in Urfa. Aydin invited us to a place where everyone was his friend. We were wondering why he only invited us, not the other two men from the apartment... I felt sorry for them, but maybe he offered and they didn't want to :-/.
We enjoyed the breakfast and all these phonecalls with his friends and cousins in Germany :-) at least 8 phonecalls which each took about 2 minutes.
In the east of Turkey he was about the third person who made comments and jokes about Hitler. He was saluting to Hitler, a few times laughing out loud while saying that Erdogan is the same. We couldn't really figure out if he liked Erdogan or not. Usually in central and east of Turkey they do.
Sanliurfa and it's people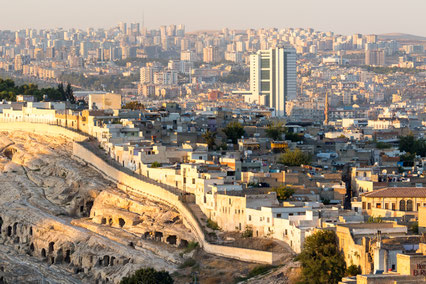 Urfa itself seemed to be like a city in Iran or Syria. Or at least thats how we would imagine. Many broken buildings, skinny people and many of the women fully covered. Mosque after mosque with the typically prey. Five times a day.
We met a doctor who works in the local hospital in Urfa and he told us about the critical situation in the city. All of the 60 intensive care beds are fully occupied by corona patients. And every day they have new cases. Right now it is kind of under control, but he is afraid what will happen in one or two month.
He knows from the last 20 years that there will be many flue cases coming. And then they would run out of space. "Make sure you either go into a save area soon or home to Germany" he suggested for us.
One day we wanted to buy some fruits from one of those wooden wagons they push through the streets. The owner could have been from Afghanistan or also Syria. He had a big beard and a scarf on his head. We felt like he wanted to convert us to the Islam. We couldnt understand one word but interpret his gesture. I should cover up, and Christians are alcoholics. Very bad, he said.
We answered and asked him why muslims smoke? We got a very long answer back. We could see they didn't expect that question but of course know something to explain. He told us to sleep about it for another night and tomorrow we could change…. ;-) We would think about it and  left with our fruits. 
This was the first time after several months of traveling where we felt that someone was not agreeing with our culture, our behaviour or maybe the way we dress. So far noone has tried to change us or was offended by our nation or our beliefs. We learned that it doesn't matter where you live or where you are from. There is always a very small amount of people, that might be intolerant or not open to cultural differences.  
Couchsurfing in Mardin with Gökhan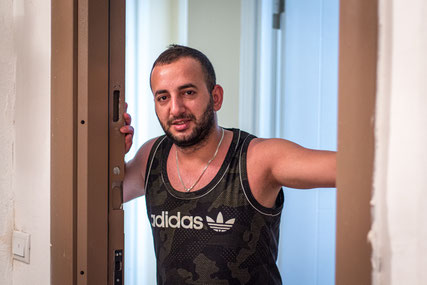 Along the way, many people told us that Mardin is the most beautiful city in Turkey. So our expectations were high.
When we arrived in Mardin, Gökhan took us to a typical restaurant Mardin style. We got a plate full of (mostly) delicious food. We ate some of the filled intestines and enjoyed rice with nuts, filled aubergine, fried meatball and meatbread.
It was already 9.30 pm when Gökhan drove us around the city and wanted to give us some first impressions of Mardin. While beeing in the car, Gökjan likes to listen to very loud music. As kind as he was, he wanted to play a German song for us. In Youtube the first song that poped up was the old and forbidden version of the German national anthem.. so the forbidden lyrics were played very loudly until we could make him understand with google translate that we should listen to another song ;-) Gökhan doesn't speak English. All our conversations relied on Google translate.
At home he was still up for some beer and shisha on his large rooftop with a great view... we could not say no ;-) it was about 2 am until we went to bed, and Gökhan had to get up at 7 am for work 🙈
The daytime we spent at oldtown Mardin in the maze of narrow and beautiful sidestreets. Little shops with spices, blankets, handmade kitchen stuff. Everything you might need was available somewhere in a corner. We could watch some baker tasting their creations, people forming saddles, hammering the metal. Our days of exploring wouldn't be enough to see every corner. But in those three days we walked many unequal stairs up and down through archways and climbed up many rooftops with stunning views. 
That night Gökhan realized that we both cut our hair. Thanks to the very talented hairdresser Viviane and Bastian! "Just to look good for the barbecue tonight", we told him. Because Gökhan  grilled some Shashlik for us. Gökhan is a really good chef, especially with meat.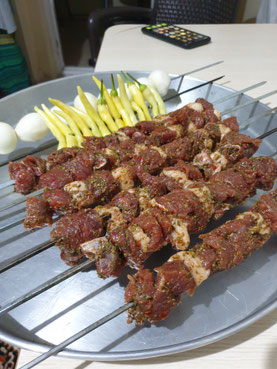 One of his friends arrived around 10 pm, said hello, sat down for 5 min, packed some of the shashlik and disappeared. When we asked Gökhan with google translate if his friend would come back. "Yes" ,Gökhan responded, "he will come back with some beer".
I was already tired and not really excited to start with beer that late. After waiting for one hour, we asked again if he would come. Yes he would… so we waited. We could feel that Gökhan was also tired. Another hour later, I just said that I would go to bed and right away Gökhan was happy, too.
On the next day we figured out that this was a big but funny misunterstanding between us. Everyone was actually just waiting for someone to call it a night. Gökhan thought we want to stay awake. We thought Gökhan wanted to stay awake. His friend came later that night but with no beer and just to sleep on the couch. So no idea where the misunderstanding started.
When were sitting on the balkony the next day, Gökhans neighbour showed up on the opposite side. So Bastian just pointed on him, waved and told Gökhan that there was his neighbour on the balkony. Gökhan opened his eyes widely and said via google translate that it is forbidden to look into others aparments. This could even end in a fight with guns. Especially if a man would look at a woman. So never look into someone elses houses.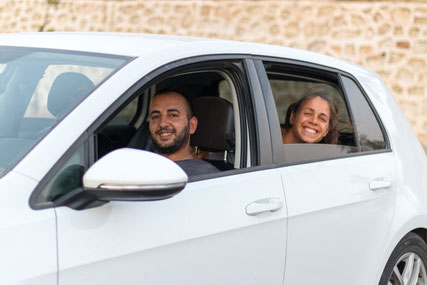 In the morning a noise from the kitchen woke us up and as we walked in, the floor was flooded with water. It still came out underneath the sink. We opened the drawer and water was splashing into our face. Bastian turned all the screwes he could find. One of them was luckily the right one.
The carpet and the whole kitchen was full of water. We woke up Gökhan and couldn't believe how relaxed he was. Maybe he was still sleepy. We soaked up at least 60l of water, took the carpet outside and that's it... no need to worry for him.
We had a wonderful time in the east of Turkey. Many new impressions about religion, behaviour and culture in general. We will hitchhike to the north of Turkey next. Let's see what we will learn there. It will be the last ten days in Turkey before our visa is running out. We will have to decide where to go next and look for a country that is open…